DITA promotes a dynamic interplay between Christian theology and the arts within the Divinity School and beyond by exploring the contours of creative theological expression, and enriching theological education within the church, academy, and society. Through events, teaching, and research, DITA is dedicated to showing how the arts can be enriched by theology, and theology in turn renewed through the arts.
At the heart of DITA's vision is this key insight: the arts (including music, visual arts, and literature) do not just illustrate theology but are themselves modes of theological expression. The arts shape the imagination of the community and provide the forms through which many people most directly and compellingly encounter the message of the gospel.
---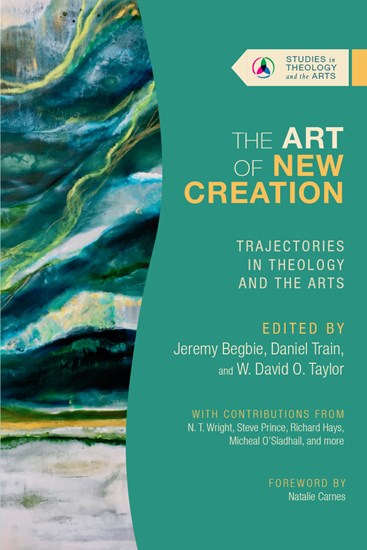 The Art of New Creation
How might the relationship between creation and new creation be informed by and reflected in the arts? This volume, based on the DITA10 conference at Duke Divinity School, brings together reflections from theologians, biblical scholars, and artists to offer insights on God's first work, God's future work, and the future of the field of theology and the arts. Click here to read and hear more.
Artists may be expected to speak of the new to attempt to create something new into the world. But what is truly new and necessary is for theology to dare to open the mystery of the New. In this collection of essays and conversations, we see a glimpse into a church in which such a possibility of the New is fully manifest. … I am grateful for this diverse estuary of thoughts, which leads to Making."
Makoto Fujimura, artist and author of Art and Faith: A Theology of Making
Rooted in this moment when we have lost our sense of being and are traversing what appears as the brooding threat of nonbeing, this book unleashes creativity as the embodiment of new being. Joined in rumination and celebration, we are guided by a diversely gifted company of friends to journey forth in hope. The pages nourish and sustain us through the extraordinary more of art as it leads us into depth to meet our abundant God in the midst of a suffering world."
Cecilia González-Andrieu, professor of theology and theological aesthetics at Loyola Marymount University, author of Bridge to Wonder: Art as a Gospel of Beauty
---
Theology, Modernity, and the Arts Research Project
In 2009, DITA began a partnership with Cambridge University, and out of that collaboration came the Theology, Modernity, and the Arts (TMA) project. Launched in 2015, TMA asks how the arts can contribute to the theological narration of modernity, particularly a narration that employs New Creation in Christ as a guiding integrative vision.
TMA undertakes research in three main areas: music, visual arts, and literature. For each area of research, a steering group of scholars and artists are brought together for an ongoing series of conversations around their research and work within the context of music, visual arts, and literature respectively. The goal is that each steering committee produces a series of publications, commissioned art works, and online resources over a four year period.
TMA aims to demonstrate:
Art bears witness to previously overlooked theological dynamics that have shaped modernity.
Art gives voice to questions and cultural quandaries that call for response rooted in a theology of New Creation.
Art addresses and moves beyond intractable dilemmas that have hampered modern theology.
The theme of New Creation — as realized in Jesus Christ — has the potential to interrogate theologically trajectories of modernity that have been previously underdeveloped in existing accounts.
This kind of interdisciplinary and collaborative scholarship linking Church, academy, and major art institutions represents another major step forward in DITA's mission to ignite a vibrant dialogue between theology and the arts. The music and visual arts areas have received full-funding from the McDonald Agape Foundation.
---
Theology, Modernity, and Music
How can the study of music contribute to a theological reading of modernity? This project grew out of the conviction that music has often been ignored in narrations of modernity's theological struggles. An international project team of distinguished theologians, musicologists, and music theorists met to explore the ways in which music can bring to light the theological currents that have shaped modern culture. Theology, Music, and Modernity: Struggles for Freedom is the culminating publication from those conversations.
Theology, Modernity, and the Visual Arts
What questions about Christ and modernity do the visual arts pose? And what truths about Christ and modernity do they ask us to face? The dialogue of theology with the visual arts can illuminate and confront the challenges of the modern experience and offer honest and faithful responses to them. Working in partnership with DITA, and under the umbrella of Professor Jeremy Begbie and the TMA project as a whole, this project is directed by Professor Ben Quash at the Centre for Arts and the Sacred at King's College London.
Theology, Modernity, and Literature
In what ways can scholarly attention to literature contribute to the theological narration of modernity? The most recent iteration of the TMA project, the Theology, Modernity, and Literature project was launched in 2022 at King's College Cambridge. An advisory board comprised of scholars and theologians met to discuss the poetry, fiction, and drama of modern English literature and to begin work on a collaborative publication. The project is directed by former archbishop Rowan Williams and DITA Assoc. Director Dr. Dan Train.
---
---