Through events, teaching, and research, DITA is dedicated to showing how the arts can be enriched by theology, and theology in turn renewed through the arts. Our faculty and alumni are among some of the leading scholars and voices in the field of theology and the arts. The research conducted by DITA faculty and alumni is diverse and represents vital contributions to the conversation about theology and the arts.
---
Selected Faculty Research
In a culture that so often seems to shrink and flatten our vision, reducing the world to mere atoms and us to mere things, the arts can break our imaginations open. In conversation with multiple art forms, theologian Jeremy Begbie helps us see this world and ourselves as infinitely richer than we could ever imagine: as created and redeemed by the inexhaustible love of God. Releasing July 2023.
As only Jeremy Begbie can do, this book weaves theology and music, philosophy and poetry, science and Scripture to explore and celebrate the uncontainability of the triune God and the irreducible complexity of creation."
James K. A. Smith, Calvin University; editor and chief, Image
In this book, Jeremy Begbie achieves a remarkable double feat: a quietly devastating critique of the engrained reductionist tendencies in Western modernity, and, in dialogue with his profoundly humane theological insight, an inspiring manifesto for the fundamental value of the arts as part of what makes us human."
Bettina Varwig, Faculty of Music, University of Cambridge
---
---
Selected Alumni Research
Theology and the Visual Arts
International Journal of Systematic Theology
Vol. 25, Issue 2

Featuring submissions from top scholars in the field, such as Natalie Carnes and Sujin Pak, on topics from John Calvin's visual exegesis of the Old Testament to the ethical dimensions of vision in John Edwards, this issue, guest edited by DITA alumnus Franklin Tanner Capps, represents some of the newest research in the field of theology and the arts.
Each of these articles presents a new perspective on the visual theology of ordinary and extraordinary material form. Theophanies, bread and wine, the word-picture, an unbulleted martyred heart, doves, spiderwebs, and the eye itself are all presented as sites of divine relationship for those with the eyes to see."
Franklin Tanner Capps, Director, The Miller Summer Youth Institute for Children
---
A Body of Praise, W. David O. Taylor
An excellent, nuanced, and well-timed study. As we wrestle with the long-term impact of the pandemic on our worship practices, this work is an indispensable resource."
Rowan Williams, former Archbishop of Canterbury
The role of the human body in Christian worship has been neglected for too long but is now significantly enriched by Taylor's work. His writing displays a lifetime of scholarship and reflection, now brought together in mature form for the benefit of worshiping communities everywhere."
Constance M. Cherry, Indiana Wesleyan University (emeritus); The Robert E. Webber Institute for Worship Studies
---
The Theater of God's Glory: Calvin,
Creation, and the Liturgical Arts
– W. David O. Taylor
Pub. 2017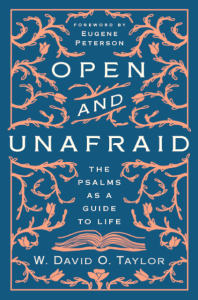 Open and Unafraid: The Psalms
as a Guide to Life
– W. David O. Taylor
Pub. 2020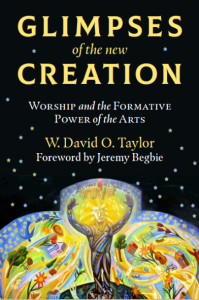 Glimpses of the New Creation: Worship
and the Formative Power of the Arts
– W. David O. Taylor
Pub. 2019
"Blood Power: US v. Wong Kim Ark and the Theo-logic of Belonging"
– Franklin Tanner Capps & SueJeanne Koh
Pub. 2022
"John Calvin's Apoiconic Vision of the
Body and the Blood"
– Franklin Tanner Capps
Pub. 2022
"Reclamation and Memory: Theological
Roots of Decarceration in the Rural South"
– Franklin Tanner Capps
Pub. 2022
Calvin, the Bible, and History: Exegesis
and Historical Reflection in an Era of Reform
– Barbara Pitkin, book review by Franklin
Tanner Capps
Pub. 2021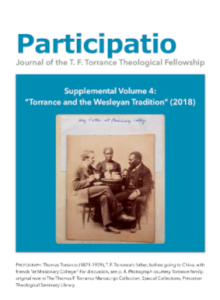 "John Wesley and T. F. Torrance on Pneumatology, Theosis, and a Breath
of Life for Dying Denominations "
– Jacquelynn Price-Linnartz
Pub. 2018
"Bonhoeffer's Musical Metaphor of the
Christian Life"
– Jacquelynn Price-Linnartz
Pub. 2015
"Between Ordo and the Frontier:
The Struggle to Define an American
Lutheran Worship Identity for the
Twenty-First Century"
– Adam A. Perez & Victoria Larson
Pub. 2022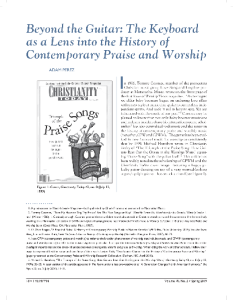 "Beyond the Guitar: The Keyboard as a
Lens into the History of Contemporary
Praise and Worship "
– Adam A. Perez
Pub. 2019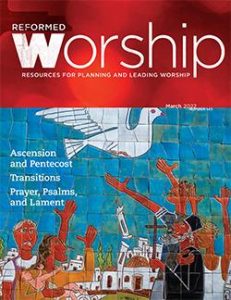 "Shaping the Pastoral Prayer: A Short
Primer on How to
Pray in Worship "
– Glenn Stallsmith
Pub. 2022
 "The Path to a Second Service:
Mainline Decline, Church Growth,
and Apostolic Leadership"
– Glenn Stallsmith
Pub. 2020
"Protestant Congregational Song
in the Philippines: Localization
through Translation and Hybridization"
– Glenn Stallsmith
Pub. 2021