Though winter night will soon surround us here / Another Advent comes, Dayspring is near."
—"Launde Abbey on Saint Lucy's Day"
---
Malcolm Guite Mini-Residency
January 8–13, 2023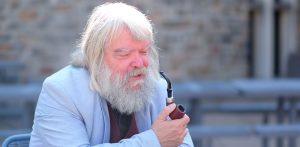 DITA welcomed acclaimed poet and theologian, Dr. Malcolm Guite to campus for a mini-residency in January 2023. In addition to teaching a course for hybrid students, Dr. Guite preached at a local church and delivered a public lecture.
Dr. Guite is the author of numerous collections of poetry, such as Sounding the Seasons (Canterbury Press, 2012), The Singing Bowl (Canterbury Press, 2013), and Waiting on The Word: Poems for Advent (Canterbury Press, 2015). Dr. Guite is a fellow and chaplain at Girton College Cambridge, where he lectures, supervises students, and conducts research surrounding religion and literature. He has published several volumes of theological research, such as What Do Christians Believe? (Walker Books, 2008) and Faith, Hope, and Poetry: Theology and the Poetic Imagination (Routledge, 2012). In addition to his post at Girton College, Dr. Guite lectures for the Cambridge Theological Federation and regularly gives guest lectures and readings in the United States. He is also singer-songwriter and has released a record, "Songs and Sonnets." (Listen to Dr. Guite perform for the Dean's Songwriter Concert Series at Duke Divinity.)
Dr. Guite is a long-term partner of DITA and Duke Divinity School, and we were glad to welcome him back to campus this winter for hybrid week 2023. Below are snapshots from his visit—a recording of his lecture at Duke Divinity School as well as event photos. To hear his sermon at a local church, visit allsaints-chd.org/sermons and to learn more about his work, visit his site, or read a recent article in Christianity Today.
---
Poetry, Imagination, and the Call to Ministry
Gallery