The health and safety of our community is our top priority. Find updates and the latest information on Duke's Coronavirus Response website.
DITA hosts numerous events throughout the year including a bi-annual distinguished lecture series, an artist-in-residence program, and many other events open to the public. Experience several of our past events by visiting our Youtube or Warpwire or by perusing our event archives.
---
2023–2024 Calendar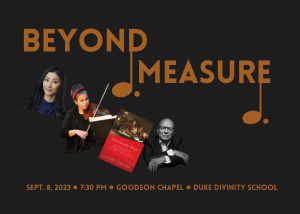 Beyond Measure
An evening concert featuring players from the New Caritas Orchestra as well as readings and visual art, led by Dr. Jeremy Begbie, in celebration of his newest volume of research, Abundantly More. Book signing and reception to follow.
Sept. 8. 7:30 PM. Goodson Chapel.
Matter+Spirit: A Chinese/American Exhibition
A mixed-media gallery of artworks by that engages perennial tensions between the material and the spiritual in human life and in society.
Duke University Chapel. August 15–October 15.
Spring 2024 events to be announced.
---
2022–2023 Event Highlights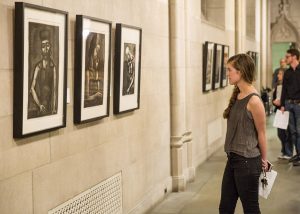 Marc Chagall and the Bible
Exhibit of etchings, lithographs, and two original posters was displayed in Duke University Chapel. Premiere lecturer on Marc Chagall, Vivian R. Jacobson, delivered a lecture on March 29 to a wide audience from Duke and Durham.
Jan. 12–March 30, 2023.
Malcolm Guite Mini-Residency
Rev. Dr. Malcom Guite taught an M.Div. course, preached at a local church, and delivered a lecture at Duke Divinity for hybrid week 2023.
Jan. 8–13, 2023.
Learn More

Shane McCrae Lecture and Reading
In conjunction with the Duke University English Dept. and St. Joseph's Episcopal Church, DITA hosted poet Shane McCrae for a visit. McCrae delivered a lecture on forgiveness and poetry and a public reading of his work in discussion with Dr. Lauren Winner.
October 20, 2022.

Cries of Loss and Hope
DITA's fall concert featuring the New Caritas Orchestra, directed by Jeremy Begbie, and a visiting ensemble from the Raleigh Music Collective.
September 2, 2022.
Event Recap