Can the quest for communion with God heal the broken places in the soul as well as the body?
In Psalm 42 we hear the voice of one who longs for God — "As the deer longs for the water, so my whole-being longs for you."
Ekklesia Contemporary Ballet returned to Duke Divinity on Tuesday, March 5th, 2019, to present a pair of dance pieces as contemporary reflections on how anguish and hope intermingle in the longing for God expressed in Psalm 42. In the process of developing the choreography for these two pieces, the dance company committed to meditating upon that Psalm while also seeking out and listening to the stories of those who live with post-traumatic stress disorder (PTSD).
Their performance coincided with the beginning of Lent and was followed by a panel discussion facilitated by Madeleine Rebouche, a 3rd year MDiv Student, and Danielle Jameison, a Theology, Medicine, and Culture Fellow. The performance and discussion were jointly-hosted by DITA, TMC, and Duke's Center for Reconciliation.
During the panel discussion, Madeline and Danielle asked the dancers about the particular challenge of "saying something" about the experience of living with PTSD relying only on embodied movement. Ekklesia's Artistic Director, Elisa Schroth, described some of her intentions behind a variety of the components of the performance. Then, however, the dancers explained how they found that they had each carried a different interpretation into Elisa's choreography, speaking to the generativity of the medium of dance to allow participants and viewers alike to "fill in" the movements with their own stories in meaningful ways. Another key reflection from the discussion centered around the cyclical reality of trauma, lament, healing (or at least relief), and praise that is so often expressed in the Psalms. Both dances sought to incarnate this reality through circular movement, and one of the dancers shared that as she worked through these moves in rehearsals, she realized that every revolution of trauma-lament-healing-praise took her beyond where she had been in the last cycle. This realization opened up the Psalms she was reading and studying to new registers of significance.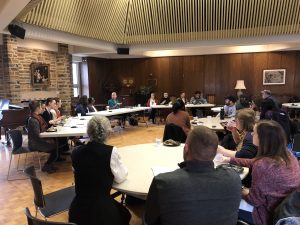 Throughout, the dancers expressed how the communal physicality of their medium, and the particular experience of preparing for this performance, enabled them to grow closer to one another over time.  Once they had learned to trust their dance partners with the physical weight of their bodies, they found they could better trust the rest of the company to bear their own stories of hurt and healing, lament and praise.
You can read more about Ekklesia's previous visit here.