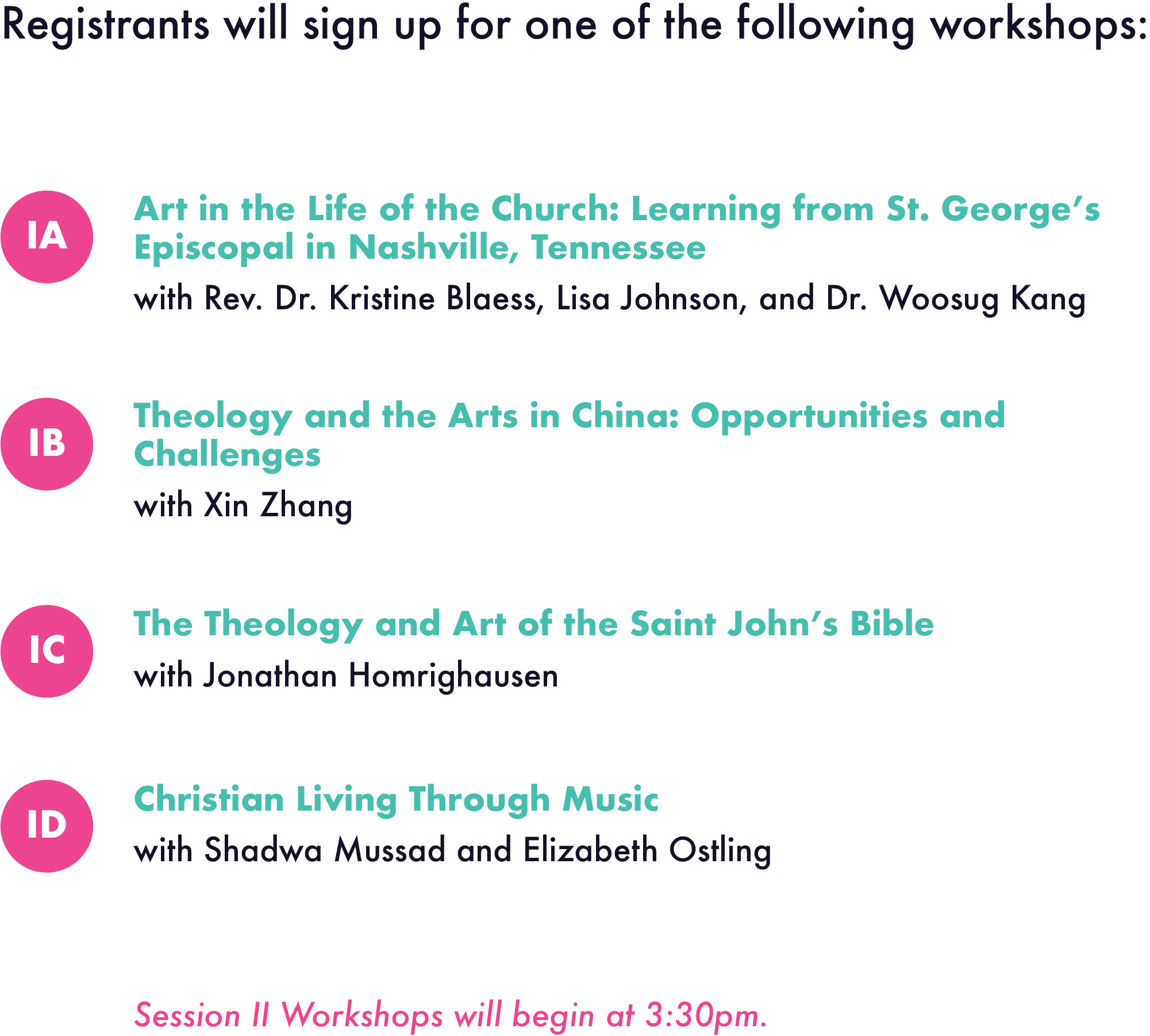 ---
---

IA: Art in the Life of the Church: Learning from St. George's Episcopal in Nashville, Tennessee
with Rev. Dr. Kristine Blaess, Lisa Johnson, and Dr. Woosug Kang
In this workshop, members of St. George's arts missional community will explore the practical theological foundation of their arts ministry.  They will share how they are employing the creation and appreciation of visual art, music, literature, and architecture within their local congregation and community to deepen their own discipleship and to disciple others.
---
IB: Theology and the Arts in China: Opportunities and Challenges
with Dr. Xin Zhang
What does Theology and the Arts look like in other parts of the world? In this workshop, participants will be introduced to the rich and diverse work of contemporary Chinese artists and reflect on both the new opportunities and the challenges facing Christian artists in China. Participants will discuss what theologians and artists in the United States can learn from their counterparts in other contexts.
Dr. Xin Zhang will introduce her work and vision as the Director of the Center for the Studies of Christian Arts & Literature at Beijing Normal University in China. Among many other projects, the center has featured a major exhibition on Chinese-Christian artist Daozi, hosted a Contemporary Arts Exhibition entitled "Dante for China," and partnered with Calvin College to prepare a traveling exhibition of Chinese Arts entitled "Matter and Spirit." The Center is also partnering with Duke Divinity to launch a major prize for Chinese artists in the coming year.
---
IC: The Theology and Art of the Saint John's Bible
with Jonathan Homrighausen
When The Saint John's Bible was completed in 2011, Newsweek called it "America's Book of Kells." An Its pages contain 160 illuminations in gold leaf, colorful gouache, and quill-written words of the entire Catholic Bible. In this workshop, participants will learn how to incorporate this unique monument of art, theology, and exegesis into both parrish and academic settings.  Participants will explore some of the most well-loved images from the Pentateuch and the Gospels, and discuss some of their underlying theological themes such as the sacramental imagination, engagement with contemporary social justice issues, and the Word made Flesh. They will have hands-on access to two volumes from the Heritage Edition.
Jonathan Homrighausen is a PhD student in Hebrew Bible/Old Testament at Duke University and author of Illuminating Justice: The Ethical Imagination of The Saint John's Bible (Liturgical Press, 2018). His work on scripture, theology, and visual art has also appeared in Religion and the Arts, Transpositions, and Painted Portrayals: The Art of Characterizing Biblical Figures (SBL Press, forthcoming).
---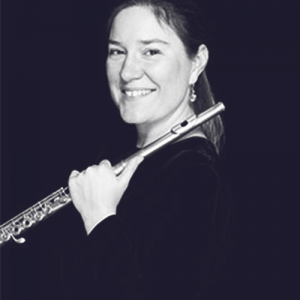 ID: Christian Living Through Music
with Shadwa Mussad and Elizabeth Ostling
How do artists live their faith through their practice and craft? In this workshop, participants will hear from professional musicians, Shadwa Mussad (violinist and violist, Atlanta Ballet Orchestra) and Elizabeth Ostling (associate principal flute, Boston Symphony Orchestra), about their experiences as Christians in the professional classical music world as well as the ways in which their seminary studies helped them further explore how the worlds of faith and music connect. This workshop will include a brief live performance.
---