DITA10 FAQ's
When and where is DITA10 taking place?
DITA10 will take place September 5-8, 2019 at Duke University in Durham, North Carolina. Evening events will take place in venues across campus, but most of the conference will be on West Campus at Duke Divinity School.
Who can register for DITA10?
Registration is open to everyone.
I'm interested in the Colloquium for Emerging Scholars, how do I participate?
The Emerging Scholars Colloquium is for doctoral students and junior scholars in the field of theology & the arts. Click HERE to learn more about the Colloquium. The Colloquium will be overseen by David Taylor.
What does DITA10 cost?
General Admission: $175
Current Duke Student, Staff, or Faculty Member: $25
Graduate Student (non-Duke Institution): $100
What does the registration include?
Registration for DITA10 gives you access to all events on the schedule. It does not include meals or housing with the exception of breakfast Sunday morning. Individual ticket sales for evening keynote events are for anyone who is not registered for DITA10.
What are my options for housing?
A block of rooms has been reserved at Hilton Garden Inn (2102 West Main Street) for a rate of $139. There will be a shuttle from the Hilton Garden Inn to Duke's West Campus. If you prefer other lodging accommodations, we strongly recommend finding a location with a shuttle to Duke's campus, because on-campus parking is very limited. For a list of other area hotels, visit Discover Durham. Durham has many AirBnB options as well.
How do I get to Durham, North Carolina?
The closest airport is Raleigh-Durham International Airport (RDU). Duke University is a 20 minute car ride from the airport. Durham's bus station and train station are located downtown within walking distance of East Campus.
Should I rent a car?
We recommend taking into account where you are staying and your personal needs when deciding if you want a car or not. Some downtown hotels are within walking distance to Duke's East Campus. The free Bull City Connector runs from downtown to Duke. DITA10 predominantly takes place on West Campus; visitor parking on West Campus is extremely limited.
Will transportation to campus be provided?
A shuttle will run between Duke's West Campus and the Hilton Garden Inn (2102 West Main Street) throughout the conference. Campus buses will be available for free transportation on campus.
Visitor parking on West Campus is extremely limited. We recommend, if possible, to plan to use the shuttle from the Hilton Garden Inn even if you do not stay there; cars can be parked there for the day. If you choose to park on campus, the cost is $2/hour with a maximum daily cost of $12. We recommend carpooling if you want to park on campus. For parking locations, visit Duke Visitor Parking.
I have a question about accessibility, campus, and transportation.
General information about accessibility at Duke can be found here. For specific questions, contact us at dita10@duke.edu.
What about meals?
Conference registration includes breakfast for Sunday morning's event with N.T. Wright. No other meals will be provided.
We recommend planning to eat lunch on campus. On Duke's West Campus there are many dining options, including the Divinity Cafe, located in the Divinity school, the Broadhead Center, and the Bryan Center, both of which are right next to Duke Divinity.
For dinner, we recommend getting off campus to explore some of the great restaurants in Durham, which has been called one of the best foodie towns in the South East by Southern Living, the New York Post and more! Check out Bites of Bull City for area restaurant recommendations.
What is the schedule for the conference?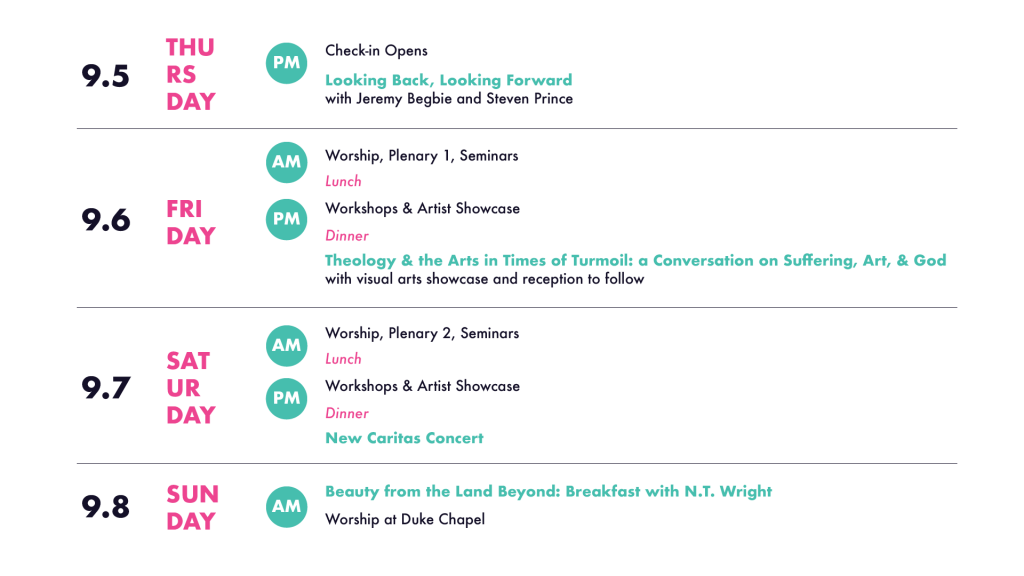 Are there group discounts?
No.