Transcendence + Immanence:
The Sacred Ink Wash Art of DaoZi
October 20 – November 26, 2023
This fall, DITA and Duke University Chapel present a premiere gallery of ink wash art by esteemed Chinese contemporary poet, painter, critic, and professor at the Academy of Art & Design at Tsinghua University. DaoZi (whose given name is Wang Min) works in a style called Sacred Ink Wash Painting through which he combines traditional Chinese ink painting techniques and materials with themes infused with his Christian faith. In Transcendence + Immanence, the artist transforms the concepts and techniques of traditional Chinese ink wash painting into the language of theological aesthetics. Freeing himself from the naturalistic and stylistic formulae of traditional ink wash painting, the artist uses the Sacred Ink Wash style to challenge darkness, lament destruction, and call for redemption.
Showcasing representative pieces from the artist's vast body of work since 2007, the exhibit is presented in two adjacent locations: a gallery of framed ink wash paintings is displayed in Duke Chapel, while a concurrent gallery of scrolls are on view in Duke Divinity School's 00 Westbrook hallway. This tandem installation at Duke Chapel and Duke Divinity School is the exhibition's premiere in the United States.
To celebrate the exhibit's installation, DITA and Duke Chapel were delighted to host the artist for a visit and series of events from Oct. 23-30. On Oct. 25, Duke Chapel hosted a gallery opening, accompanied by music by Duke Chapel musicians. On Oct. 26, the artist presented a lecture in Duke Divinity School on the the canon of sacred art and the  theological connections between his Christian faith and the unique medium of Sacred Ink Wash Painting. The lecture concluded with a public presentation of two artworks for Duke Divinity School's permanent collection. As a part of his visit, Prof. DaoZi also visited several Duke Divinity classes, offering theological insight into his artistic process and paintings.
We are grateful to the University's Asian/Pacific Studies Institute and the Divinity School's Asian House of Studies and Historical Division for their additional support of these events and DoaZi's visit.
Both galleries on display until Nov. 26, 2023. Please see below for full details and parking information.
---
Exhibit
Sacred Ink Wash Paintings
Duke University Chapel. October 20 – November 26, 2023.
On view at the Chapel daily from 10:00 a.m. to 8:00 p.m., except during a service or special event. Check the Chapel's website calendar for planned closures and scheduled events prior to planning your visit. No admission, registration, or tickets required to view the gallery.
Sacred Ink Scrolls
Duke Divinity School. October 20 – November 26, 2023.
On view in Duke Divinity School's 00 Westbrook hallway, located on the bottom floor of the Westbrook building. No admission, registration, or tickets required to view the gallery. The scrolls can be viewed any time the building is open. Directions to the Westbrook building.
Parking: The nearest public parking lot to the Chapel and Duke Divinity is the Bryan Center Parking Garage at 125 Science Drive. ADA parking is available in the parking lot immediately in front of the garage. Overflow options include the Science Drive Lot and Science Drive Garage. Parking is usually $2 per hour. There is no daily max. Please allow ample time for parking as availability can vary considerably depending on demand.
---
Artworks
The Angel of Light, ink and watercolor on paper, 2021
The River of Justice, ink and watercolor on paper, 2021
Ode to the Holy Trinity, scroll, ink and watercolor on paper, 2018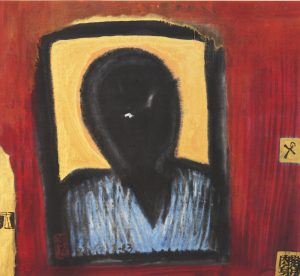 Portrait of a Deceased Thinker, ink on paper, 2018
The Blessing of Autumn Rain, ink on paper, 2018
---
The Spirit of Christ and
Sacred Ink Wash Painting
---
Events Gallery