This fall DITA hosted ​"Above Us Only Sky? Re-imagining the Cosmos with Dante and C.S. Lewis" with Dr. Michael Ward (Oxford) and Dr. Malcolm Guite (Cambridge). "With apologies to John Lennon, should we imagine there's no heaven, that Planet Earth is surrounded by empty space?"
Using Dante's ​Divine Comedy ​and Lewis' ​Narnia ​series, Ward and Guite asked how a Christian imagination can deepen our understanding of earth, the cosmos, and creation. Guite and Ward argue that in writers like Lewis and Dante we can see a model for a reconciliation of reason and imagination in the human experience. ​
The audio for the entire lecture is available ​here​.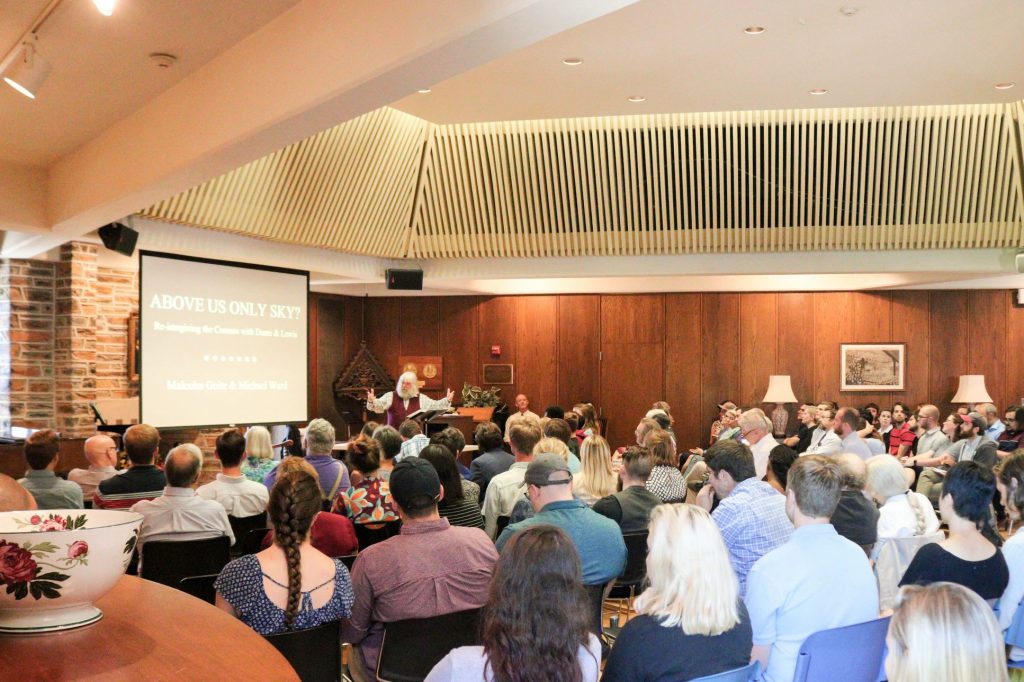 When asked if a rich theological imagination is important for leaders in the church, Guite recalled C.S. Lewis' struggle before his conversion:
The two hemispheres of my mind were in the sharpest contrast. On the one side a many-islanded sea of poetry and myth; on the other a glib and shallow 'rationalism.' Nearly all that I loved I believed to be imaginary; nearly all that I believed to be real I thought grim and meaningless.
–C.S. Lewis, ​Surprised by Joy
Guite suggested that when church leaders cultivate a theological imagination they are able to point people toward that reconciliation, citing Ephesians 3:18:​ "I pray that you may have the power to comprehend, with all the saints, what is the breadth and length and height and depth… [of God's love.]" T​here is no single way of experiencing that breadth and depth, and the arts help Christians, especially church leaders, know that.
The event was part of a two-part series with the Center for Christianity & Scholarship. After the lecture, students in DITA's Certificate for Theology & the Arts program spent an evening with Drs. Ward and Guite asking follow-up questions and in conversation. Dr. Guite will be a speaker and chaplain at DITA's upcoming conference, DITA10.
Malcolm Guite
Poet-priest Malcolm Guite is Chaplain of Girton College, Cambridge, and teaches at the Faculty of Divinity at the University of Cambridge. He lectures widely in England and North America on Theology and Literature and has published poetry, theology, and literary criticism, including his most recent work, ​Mariner: A Voyage with Samuel Taylor Coleridge.​
Michael Ward
Michael Ward is Senior Research Fellow at ​Blackfriars Hall, University of Oxford​. He is the author of the award-winning ​Planet Narnia: The Seven Heavens in the Imagination of C.S. Lewis​ (Oxford University Press) and co-editor of​ ​The Cambridge Companion to C.S. Lewis​ (Cambridge University Press).