2017 Opening Convocation: Two Days of Theology and the Arts
On August 31 and September 1, 2017, DITA hosted two days of fine arts, lectures with historians and theologians, and an exciting musical performance that featured an orchestra made up of top musicians of faith from across the nation.
August 31, 2017
The Patience to See: The Sights and Sounds of Carlo Dolci
An Evening with the Nasher Museum of Art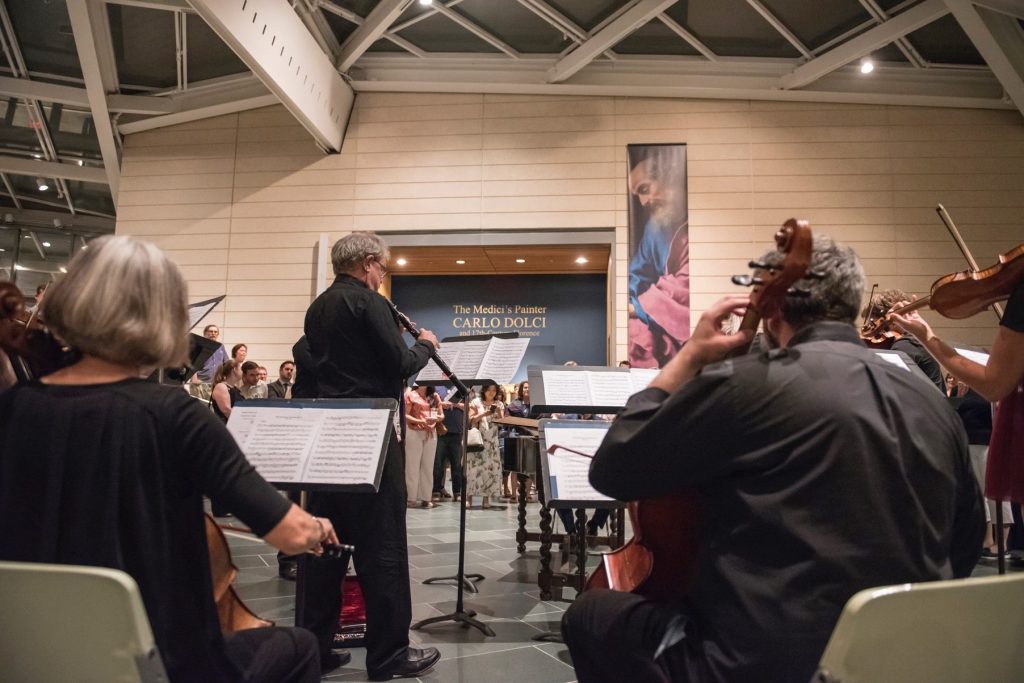 To celebrate the opening of the Nasher's exhibit, "The Medici's Painter: Carlo Dolci and Seventeenth-Century Florence," the country's first-ever exhibition of the remarkable paintings and drawings of Carlo Dolci (1616-1687), DITA hosted an evening focused on the contemplative witness of Dolci and his work. A favorite of the Medici court, Dolci was a celebrated and popular artist in his day, but his personal and original interpretation of sacred objects fell out of favor. The evening included lectures by Dr. Ben Quash and Dr. Chloe Reddaway, the premiere of "Blue Madonna," an original composition by Dr. Jeremy Begbie, and performances from this period.
I have never been part of an art lecture before so being able to play Jeremy's beautiful, brand new piece — that was such a challenge for me because I'm more musically oriented than visual art oriented, so I really tried to bond with the Blue Madonna painting as I prepared for the performance. What are we learning from this painting? Because art isn't neutral. It is meant to teach us something, too." Elizabeth Ostling, Boston Symphony Orchestra
September 1, 2017
Secretaries of Praise: Poetry, Song, and Theology
A Conversation on the Church and Poetry
On the second day, a panel of theologians and Irish poet, Micheal O'Siadhail, participated in a conversation on the intersection of poetry and theology, with particular attention to our praise to God. Featured speakers included Dr. David Ford, Emeritus Professor of Divinity at Cambridge University, Dr. Tom Greggs, Marshal Chair of Divinity at the University of Aberdeen, Dr. Jennie Grillo, Assistant Professor of Old Testament at Duke Divinity School, and poet, Micheal O'Siadhail. The panel was moderated by Dr. Richard Hays. The event highlights one of DITA's primary goals: to facilitate the intersection of disciplines for the sake of conversation. Part of the panel included a time for questions from Duke Divinity students and friends to panelists.
For more photos from the event, click here.
September 1, 2017
Home, Away, and Home Again: the Rhythm of the Gospel in Music
A Concert in Goodson Chapel
The two days culminated with Jeremy Begbie leading an ensemble of over thirty musicians of faith from the top orchestras across the United States for an interactive and unforgettable evening. This newly created orchestra explored how music can unlock the three-fold rhythm of the Gospel: from home, to away, and then home again. Never before had a group of this size played in Goodson Chapel, and never had Duke Divinity woven teaching and music together like this. Audience and performers alike were invited to experience the power of music to draw us home.
It was a gift to the audience, but it was also a gift to ourselves as we shared in community with others that share our faith. It might be expressed in different ways, but there is that commonality, that bond, where we enjoy playing together at a deeper level. It is more than notes on a page and we need to play as well as we can. What we are doing here is every person on the stage — we're all offering musical sacrifices to God.  Our prayer is that it is a fragrant offering to God as we do this." Doug Yeo, Boston Symphony Orchestra (Emeritus)
The evening was a concert-for-a-purpose as well, with all proceeds going to North Street Neighborhood Corner House, a Reality Ministries community. In a retrospective on the evening, Duke Divinity Professor, J. Warren Smith, described the climactic moment of the evening:
Before the final pieces were performed, Begbie brought up a middle-aged woman known as Miss T. She is a member of the Reality Ministries community in Durham … After she read a poem, one of the Reality Ministries staff led us in prayer for people of Corner House and Begbie conducted us in singing, "Guide me, O Thou Great Redeemer." In that moment we were more than an audience — listeners — at a concert; we were synagogue; we were ecclesia. In that atmosphere of compassion and worship, we were Church."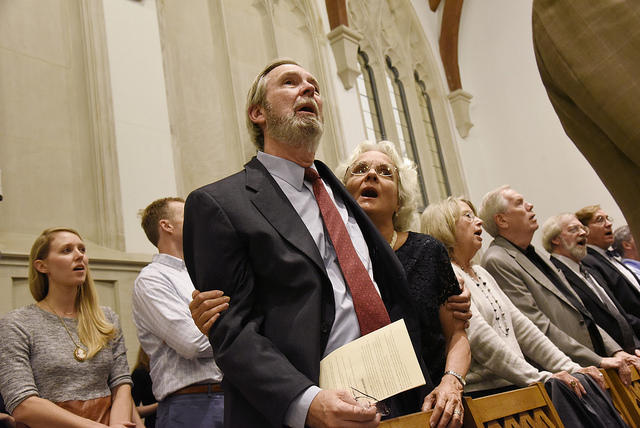 We didn't expect to be moved to tears in the process of a performance, but seeing the sacrificial community Reality Ministries practices in their community — that is, the love of Christ — and it is a wakeup call and inspiration." Nicholas Tavani, Aeolus Quartet
For more photos from the event, click here.
September 2, 2017
Music and Theology Intensive with Jeremy Begbie and Alan Torrance
Duke Divinity School
To conclude the weekend, the visiting musicians spent time with Dr. Jeremy Begbie and Dr. Alan Torrance for a day of conversation about the intersection of music and theology.
As performing musicians, we often separate the worship we have in church from our performances, but I think it's an incredible blessing that we can conceive of our performance as an act of worship. We can bring glory to God outside of the church setting. A lot of what Jeremy speaks about in the interplay between art and theology speaks to us. As a performing musician, that is life-giving." Sarita Kwok, Gordon College