Language of Autism
By Laura Benzing
Laser cut birch with mixed media
Audio description of the image:
This piece is inspired by Amanda Baggs, an autistic woman, who produced the popular YouTube video, In My Language. Baggs demonstrates how she thinks and interacts with her surroundings. How do you communicate? How do you interact with your environment? How might this be different for a neuroatypical person? The piece is also meant to challenge the words you use in disability conversations.
The project is tactile and interactive: viewers are welcome to touch the piece and rotate the gears.
Explanation of the symbolism of the piece:
Shaping Perception Through Language
By Maria Lulo Abinader
Magazine collage, acryllic paint, graphite and color pencils
These visual representations are compilations of words gathered from interviews of Duke students to project how they view visible and invisible disability. The paintings highlight the role gender plays in perceptions of disability, and the language used to describe it. We are looking at the same man or woman, using the same colors and representations, yet the words we use are vastly different, and create barriers and stigma. The project calls for a shift in the way language is used to represent disability, especially in casual conversation. How do we perpetuate the stigma of disability and illness based on gender biases? There is power in art, there is power in representation, and there is power in language.
Man with Invisible Disability
Man with Visible Disability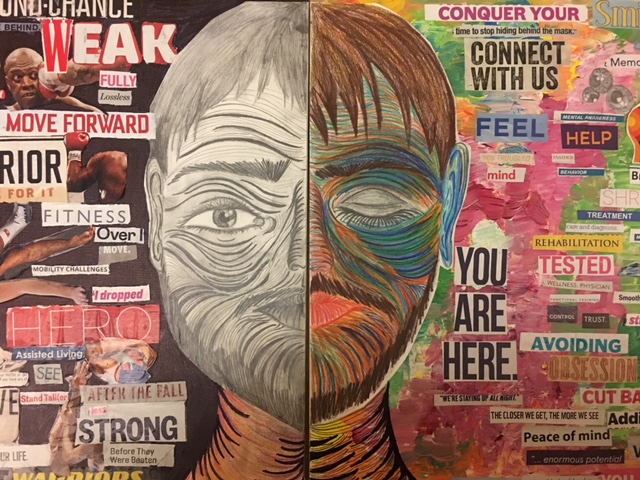 Woman with Invisible Disability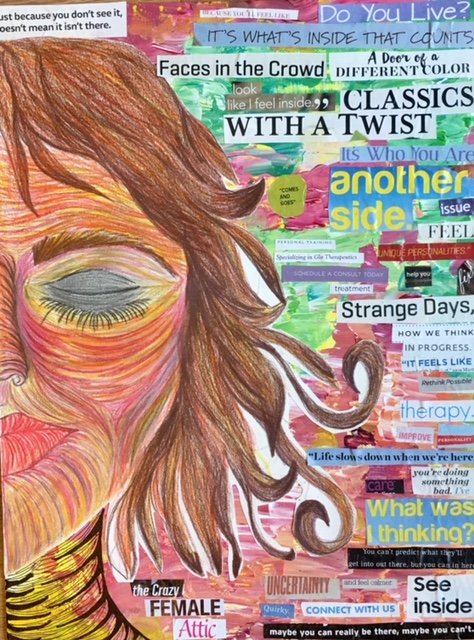 Woman with Visible Disability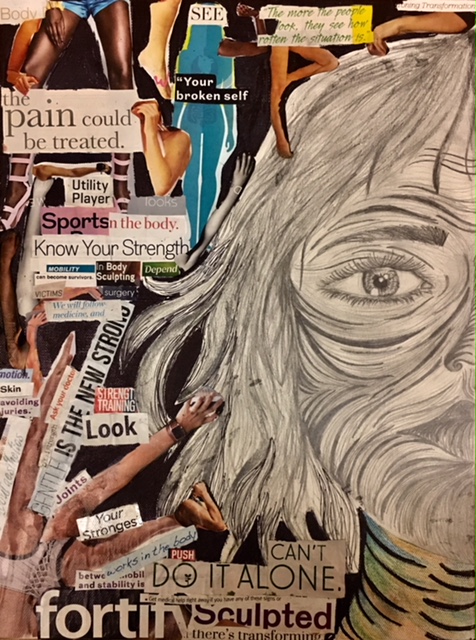 By Defne Yorgancioglu
A research booklet.
This booklet compiles research and interviews with addiction experts, enforcement officers, and other members of the Duke University community.
By Madison Canfora
Gift baskets and one-on-one conversations
This project involved critical analysis of the negative effects of Duke University's competitive culture on student mental health. Madison tabled with Duke Disability Alliance during Disability Pride Week to generate one-on-one conversations with students. She created gift-baskets to introduce an element of positivity and to remind students of the importance of self-care. See the materials she created here!