If you don't have three (plus… plus… plus…) days to dedicate to InfoComm, Whitlock's VIBE is a great alternative for those looking for single-day localized tradeshow with a number of the big AV players in attendance (Sony, Shure, Microsoft, Biamp, Crestron, Logitech, Panasonic, Epson, HARMAN, etc. etc.). Sure, you don't get the complete InfoComm experience with the massive booths, bags and bags of swag, "top secret" back room roadmaps, and crazy after-parties (from what I hear), but what VIBE lacks in scale, it makes up for in generous face time with your local and regional sales representatives and most importantly, interacting with your regional AV counterparts.
I started off my day by checking in and hitting the booths to see who was in attendance. It doesn't seem to matter how actively I monitor technology blogs or company newsletters, I always see something, while touring the booths, that makes me go, "wow… that's cool." VIBE was no exception. While much of the coolness was more evolutionary vs. revolutionary, there were a few common trends. First, EVERYONE seems to have a small huddle-room solution, everyone. It's clear that that segment is the low hanging fruit for many hardware manufacturers and they are trying to leverage what they do best in a sea of options and competition. The core advantage is, there is now a price point for just about every small AV install, and many of the options are dead simple. Second, if you aren't on the AV over IP train (or at least have your ticket), you're going to be left behind. For institutions where the AV department isn't under IT, things could get a little ugly. If nothing else, NOW is the time to start having conversations with your networking folks about the future of AV. Third, hardware manufacturers are finally getting around to providing user-friendly software for AV technicians to monitor their equipment. Sure, software engineers and more advanced programmers have had this for years, but it's finally getting down to the mid-level AV technicians and it offers invaluable insight into the hardware that's deployed.
The highlight of the day was the VIBE Higher Ed Roundtable. This invite-only session was an opportunity for regional higher-education institutions to discuss "the top issues facing Higher Ed, including remote learning, BYOD, security, technology adoption, AI and Cloud solution management." Whitlock would pose a topic, and the AV folks from the various universities would provide their input or thoughts on the subject. The common theme seemed to be that while few organizations are pushing the boundaries of AV, there is a subtle consolidation of technologies happening throughout the higher-education enterprise. In essence, fewer services are providing more capabilities.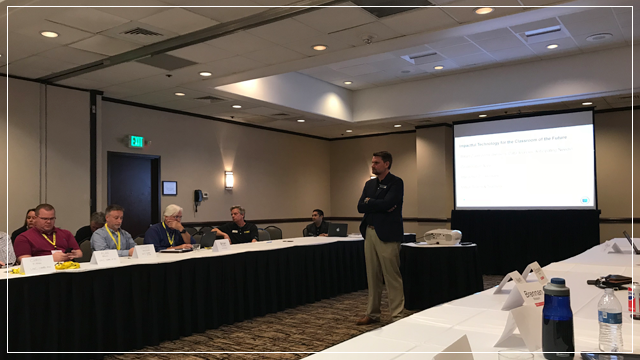 If you missed Whitlock's VIBE show, make sure to catch it next year. It's a great event.