Let's face it… humans like articulating concepts by drawing on a wall. This behavior dates back over 64,000 years with some of the first cave paintings. While we've improved on the concept over the years, transitioning to clay tablets, and eventually blackboards and whiteboards, the basic idea has remained the same. Why do people like chalkboard/whiteboards? Simple, it's a system you don't need to learn (or you learned when you were a child), you can quickly add, adjust, and erase content, it's multi-user, it doesn't require power, never needs a firmware or operating system update, and it lasts for years. While I'll avoid the grand "chalkboard vs. whiteboard" debate, we can all agree that the two communication systems are nearly identical, and are very effective in teaching environments. But, as classrooms transition from traditional learning environments (one professor teaching to a small to a medium number of students in a single classroom) to distance education and active learning environments, compounded by our rapid transition to digital platforms… the whiteboard has had a difficult time making the transition. There have been many (failed) attempts at digitizing the whiteboards, just check eBay. Most failed for a few key reasons. They were expensive, they required the user to learn a new system, they didn't interface well with other technologies… oh, and did I mention that they were expensive?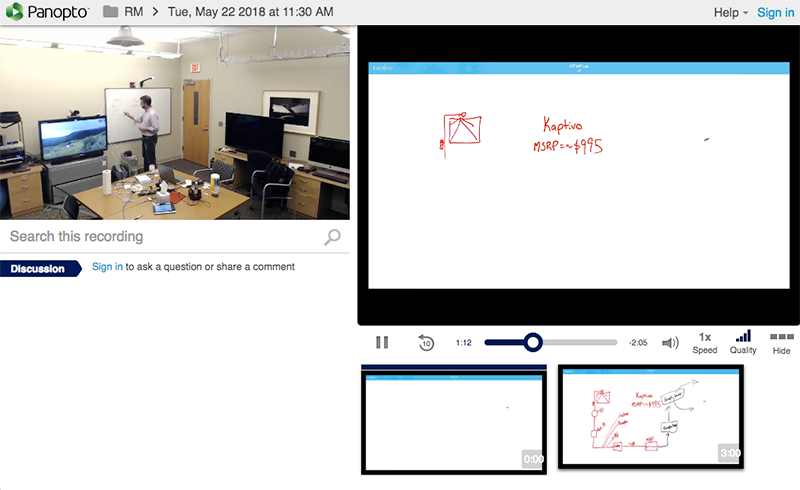 Enter Kaptivo, a "short throw" webcam based platform for capturing and sharing whiteboard content. During our testing (Panopto sample), we found that the device was capable of capturing the whiteboard image, cleaning up the image with a bit of Kaptivo processing magic, and convert the content into an HDMI friendly format. The power of Kaptivo is in its simplicity. From a faculty/staff/student perspective, you don't need to learn anything new… just write on the wall. But, that image can now be shared with our lecture capture system or any AV system you can think of (WebEx, Skype, Facebook, YouTube, etc.). It's also worth noting that Kaptivo is also capable of sharing the above content with their own Kaptivo software. While we didn't specifically test this product, it looked to be an elegant solution for organizations with limited resources.
The gotchas: Every new or interesting technology has a few gotchas. First, Kaptivo currently works with whiteboards (sorry chalkboard fans). Also, there isn't any way to daisy chain Kaptivo or "stitch" multiple Kaptivo units together for longer whiteboards (not to mention how you would share such content). Finally, the maximum whiteboard size is currently 6′ x 4′, so that's not all that big in a classroom environment.
At the end of the day, I could see this unit working well in a number of small collaborative learning environments, flipped classrooms and active learning spaces. We received a pre-production unit, so I'm anxious to see what the final product looks like and if some of the above-mentioned limitations can be overcomed. Overall, it's a very slick device.