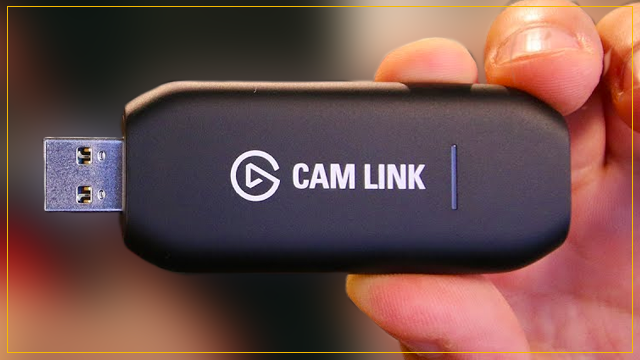 I'm always a little surprised when an inexpensive piece of AV that I've been secretly lusting after actually delivers on the audio and video goodness I seek. Elgato was nice enough to send us a demo unit of their Cam Link that I mentioned in a previous post. The Elgato Cam Link has one core function, and if you understand what it's designed to do, it performs that function exceptionally well. Oh, and did I mention it's cheap!
Every AV technician has been asked, "Why can't I use my fancy new [insert $500+ camcorder or DLSR (with HDMI output)] with WebEx, Facebook, YouTube, Skype, GoToMeeting, etc.? Simple… because you need an HDMI to USB converter… and it's not as simple as adding a $4 cable from Monoprice (for now). Until the Cam Link arrived on the market, that conversion process was either rather expensive at $300+ or complicated by the requirement of special drivers or software. The Cam Link is considerably more consumer focused in both price and ease of use.
So, what does Elgato's device do?
In essence, the Cam Link takes an HDMI (High-Definition Multimedia Interface) signal and converts it to a UVC (USB Video Class) friendly output. So, you can connect an HDMI output from a higher end video camera, AV system, gaming system, laptop, etc. to this device, and the Cam Link will output the video and audio over USB to a computer. And because the Cam Link is UVC compliant, it functions without additional drivers with Windows, Mac, and Linux. Now, this functionality has been around for some time, but at a price… both financial and technical.
There have been a number of articles written about this device from a consumer electronics and gaming perspective, so I'll focus on how the Cam Link could be used in higher education. I see this device being ideal for:
Improving your WebEx, Facebook Live, YouTube, Skype Sessions
If you are looking to upgrade from a webcam, this is your device. You'll be able to connect many consumer and professional cameras to the Elgato Cam Link (anything from a GoPro to a $5K+ Sony camera should work wonderfully). You will immediately notice an image quality improvement. Also, depending upon your camera, it may improve and/or simplify your audio capture options (I'll leave that for another post).
Simple Video Conversion
Yep, occasionally AV techs are asked to make backups (with permission) of VHS cassettes for use in a classroom. If you can find a VHS cassette player with HDMI out (a few now have 1080p upscaling built in). You may be able to throw away that old clunky capture device for good!
Content Capture
I actually used the Cam Link to capture an iPad and iPhone signal for demo purposes, using a dongle, to my MacBook Pro. While not the primary reason to buy the device, it was nice that it had a number of alternative uses. But the Cam Link could also capture connect from a document camera, microscope, gaming system, etc.
AV Testing
Many AV technicians regularly find themselves needing to connect an AV system for testing ("Are we receiving a signal?"). Lugging around a monitor and looking for power isn't awesome. So, a technician could simply use the Cam Link, connected to their laptop, to check an HDMI output.
I should mention that the device is dangerously ultra portable, resembling a oversized USB thumb drive, so the "walk off" factor is high. It has one HDMI input, one USB output, and a single LED light that indicates that it's receiving power from the USB drive (so no external power needed). Second, the device only works with a few of the most common HDMI resolutions, so not EVERY camera that supports HDMI will work with this device. 'd say that about 80%+ of all video cameras should be compatible, but may require that you adjust the camera's HDMI output. Finally, this device won't capture High-bandwidth Digital Content Protection (HDCP) protected content, so if you think this is the perfect device to copy Blu-ray movies (or even a MacBook Pro in some situations)… think again. You'll simply get a blank screen.
The Fine Print
The only gotcha I noticed is that the Elgato Cam Link crashed once (technically lost signal) in the 4+ hours of testing (a quick reboot resolved the issue). Not a critical concern, but something to consider.