This past year interest in a pilot service called MyTours has been growing as users across campus discover it and learn about its many benefits. Through MyTours, you can easily create walking or bicycle tours by uploading images, videos, audio, and text through a web browser, and geo-locate each stop on a map so users can navigate from point to point. When finished, these tours can be published in the iTunes and Google Play Stores for easy access by anyone around the globe through two apps called Duke Explore (for public content) and Duke Location Learning (for course-based content or content with a narrower audience).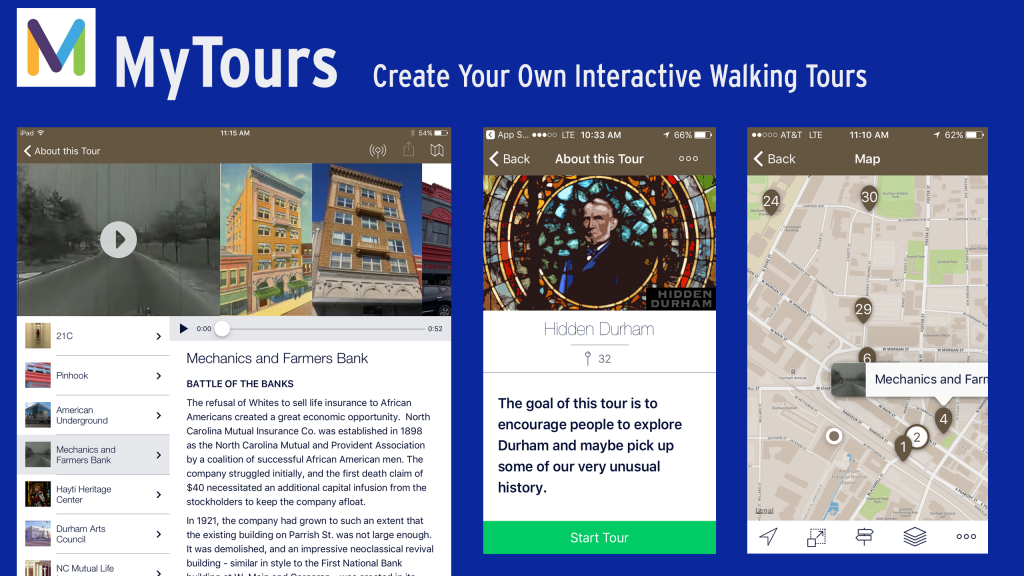 A few examples of how this tour is currently being used include:
A tour for new employees in the Duke University Health System
A sculpture tour of the Duke Campus
A bilingual walking tour of Montreal created by students in the Duke in Montreal French immersion program
A tour mapping out "Hidden Durham," showcasing landmarks and special places of historical significance in Durham
We are opening up the use of MyTours more widely throughout the Duke Community and would love to help you brainstorm ideas for tours that would help enhance the work you and your customers do. If you are interested in learning more about this service, contact oit-mt-info@duke.edu and someone will contact you to set up a time to discuss your project and show you how to use the tool.
Those of you who are already using MyTours should note that with a recent upgrade we added the ability to embed the following elements into your tours:
360-degree photos
3D models
Panorama photos
An important future direction we are exploring is the ability to leverage cutting edge indoor positioning technology. MyTours already lets you upload custom maps for indoor tours, but down the road we want to create more nuanced location-based awareness for indoor applications.