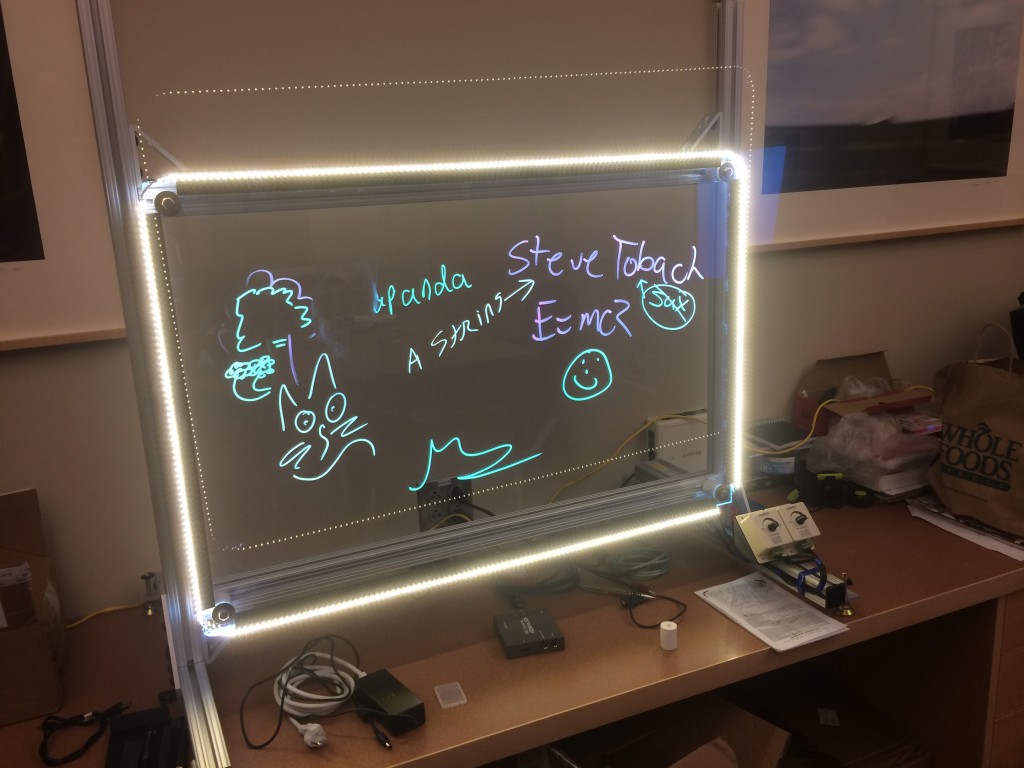 Based on some AMAZING work being done at Northwestern University, Chip Bobbert from Duke's ITS group partnered with the Duke Digital Initiative to build our own. We decided to first build a desktop prototype to work out construction challenges. That has proven to be a great approach as there were many.
Rather than welding parts, Chip used his experience with pre-fabricated aluminum parts from 80/20 to construct the frame for the piece. Billed as the "Industrial Erector Set" – the parts from this company really helped make this project achievable. Once the glass arrived, Chip realized that glass offsets that were commercially available would not do the trick. Since Chip also heads up DDI/ITS' 3D printing project, he used that technology to create the offsets.
When it came time to mount the LED's, Chip added a new feature of "self lighting". A second set of LED's were added to the original design which lit the glass edges to allow the neon Expo markers to illuminate. This second set was a warmer color temperature and was used to light the subject, eliminating the need for external lighting.  Dimmers were added to control both the edge light illumination and subject illumination.
In the example below, we tested using a $0.99 app called "LightDV" to flip the video in real time. For the desktop version, it's thought that the subject could use their iPhone or iPad on a tripod stand to shoot the video, flipping in real time. Other tools such as Screenflow can also flip the video in post production.
The large version is still under construction. Challenges with the larger design and ordering parts will make this deliverable later this summer. Duke Media Services will take delivery of this and experiment ways in which they can provide this as a service to interested faculty and students.
Once the project is completed, Chip will provide a complete set of parts and details on construction if other schools or departments want to create a light board on their own.