Home » Posts tagged 'Allen Building Takeover'
Tag Archives:
Allen Building Takeover
Nearly two dozen of the protesters met with administrators then told their stories to a sold-out audience
The 1969 Allen Building Takeover has loomed large in Duke's history. This past weekend, Feb. 9-10, nearly two dozen of the Duke alums who protested returned to campus to check on the status of the demands they issued 50 years ago and to see the impact of their activism.
The sold-out event, "Commemorating the Allen Building Takeover: Fifty Years Later," was hosted by the Department of African & African American Studies (AAAS) and held in the Ambassador Ballroom at the Washington Duke Inn. Two panel discussions, "The Original Protesters Tell Their Stories," and "Activism Then and Now: An Intergenerational Discussion," were followed by a reception at the Nasher Museum of Art. Hundreds attended and watched via livestream.
On Saturday morning, the black Duke alumni who participated in the Allen Building Takeover were invited to a private brunch with President Vincent Price. Price acknowledged their role in challenging Duke to become more inclusive and diverse.
"In the action that you took, you forever shifted our sails towards the prevailing winds of justice and equality," Price said.
"I don't quite know how to say thank you enough for what you did 50 years ago," Valerie Ashby, dean of Trinity College of Arts & Sciences, told the alum in her introductory remarks during Saturday's main program, adding that her role on campus would not exist had it not been for the takeover.
"So something happens differently for me when I walk in the Allen Building," she said, describing the portrait of Julian Abele, the black architect who designed Duke's campus. "Then I go into my office … which is right outside of where you did your work, I am not confused about how I am able to walk into that office each day. I owe you a huge debt of gratitude. Our job is to make you proud. Our job is to continue to help the university move forward so nothing that you did would have been done in vain."
Ashby joined Mark Anthony Neal, chair of AAAS, and Qsanet Tekie, '19, president of the Duke Eritrean and Ethiopian Student Transnational Association, to welcome "the Originals" and provide historical context for their activism 50 years ago. On Sunday, the Duke alumni had an informal Sunday service with remarks by Rev. Bill Turner, '71, and previewed an exhibit on the takeover in Perkins Library.
Many of "the Originals" had attended rural, segregated schools. They had been hand-picked by their communities — as national merit scholars and academically gifted — to attend Duke not long after the university integrated in 1963.
The impetus for the Takeover came when fall semester grades were released.
"I had black people coming up to me who had never come to any meetings or who had never spoken to me, come to me and said, 'Chuck we have to do something, these grades are not fair.' They had stories of [the racism] they had experienced in class," said Chuck Hopkins, '69, co-founder of the Afro-American Society.
On Feb. 13, 1969, Hopkins and dozens of other black Duke students barricaded themselves inside of the Allen Building, presenting the university administration with a list of demands, an action that has become a model for student activism on campus over the years.
The takeover resulted in the hiring of more black faculty, the creation of a black studies program which would eventually become AAAS, and a black student union that is now the Mary Lou Williams Center for Black Culture.
All agreed it took courage and commitment to go into the building.
"I was concerned we might die, especially if we brought guns," Michael McBride, '71, said. At other colleges and universities, students were being shot and killed for protesting.
"One of the things we strategized in our meetings was that we weren't going to bring arms or touch anyone. Our whole thing was let's not give the administration a reason to focus on something else," Hopkins said.
"Once we decided to do that I called Mark Pinsky, '69, at the (Duke) Chronicle to make sure the national press would cover it. We didn't want to be an isolated event down here in Durham," he said. "Howard (Fuller) came later in the day."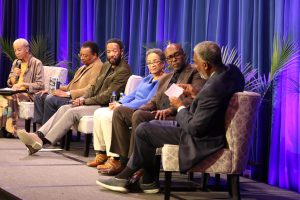 Fuller, who at the time of the takeover was a local community activist in Durham, mentored the Duke students and later became co-founder of Malcolm X Liberation University, where some of them enrolled after leaving Duke that spring.
In the aftermath, the students were put on probation, some were arrested, and some left Duke altogether, never to return.
"We figured the university would not suspend all black students. As part of our trial strategy, we had them sign a document saying they had gone into the building, even when they hadn't," Becton, JD '69, said. "It was not just the students, but the future of Duke that was on trial."
"It's easy to talk about now, but it wasn't easy on that day. We could have been killed. That is not a statement in the abstract," Fuller said. "When we went into that building in 1969, we were extending the lines of hope and organization. We took our people's history and suffering into that building."
VIEW COVERAGE INCLUDING PHOTOS HERE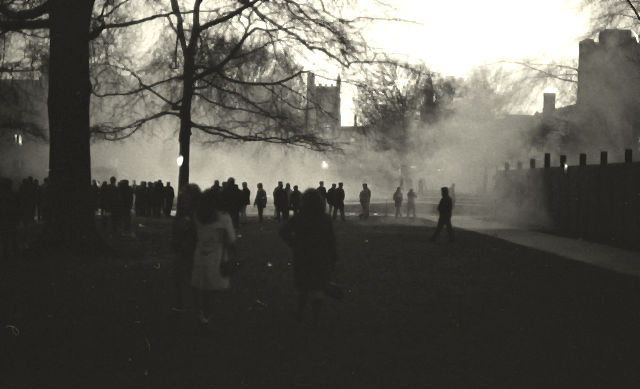 This Saturday, Feb. 9, Duke University will grapple with a portion of its racial history, commemorating the fiftieth anniversary of a pivotal occasion that forced the university to eventually evolve to offer one of the top-ranked black studies programs in the country.
The story of the Feb. 13, 1969, "takeover" of the Allen Building, a surreal moment when tear gas covered the quad, only hastily captured in blurry black and white photos, has been passed down through generations of student activists.
In response to pervasive discrimination, a group of 60-75 black students organized and barricaded themselves inside the university's main administrative building, issuing a typed list of 12 demands. At the top of the list, they wrote– "we want the establishment of a fully accredited department of Afro-American studies."
Now, on the anniversary of their activism, the Department of African & African American Studies at Duke for which they paved the way, has invited those black student activists back to campus to acknowledge their sacrifice and contribution to the university.
The group will reunite this weekend for "Commemorating the 1969 Allen Building Takeover: Fifty Years Later," an event hosted by the department.
The 12:30 p.m. program will be held in the Ambassador Ballroom at the Washington Duke Inn and includes two panel discussions: "The Original Allen Building Takeover Protesters Tell Their Stories," followed by "Activism Then and Now: An Intergenerational Conversation."
[NOTE: The event is at capacity. Attendees already registered are encouraged to arrive early as seating is limited. Late attendees will be directed to overflow seating at the Nasher Museum of Art or the Rubenstein Arts Center. At the end of the program, attendees will be shuttled to a reception at the Nasher Museum of Art for where a live DJ playing music from the late '60s and early '70s. Free parking is available for all of the day's events. A free shuttle will transport attendees back and forth between the two venues during the afternoon and early evening.]
To see the full schedule and available parking, go to https://aaas.duke.edu/abt50. Those unable to attend can watch a YouTube live stream and follow the discussion on Twitter @dukeaaas or by searching hashtag #DukeABT50.
Nearly 30 of the original Allen Building Takeover participants are expected to return to Durham, many of whom have not seen each other for 50 years. They have mixed feelings about their experience at Duke and are pleased to know about the impact of their activism.
"Fifty years later, it brings me great joy to know that the same institution which called in the police and National Guard on us in 1969, would today, welcome us back and acknowledge that our actions contributed positively to the evolution of the university," said Catherine LeBlanc '71, a business/education consultant, who was among the fifth class of black students to enter Duke.
LeBlanc will moderate a panel of fellow participants sharing first-hand accounts. A second panel will feature Duke alumni from several generations, including the recent 2016 Takeover, as well as former local/community activist Howard Fuller who mentored the Takeover participants.
"Six years after the first cohort of Black Students entered Duke in 1963, Blacks students and their allies were willing to put their academic careers and professional futures on the line, to push the university into the future," said Mark Anthony Neal, professor and chair of the Department of African and African American Studies.
"The sacrifice of those students, including the trauma and anger they may have carried with them from participating in The Takeover, has helped create the Duke that we know today – not quite where it needs to be, but a far cry from what it was," he said.
For more information on the Allen Building Takeover, visit Guide to the Allen Building Takeover Collection, 1969-2002 or listen to recordings of student radio station broadcasts from February 13, 1969.
OTHER ALLEN BUILDING TAKEOVER 50TH ANNIVERSARY EVENTS
The Allen Building Takeover marks the moment that Duke as an institution began to grapple with what it means to be an inclusive community, said Duke University Archivist Valerie Gillispie. "The alumni who participated in the Takeover did so at significant personal risk in order to bring attention to the struggles of African American students," she said.
Last summer Gillispie organized a team of undergraduate students to curate an exhibit, "Black Students Matter: Taking Over Allen in '69," set to open on Feb. 13 in Perkins Library, Chappell Family Gallery. The event, free and open to the public, will begin at 4:30 p.m.  Duke undergraduates, Lexi Kadis, Alan Ko, and Zara Porter, under the mentorship of a Duke graduate student, Ellen Song drew from a number of collections held by the University Archives to curate the exhibit.
"It was important to me that the exhibit resonate with today's student body, and that it draw connections between the issues of 1969 and the concerns faced by today's students of color," Gillispie said. "The exhibit is a chance for the entire campus to reflect on the events of February 13, 1969 and the ways it impacted the fifty years that have followed."
At 6:30 p.m. on the same evening, "Students Demand Change: The Genesis of the Mary Lou Williams Center for Black Culture," also free and open to the public, will be held at the in the Flowers Building in The Underground room. [Space is limited]
"It will be a reflective conversation," said Chandra Guinn, MLWC director. "Through dialogue, we will consider how student activism and students' demands called for and became the catalyst for institutional change."
Attendees will reflect on student activism throughout the years and the conditions that gave rise to the Allen Building Takeover with a focus on "what work is left to do."
"It is important to take time to reflect on how far we have come and what is left to do to help make the campus community one where all feel welcome and supported. It is because students demand change that institutions are made better," Guinn said.
For more information, contact the Mary Lou Williams Center for Black Culture.