Ashon Crawley lecture begins AAAS 50th speaker series
Ashon Crawley, Ph.D.'13, grew up in the Black Pentecostal church playing the Hammond organ by ear. He thought it was a sound that belonged to the black church. In fact, the sound of the organ can be traced from pre-slave trade Islam to southern delta gospel and blues.
His late afternoon talk, "Migration Stories and the Hammond Sound," explored how the sound of the Hammond organ has crossed continents and time as a sonic device regarded for its mystical and spiritual significance.
"There is sonic evidence in the way we pray. If we listen to the sound of Islam, we might hear the relationship to the blues," Crawley said before playing surprisingly similar-sounding clips of music from the Islamic, blues, Black Baptist and Black Pentecostal traditions.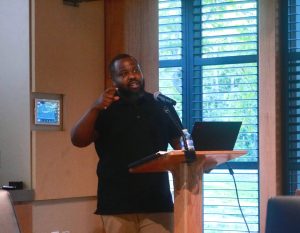 Nearly 30 students and faculty from Duke and neighboring universities filled the Moyle Room at the Karsh Alumni and Visitor Center on Sept. 18, for the launch of the Department of African and African American Studies' 50th anniversary speaker series. The 2019/20 series features a lecture by Duke alum who was trained or mentored in black studies at Duke and went on to a career in the field.
Crawley is an associate professor of religious studies and African American and African Studies at the University of Virginia. He is also the author or "Black Pentecostal Breath: The Aesthetics of Possibility," and the forthcoming, "The Lonely Letters."
"Migration is an attempt to allow for creative practice in the unfamiliar. We can understand the journey by the cities traveled through. Migration is a cause of remembrance. What do we carry when we migrate?" Crawley said.
"Let's take it to church," Crawley said, a common refrain, means "there is something worth carrying."
He notes the moment when a musician changes the sound from major to minor, heightening the audience expectation.
"These are occasions to think about the interrelatedness of sacred practice," Crawley said.
He listened to musicians play the same song on the Hammond and how the chords changed in cities such as Brooklyn, Detroit, Houston and Chicago, the location of churches known for their musicianship.
"They are actually playing what it feels like to be a question," Crawley said. "The chord changes mark difference, what is it like to live and breathe in difference?"
Of the musicians, often queer people "who serve as a sonic foundation" for the church, Crawley said "the church does not want them to come out nor do they want to risk losing their labor so they don't talk about queerness, unless it is in a disparaging way."
With more stringent church rules that did not allow for experimentation and the decline of music education in public school, Crawley's work traces the sacred sound of the organ as it "creates new worlds."