CREST

The CREST Dashboard is a comprehensive, multilevel data warehouse that facilitates evaluation of the cancer burden and disparities in the DCI catchment area.  CREST integrates data from the Duke Cancer Registry, Duke EHR, state cancer registries (NC, SC, VA), and contextual measures of social determinants of health.  CREST enables DCI scientists to identify areas in need of targeted efforts to eliminate health disparities, advance cancer health equity and reduce the burden of cancer in our catchment area and beyond
Specific Aims
 1. Curate Duke Cancer Institute patient data to understand the needs of our patient population
 2. Analyze NC Cancer Registry data to identify the burden of cancer in our catchment area and in NC
 3. Examine the impact of social determinants of health in cancer outcomes in catchment area and NC
 4. Examine the prevalence and trends in key cancer risk factors in key cancer risk factors in catchment area and NC
 5. Be responsive to data needs and requests from community partners and DCI investigators using CREST infrastructure to interrogate cancer data in NC and/or catchment area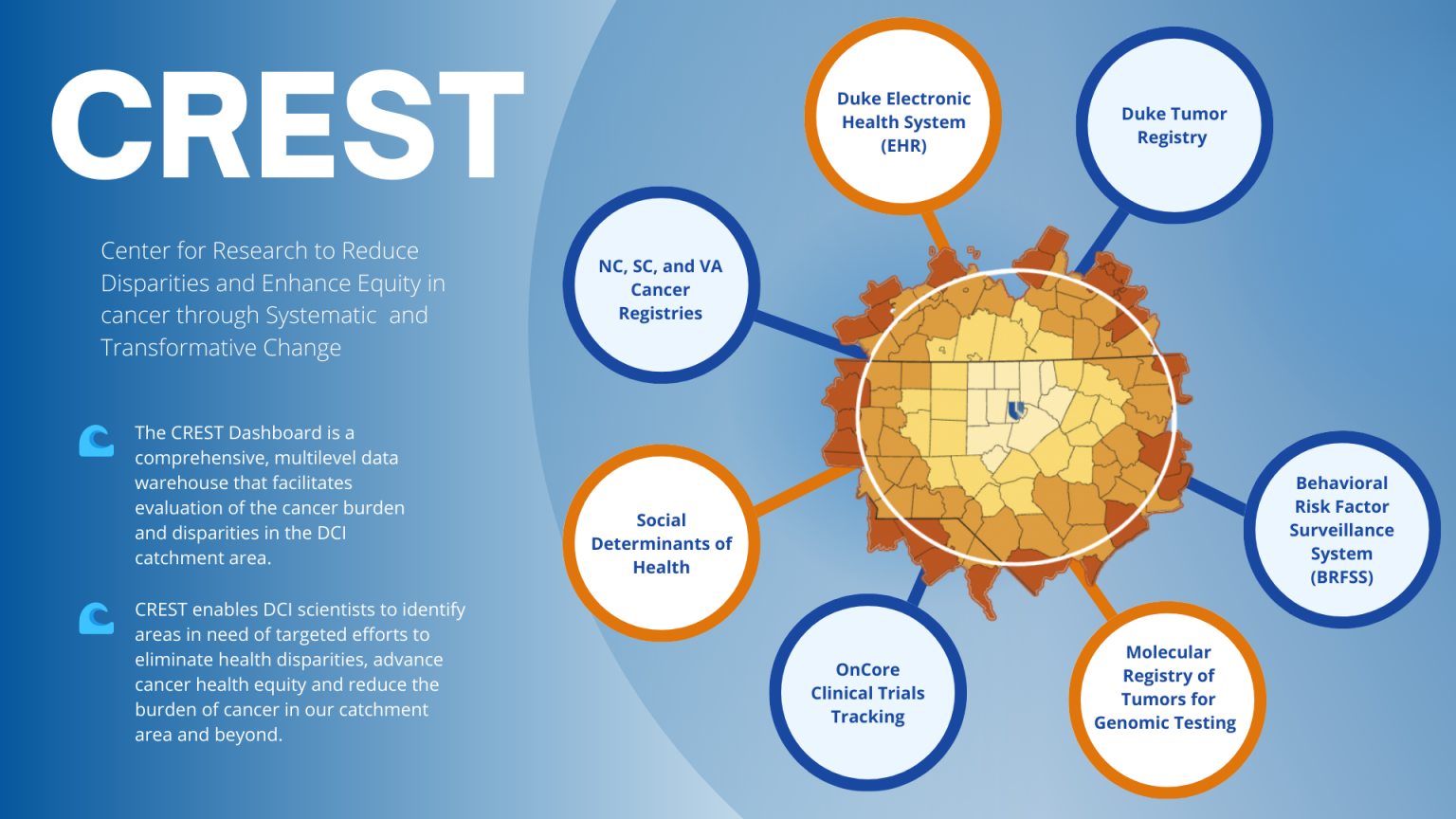 We highly encourage reviewing/completing the COEE Foundational Training on LMS to provide context to the data presented in the Dashboard.
You can access the CREST Dashboard by clicking "CREST Dashboard" below. 


**Please note, you will have to be logged into the DHS VPN to access the Dashboard.
If you are a new user please click "Request Access", we will ensure access is provided at the earliest. 
As we are currently testing and developing the dashboard, we would appreciate your feedback.
Click 
"Feedback Survey" to access the survey to let us know what can be improved in the dashboard. 
Thank you in advance for completing the survey.