2019
February 28 – Rare Disease Day
Members of Dr. Gayathri Devi's lab promoted awareness of inflammatory breast cancer on Rare Disease Day at the Duke Cancer Institute. Thanks to Nosh and Dunkin Donuts for donating treats and coffee for the event!
To learn more about inflammatory breast cancer, click here.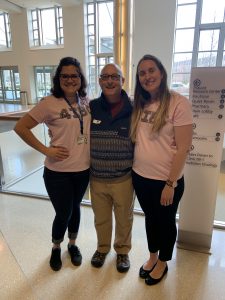 2018
Presentations by Consortium Members
Gayathri Devi, PhD – National Cancer Institute Symposium on Cancer Health Disparities
On October 24th, the Duke University Alpha Kappa Delta Phi Soriority hosted a medical panel about breast cancer for undergraduate students with Drs. Gita Suneja, Kelly Marcom, and Gayathri Devi.
Gayathri Devi, PhD – Second Annual GMaP Region 1-South Cancer Health Disparities Symposium
Risa Gearhart (doctoral candidate) presented a poster on the spatial distribution of breast cancer by staging in NC at the joint International Society for Environmental Epidemiology/International Society for Exposure Science conference in Ottawa, Canada.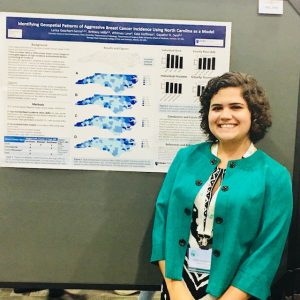 Nadine Barrett, PhD – 4th Annual Women's Health Awareness Day
Pranalee Patel; Maria Dixon, PhD; Nadine Barrett, PhD – American Association for Cancer Research Annual Meeting 2018
Gayathri Devi, PhD; Stephanie Freel, PhD – Association for Clinical and Translational Science 2018