Mark Dewhirst, DVM, PhD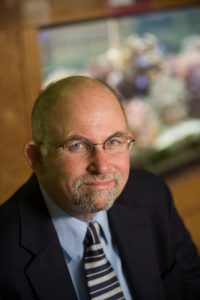 Mark W. Dewhirst, DVM, PhD is the Gustavo S. Montana Professor of Radiation Oncology and Vice Director for Basic Science in the Duke Cancer Institute.  Dr. Dewhirst has research interests in tumor hypoxia, angiogenesis, hyperthermia and drug transport.  He has spent 30 years studying causes and consequences of tumor hypoxia. In collaboration with Professor David Needham in the Pratt School of Engineering, he has developed a novel thermally sensitive drug carrying liposome that has been successfully translated to human clinical trials.  For his work in hyperthermia, involving many clinical trials with companion dogs with cancer, Over the past 30 years, Dr. Dewhirst has published >70 papers that dealt with the study of companion animal cancers in experimental therapeutics and functional imaging trials.
Dr. Dewhirst was recently named a Fellow in the AAAS.  Dr. Dewhirst has well over 500 peer-reviewed publications, book chapters and reviews, with >23,000 citations and an H-index of 79.  He has given named lectures at the University of Western Ontario, Thomas Jefferson University and the New Zealand Cancer Society. He was awarded the Failla Medal and Lecture from the Radiation Research Society in 2008, the Eugene Robinson award for excellence hyperthermia research in 1992 and a similar award from the European Society for Hyperthermic Oncology in 2009. He was named a fellow of ASTRO in 2009 and was awarded the prestigious Gold Medal from the same society in 2012.  He is a Senior Editor of Cancer Research and Editor-in-Chief of the International Journal of Hyperthermia.
He has mentored 24 graduate students, and many postdoctoral fellows, residents, junior faculty and medical students. He has been particularly skillful in assisting those he has mentored to obtain DOD and NIH fellowships, K awards and first R01 grants. His skill in mentoring has been recognized by the Duke Comprehensive Cancer Center, the Medical Physics Graduate Training programs and the School of Medicine, where he has received "Mentor of the Year" awards. In 2011 he was appointed the first Associate Dean of Faculty Mentoring in the Duke School of Medicine. In this position, he has implemented a comprehensive program to enhance success in obtaining NIH funding. He graduated from the University of Arizona in 1971 with a degree in Chemistry and Colorado State University in 1975 and 1979 with DVM and PhD degrees, respectively.