Register now for DUML's Community Science Water Quality Workshop!
Part of the Community Science Seminar Series in Environmental Education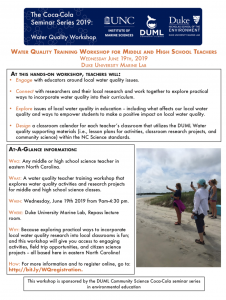 This water quality workshop is part of the Community Science Initiative at the Duke University marine Lab (DUML) that aims to increase meaningful opportunities for local schools, the general public and DUML to engage through public participation in research. Over the past two years, the Duke Marine lab and UNC's Institute for Coastal Studies have worked with teachers and researchers to create a series of hands-on water quality activities and experiments that are tied to our local community. By attending this water quality workshop, you will have the opportunity to explore the activities and research projects, and then create a classroom plan that not only utilizes our water quality resources, but also plans times for field trips and classroom visits with local scientists. This workshop is for interested middle and high school science teachers in eastern North Carolina (including AP Biology and AP Environmental Studies).
Workshop Objectives:
To engage with educators around local water quality issues.
To connect researchers and educators to local water quality research and work together to explore practical ways to incorporate water quality into the curriculum.
To explore issues of local water quality — including what affects our local water quality and ways to empower students to make a positive impact on local water quality.
To design a classroom calendar for each teacher that utilizes the DUML Water quality supporting materials (i.e., lesson plans for activities, classroom research projects, and citizen science) within the NC Science standards.
WHAT WE HAVE DONE:
Piloted activities in the winter/spring 2018:
During the first part of 2018 we piloted a storm water lesson plan for SciRen, toxicity experiments, and microplastic experiments!
Water Quality Vision Workshop: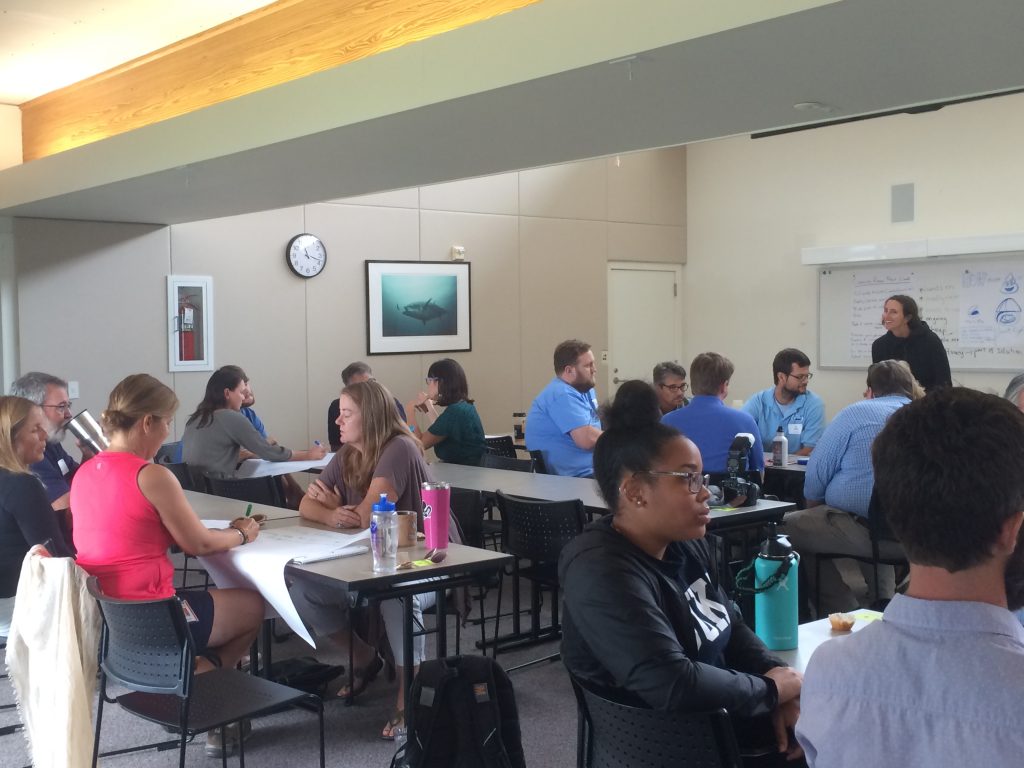 On September 29th, 2017, teachers, community members, and scientists came together at our Water quality vision workshop to think about engaging both students and community members with water quality issues in our community. At this vision workshop, leading educators, resource managers, and scientists around Carteret County identified key opportunities for a long-term community research project and ways to holistically incorporate this research into the middle school curriculum.
The ideas and input we received at this workshop were amazing, and the DUML Community Science Team is currently working to develop a community science research and education program addressing the most important ideas highlighted at the workshop in the context of current water quality research.
What's next for Water Quality?
Develop a curriculum for the Water Quality program
Design and pilot Water Quality activities in several classrooms
Revise program/curriculum with feedback from pilot activities and create curriculum workbook
Host teacher training workshop for Water Quality program
Run Water Quality program in middle school classrooms in Carteret County