Are you interested in gaining research and leadership skills? Exploring our local ecosystems?  Having Fun? And maybe even making some money?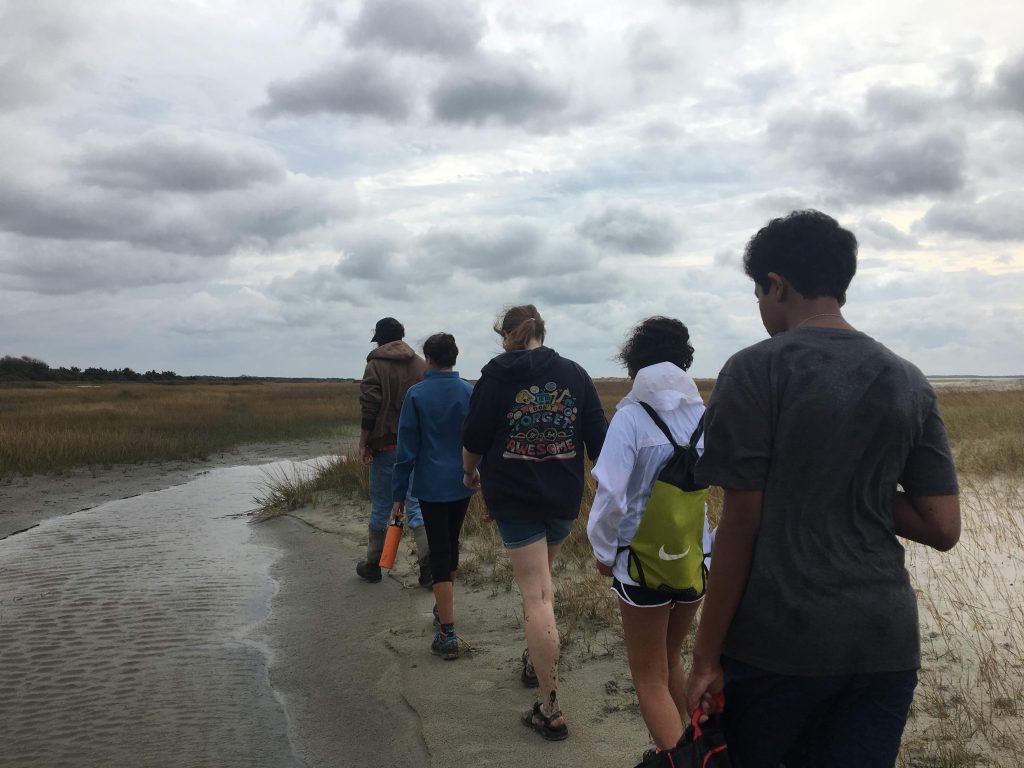 Apply to become a Duke University Marine Lab (DUML) Student Scientist! As a Student Scientist you will experience research alongside DUML scientists AND develop and deliver hands-on science outreach in our community.
At-A-Glance Information:
Who: Current 8th grade and high school students interested in Science, Technology, Engineering, Art, and Math (STEAM).
What: As a DUML Student Scientist you will engage with local research — such as exploring the effects of plastic pollution on marine debris, working with drones to analyze local habitats, analyzing wave action of coral reefs, collecting data on invertebrates, monitoring microorganisms in our local water, and more! During the summer, Student Scientists will deliver hands-on STEAM outreach activities to local kids!
When: The DUML Student Scientist program is a year-round hands-on research program with outreach opportunities during the summer.
Why: Because exploring is fun, local research and STEAM outreach is awesome, and these opportunities can help you gain experience for a STEM career and/or help as you prepare for college!
How to Apply: All interested middle and high school students must complete the online application by May 8th, 2019 to be included in the 2019 program. Access the application here!
---
Minimum Requirements:
DUML Student Scientists:

Open to all interested 8th – 12th graders (as of May 2019).

DUML Student Scientists must commit to 15-20 hrs of hands-on mentoring at the Duke Marine Lab throughout the year (schedules are flexible).

Community outreach stipends are available to Student Scientists who participate in summer outreach.

Students Scientists must commit to 30-60 hrs of community science outreach in June and July (schedule is flexible). Potential shifts will occur Monday-Friday in June and July for approximately 4-8 hours each day (with a maximum of 20 hours/week). 

Upon acceptance to the STEM Student Scientist program, students will be required to attend a 3-hour training session, date TBD. Food and beverage will be provided. If a Student Scientist fails to attend the training for any reason, they will be unable to participate during the 2019 season.
Expectations for DUML Student Scientists:
Student Scientists are expected to arrive on time and be prepared for your science and/or outreach responsibilities. Please note transportation assistance though CCATS is available.

Student Scientists are required to adhere to the DUML Community Science dress code, attendance and behavior policies.

All cell phones are to be stowed during Student Scientists hours unless the task requires use of a cell phone.

DUML Student Scientists opportunities consists of working with DUML scientists, DUML graduate and undergraduate students, children ages 5-13 and parents. As such, professionalism is expected at all times.
The Application Process:
Applications are being accepted through

May 8, 2019

.

All sections (questions and reference information) must be submitted online for full consideration.