Written by: Cass Nieman — CEM student at the Duke Marine lab
What's better than going out into the ocean and finding sea creatures? Having them brought to you after a long day of school! Well maybe not better, but it's a close second. We recently brought our traveling touch tanks to the Boys and Girls Clubs of Beaufort and Morehead City as well as to Beaufort Elementary School. There, we explored the cool– and yes, LIVE– critters we found in the ocean with elementary and middle school aged kids. Their faces were priceless. It can be hard for children to come to grips with something like a whelk, which just looks like a shell, being a living organism. Seeing them learn and absorb all of the interesting facts was a sight to behold.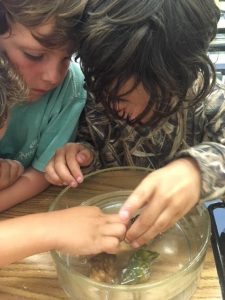 However, as is to be expected when interacting with unfamiliar animals, there were some initial fears regarding touching some of the creatures:
"What if the crab pinches me?"

"Do the sea urchins hurt? Are they poisonous?"
We made sure to talk with the kids ahead of any critter touching that nothing would hurt them, and that nothing we brought with us was poisonous or venomous. In the end, their concerns subsided and the kids had a great time playing with and learning from the touch tanks (and hopefully so did the creatures)!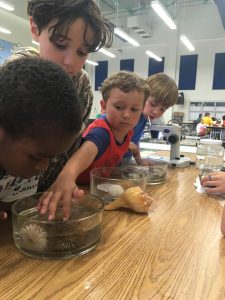 There were some kids who knew everything there is to know about every kind of crab, sea star, sea urchin, you name it! They were the ones telling us the most venomous type of jellyfish and the best places to find a sand dollar. There were others who were very curious and had lots of questions. It was encouraging to see how engaged and eager everyone was to learn more, and how fun it is work together and explore together!