After a week on the Amur (which he admired, as he admired most of Siberia's rivers [with Irtysh being a special case]), Chekhov arrived in "Khabarovka" (now Khabarovsk) on June 30, 1890.  He looked around town, stopped in the library at the military club (voennoe sobranie) to catch up on the newspapers, and was back on his way by July.
I actually spent more time in town than Chekhov–two nights–after a relaxing fifty-two hours on the Trans-Siberian from Ulan-Ude. I lucked into more of that wonderful Siberian babye leto–sunshine and T-shirt weather, which added to the charm of the place.
Khabarovsk, like Chekhov, respects and loves its river, which is lined with a broad pedestrian-and-bike-and-scooter promenade. While I promenaded, a shockingly fast spee
dboat rushed by. It went by too fast to be photographed. l was actually terrified for the dog and his two friends, who were the only other creatures on the river that evening.
I've been around the course a few times, but this was the fastest and loudest speedboat I've ever seen. It reminded me that Russians, as we know from Gogol's Dead Souls, love to "drive fast" (bystraya ezda).
Selifan also roused himself, and apportioned to the skewbald a few cuts across the back of a kind which at least had the effect of inciting that animal to trot; and when, presently, the other two horses followed their companion's example, the light britchka moved forwards like a piece of thistledown. Selifan flourished his whip and shouted, "Hi, hi!" as the inequalities of the road jerked him vertically on his seat; and meanwhile, reclining against the leather cushions of the vehicle's interior, Chichikov smiled with gratification at the sensation of driving fast. For what Russian does not love to drive fast? Which of us does not at times yearn to give his horses their head, and to let them go, and to cry, "To the devil with the world!"? At such moments a great force seems to uplift one as on wings; and one flies, and everything else flies, but contrariwise — both the verst stones, and traders riding on the shafts of their waggons, and the forest with dark lines of spruce and fir amid which may be heard the axe of the woodcutter and the croaking of the raven. Yes, out of a dim, remote distance the road comes towards one, and while nothing save the sky and the light clouds through which the moon is cleaving her way seem halted, the brief glimpses wherein one can discern nothing clearly have in them a pervading touch of mystery. Ah, troika, troika, swift as a bird, who was it first invented you? Only among a hardy race of folk can you have come to birth — only in a land which, though poor and rough, lies spread over half the world, and spans versts the counting whereof would leave one with aching eyes. Nor are you a modishly-fashioned vehicle of the road — a thing of clamps and iron. Rather, you are a vehicle but shapen and fitted with the axe or chisel of some handy peasant of Yaroslav. Nor are you driven by a coachman clothed in German livery, but by a man bearded and mittened. See him as he mounts, and flourishes his whip, and breaks into a long-drawn song! Away like the wind go the horses, and the wheels, with their spokes, become transparent circles, and the road seems to quiver beneath them, and a pedestrian, with a cry of astonishment, halts to watch the vehicle as it flies, flies, flies on its way until it becomes lost on the ultimate horizon — a speck amid a cloud of dust!

And you, Russia of mine — are not you also speeding like a troika which nought can overtake?

Though I will be reviled for this, I have taken this excerpt from C.J. Hogarth's quaint version of Dead Souls, Part I, Chapter Xi.  (https://ebooks.adelaide.edu.au/g/gogol/nikolai/g61d/chapter11.html.
Repeating here: I love Hogarth's vocabulary, and the website is very convenient.
The speedboat also reminded me of all the other instances of "driving fast" that I have witnessed, and like Gogol's pedestrian, I halted, with an inner cry of astonishment, as the vehicle flew, flew, flew away until it was a speck of on the watery horizon:
motorcycles: in nearly every city, I've found myself on a public street that doubles as a motorcycle speedway. In Petersburg, for example, it is Nevsky Prospect; in Moscow, the viewing platform over the city at Sparrow Hills (Voronyovye Gory) near Moscow State University. The bikers (young, male) are not wearing helmets. It is not enough for them to race flat-out; they must do it on their rear wheel. As a motorcyclist in my own right (modest, age-appropriate, helmeted, sometimes wearing a reflective vest, and [nearly] always observing traffic laws), I found the spectacle terrifying, exhilarating, and quintessentially Russian.
bicycles: in Khabarovsk, as I climbed up that long, long steep from the river to town (on a regular street, for automobile traffic), a young man flew by me, heading downhill in traffic, and dodging parked vehicles and pedestrians, at probably 50 mph: no helmet, and here's the clincher: hunched horizontally over the handlebars. I halted with an inner cry of astonishment (and admiration).
speedboats.
horse-carriages in tourist areas, for example, Kizhi: in the USA, undoubtedly fearing lawsuits, horse carriages at tourist attractions proceed slowly and steadily. In Kizhi, the horses actually appear to be having fun: they trot briskly, sweeping their tails in the air. Passengers grip the sides of the carriage.
automobiles: I believe I have adequately described the driving habits of certain Russian professionals.
All of this reminds me of the distinctly Russian view of mortality.  In the USA a great deal of effort is expended on making life safe, as if that would ultimately guarantee immortality. Along the way we sacrifice the joys of "going fast."
Disclaimer: I am not advocating that you "drive fast."
On two different rides with hosts in Russia, as we settled in, I began to buckle my seat belt (in the back), and my hosts said, "Oh, you don't have to do that."
A vast, green, tree-filled park leads up the hill from river to town, where we will seek out Khabarovsk's Chekhov.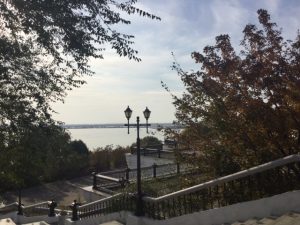 Up the hill and to the left is Khabarovsk's Far Eastern Art Museum: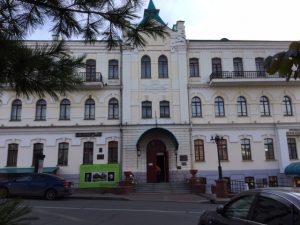 An elegant staircase leads to galleries featuring paintings from different European countries.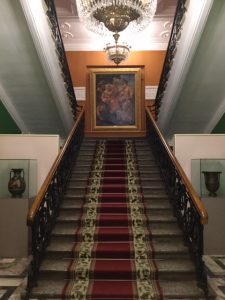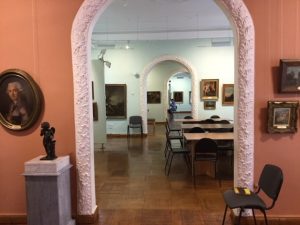 This building is that very same Military Club (voennoe sobranie), where Chekhov stopped in to read newspapers during his brief visit to Khabarovka. The muzeishchiki are very hospitable; they turn on lights in showcases for you, and give you useful brochures. They could not identify which room used to be the library, though, so I just assumed (for no reason whatever) that it was the one with tables that you see through the arched doorways. This is probably wrong, and if you know the answer to this mystery, please add it in a comment to the blog.
On the building's facade you will see a plaque (by Khabarovsk sculptor Yuri Kukuev) commemorating Chekhov's visit here.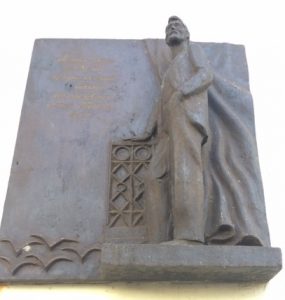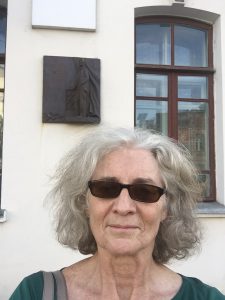 A couple of years ago, there was some discussion of setting up a square and monument dedicated to Chekhov in the city's Dynamo Park (https://todaykhv.ru/news/culture/6058/ ), but I did not have a chance to see how things were going with it. The monument, by Khabarovsk artist Vladimir Baburov, might look something like this (look right). This particular Chekhov is carrying a top hat. The trousers here are narrower than in the plaque, which gives this monument the advantage. I hope that the next time I come to Khabarovsk, I will be able to see it in the future Chekhov Square.
One cannot, even in this day and age, get to Sakhalin Island by train. If you're in a motor vehicle, you must take a ferry. From Khabarovsk, Chekhov proceeded sharply northward to the far-eastern port of Nikolaevsk, and from there to Alexandrovsky post halfway up Sakhalin's west coast. If you're a Trans-Siberian pedant, I mean purist, you must proceed to Vladivostok, the railway's end point. Chekhov did go to Vladivostok, but on his way back from Sakhalin in mid-October, 1890.
Anyway, in short, I got on an airplane in Khabarovsk and flew, in a shockingly short period of time (one hour, twenty minutes), to Yuzhno-Sakhalinsk (formerly Vladimirovka) on the southeast coast of Sakhalin Island.