So I thought, I'll just barrel through Kazan and be on my way; Chekhov actually didn't visit the city, and rumor has it, when his boat passed by on the Volga, he was asleep. So like him, I figured, why stop?
Oh-ho-ho…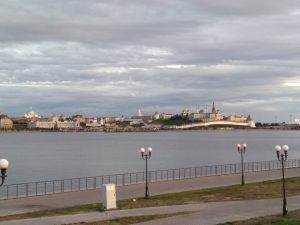 The view of the Kazan Kremlin from the river is breathtaking.  It's not the sort of scene Chekhov ever described, of course; his tastes for landscape shunned the spectacular and just distilled everything down to a single glinting detail. And of course my bratty phone (Huawei, I repeat, H-U-A-W-E-I) can't handle this image (not to mention the other things it can't handle. Is it too much to ask that it should actually ring when people call me, or not go randomly into "safe" mode to shield me from my own data?). I'm posting this photo just to prove that on occasion I can click on that little circle on the screen. Any flaws in the photo are the phone's fault.
My digital assistant and involuntary travel companion is starting to remind me of Oblomov's slatternly servant Zakhar. Let us review.
Oblomov lies prone, observes things and thinks, and Zakhar's job is to take care of his master's bodily needs (like put on his boots, feed him, wipe his nose, neaten up the bed linen–the hardest task, because Oblomov never gets up–shake the dust off things, remove, empty, and replace the little pot thing under the bed that Russian writers never mention ).
As models of codependency go (thunder and lightning, Bert and Ernie, the Bunkers, "interdisciplinarity" and deans, T—p and P—n, ), no one comes close to Oblomov and Zakharov.
"Zakhar!" shouts Oblomov from the divan.

A loud grumbling, a thud.  "Zakhar reentered but Oblomov straightaway sank into a reverie.  Zakhar stood there a couple minutes, eying his master from one side with covert resentment, then made for the door.

'Where do you think you're going?' asked Oblomov suddenly.

'You aren't saying anything, so what is the point of standing here?' rasped Zakhar, for lack of a different voice, which, he claimed, he had lost when the old master had taken him out hunting with the hounds in a strong headwind.

He stood in the middle of the room, half turned, looking sideways at Oblomov.

'What, your legs have withered off, you can't stand a few minutes? Can't you see I'm busy here worrying–just wait a bit! Been lazing around in there, haven't you? Find the letter I got yesterday from the elder. Where did you put it?'

'What letter? I haven't seen any letter,' said Zakhar.

'You're the one who got it from the mailman: it was all dirty!'

'How am I supposed to know where it is?' said Zakhar, batting at the papers and sundry items lying on the table.

'You never know anything. Look over there, in the basket! Or maybe it fell behind the divan? The back  is still not repaired; what would it take for you to call the carpenter and get it fixed? You're the one who broke it after all; you can't think of anything!'

'I didn't break it,' answered Zakhar. 'It broke on its own; it can't last forever; it was bound to break sometime.'

Off he set for his room, but the moment he braced his hand on his pallet so as to hop up onto it, again there came an urgent shout, 'Zakhar, Zakhar!'"

The best vocabulary here ("reentered, straightaway, reverie, covert resentment, pallet"...), I have taken from C.J. Hogarth's translation. http://www.ibiblio.org/eldritch/iag/oblomov.htm]; the rest is my fault.
Now it's time for deep thoughts about how Oblomov is the mind, and Zakhar is the body, of a divided Russian people during the waning days of serfdom. We could move on from there to how I, too, am Oblomov needing someone like Zakharov to take care of basic things, my thoughts bouncing along like a helium balloon (Why do human beings hurt one another? Why was I even born? Is justice possible?), my body down here wishing that I could get the bathroom door in the hostel to lock and hoping not to accidentally toss my passport in the trash. Of course, no small function of your minion is to take the blame when things go wrong. This is why my photo of the Kazan Kremlin falls so far short of the original.
As all photos, btw, must.
Now you need to know that even if Chekhov had been awake he would not have seen those towers there, to the left of that tall brick spire. That is the mosque, built in 2005 to celebrate the city's 1000th anniversary (a date, I understand, that is fuzzy–which actually is fine with me).
But still: if someone had thought to wake Chekhov up, he would have gone buggy eyed, and possibly would have renounced his restrained poetics for something exuberant and decided to stay here. I admit, during my manic four days here in Kazan, the thought occurred to me. But the catch is, they don't need a Chekhov scholar in this town. They already have one, and one of the best, Professor Lia Bushkanets of Kazan Federal University.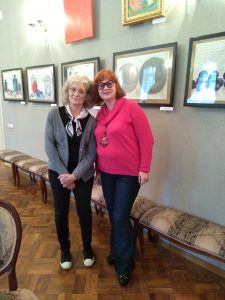 Lia is a dynamo, a department chair, a prolific scholar and educator with publications and a teaching portfolio in a whole range of fields, including second- language acquisition, Russian literature, education, social media and communication. During her free time this August she dashed off four articles….Kazan already has a me squared, so I will have to settle for a short, but action-packed visit.
This visit includes (of the things I remember):
the Aksyonov museum, churches, mosques, belltowers, and monasteries, museums in the university itself, the art museum and the Tatarstan history museum in the Kremlin, the original gateway to Siberia, the place where prisoners were sent on their way into   Siberian exile, old wooden houses, the old Tatar settlement,
an Irish pub, the Temple of All Religions, a concert of gifted child musicians, a street concert of Tatar folk music, the "wedding chashka," a dragon-fronted monstrosity on the other side of the Kazanka,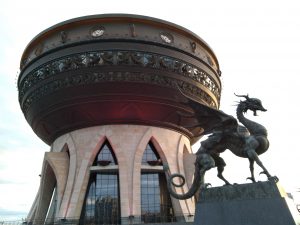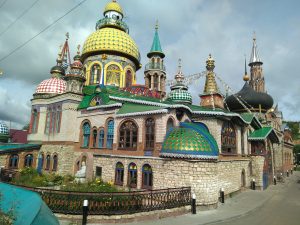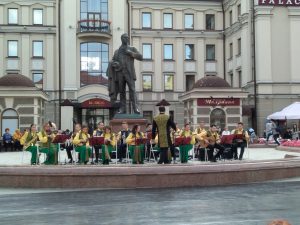 a drive (with the kind and patient Leonid, of Lia) to a luminous, quiet convent at dusk, bubble tea; Raifskii Monastery (where a man–a monk, I think–and a cat come out together to ring the bells…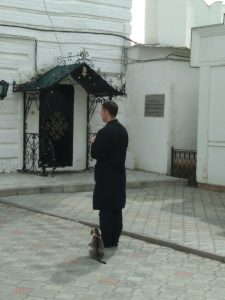 You can see the string leading from his hand upward to the bell. The cat stayed with him until he finished, and then they walked quietly away.
…Speaking of animals, it's been Animal Day in Kazan: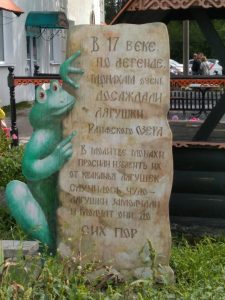 …an entire Island called Sviazhsk, with a restored 17-th century village and more churches and monasteries, and did I mention the Museum of Soviet Style? The closest I've ever seen to this extraordinary collection of items from the late Soviet period is the Banjo Museum in Oklahoma City, but there it was just banjos, and they were presented in neat, precise rows…
Why use an ordinary "WC" sign when these will do?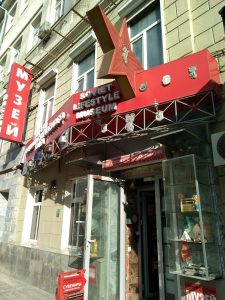 No, sorry, actually it's not like the Banjo Museum at all. There's nothing like this anywhere on earth. Ask Rustem Valiakhmetov, the mastermind, about it…And you will agree with everything he says.
Where was I?
Oh, the manuscript division of the Kazan library…wait, we have to take a break here, because my head is exploding.
If I look a little shell-shocked here between, on the left, the person in charge of the manuscripts in the library, and on the right, Lia,  it's because I've just seen a 15-th  century Torah manuscript, written on parchment made from almost three dozen, was it, goatskins, thirty-three meters long and rolled up, next to its ark, one of only two of this vintage that are intact sets, just kind of casually lying in a glass-topped drawer, next to, one of the first printed Korans ever, bound proofs of books by suchlike as Radishchev, with the authors' corrections, one of the world's first atlases–a thrilling monster that opens out onto, page after page, a most whimsical vision of the entire planet. We take a minute to locate the place that would now be identified as North Carolina.  It features a cute deer illustration, though the geography will not look familiar.
But onward! Onward into the actual book part of the Kazan library, one of Russia's biggest and most important libraries, and one with an extraordinary history. Many of its treasures were taken to off to St. Petersburg or Moscow, where you cannot see them as they are locked away. But in Kazan I saw, just casually sitting on a shelf, book number 1 in the library's original catalogue. The 1 was written right there on the spine, and under this book lay number 2, and then number 3. All the other books in the library come after that. This number 1 book is a monstrous thing that could have been an encyclopedia.  I learned, with unseemly joy, that the first books were catalogued by their SIZE (biggest first) not such trivia as author name or title.
Kazan University is filled with the spirit of Nikolai Lobachevsky, YES, YES, THE Lobachevsky of non-Euclidian geometry, and I knew, just knew, Dostoevsky would get a shout-out here.  A great genius (both of them), but we cannot stop!
The university classrooms….
If you're wishing you could catch a glimpse of these treasures, blame my little tormentor, who shut down completely at this moment.
Tolstoy and Vladimir Ilyich Ulyanov (Lenin, on the left) were two of the most famous dropouts in world history.
And it happened in Kazan.  Tolstoy "studied" Oriental languages here, then law, then off he went–but not after being incarcerated in the kartser for non-attendance of lectures. This grim place (though not as grim as where Dostoevsky would be heading in a few years) was on the second story of the hall where the university chapel was located. From outside it is down a ways, then up. Another key location in the university is what was formerly the clinic, where Tolstoy was treated for, uh…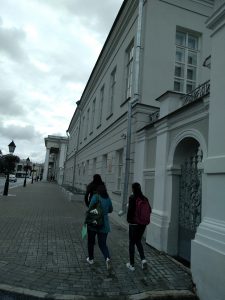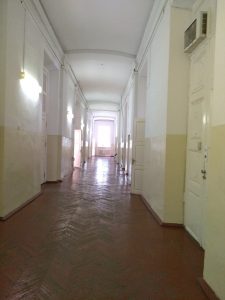 Where were we?  Now Chekhov–still asleep on that passing boat–cherished a dream through much of his life of becoming a professor. If you're one in the US, you will probably snicker–why the world's greatest prose writer and playwright want that? Тhen Lia takes you into a small classroom that has been kept in its original configuration from the 19th century. Rows of benches and desks. A raised lectern in front, facing them. I learn that all the students must enter (in their student uniforms) from a door in the back and sit at the desks before the professor enters–from a different door so as not to be soiled.  When he enters, in his professor uniform, they leap to their feet in unison and stand in cowed respect. The professor then sits regally at the lectern and reads to them from his notes. If the students don't attend class, they are basically imprisoned on bread and water (see Tolstoy above) for a period of time in the university's main building. The students write down, word for word, what the professor says. We don't have this stuff in US universities, but it might be worth trying.
As I was saying, word on the street is that Chekhov did hope to get a PhD and be an academic, which may have been one reason he went on this trip that I'm on. He doesn't seem to be the type to want students to leap to their feet at the very sight of him, but a smidge of this has to be irresistible.
Another Chekhov glimpse came to me like a gift in the Kazar Khanate history exhibit in one of the Kremlin museums. I had so wanted to go to see Valentina and Sergei in Ufa, and maybe go for the Bashkir kumys cure (fermented mare's milk), as Chekhov had on his "honeymoon," but just couldn't manage the logistics, an 11-hour bus trip off the tran-Siberian. So no kumys for me, and serves me right, I thought. But at the end of a excursion devoted to the lifestyle of the khans, they brought out a little tray for the guests, though, it felt, just for me. It tasted like sharp, thin yogurt. And I'm pretty sure it will have some good health effects in the arduous days to come. In short, one of my wishes for this trip came true.  Though I still want to go to Ufa.
In or near Kazan lived at various times, take a breath, I'm going to try to be alphabetical, Aksakov, Aksyonov, Baratynsky, Derzhavin, Gorky, Herzen,  Pasternak (what's 100 kilometers when you're in Siberia?), Pushkin, the singer Shalyapin, the painter Shishkin, Tolstoy of course, young Ulyanov, and many many many many many many more.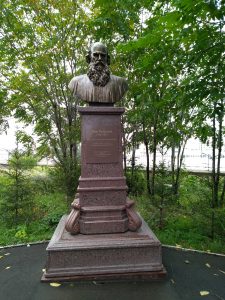 These Tolstoy statues are everywhere, they're like flies. Over the past few days I've realized that if you see a bust or statue of a man with a big beard and a fierce look, chances are over 90% that this is Tolstoy. But never a young one! Hey, Kazan…?
Tolstoy came to Kazan at the age of nine with his brothers and sister after his father died, orphaning them. They moved in with an aunt, who also died.  On my first day in town, I sleuthed out the address of the house where they lived and went for a visit. If you look closely, you will see that both doors–the little one, for people, and the big one, for horse carts, are tightly shut,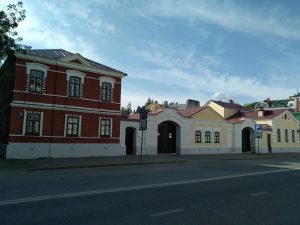 despite a sign on the door saying the house was open on weekends (which, indeed, this was). Clearly, with Tolstoy, I needed help.
Now here's where Lia comes in, big time. Off we went the next day on a Tolstoy walk. First, the house where he lived when a student (this being the third one he lived in in Kazan, with his brother). Not a museum, just a house that is still standing. A plaque: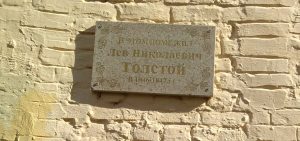 My slave takes a couple of pictures with no sign of rebellion. And a man comes out, wondering what we're doing, and Lia works her magic, and we're in! The house now serves as an event space. But Tolstoy left some molecules here (invisible ones).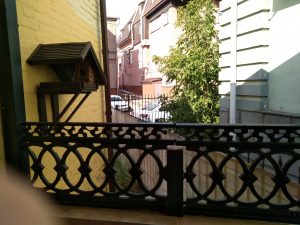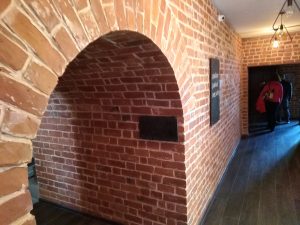 Then it's off to that house that I had tried the day before.  More magic: all doors open to Lia: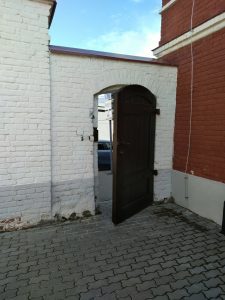 It is sort of a museum, and sort of not, and belongs to the school next door. Anyway, basically,  and again, we have the place to ourselves. The house where the orphaned, traumatized five Tolstoy children were taken in by their aunt, Tolstoy's first house in Kazan, where he grew and studied, and had experiences, and thought, and began brewing those amazing books to come.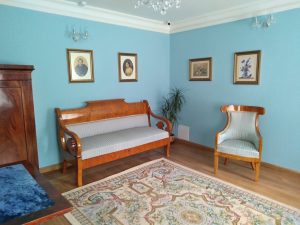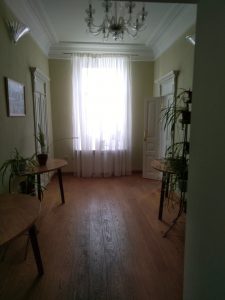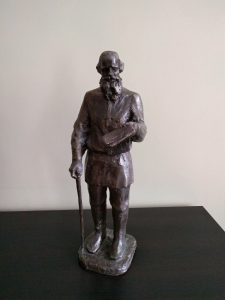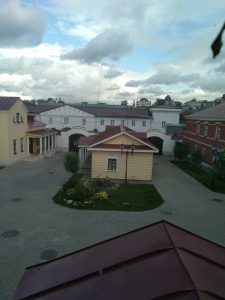 First, though, he had to enroll in Kazan University, and learn that he was not a man to be taught, but one to learn himself, and eventually, to teach.
Oh, did I mention that when I asked about Tolstoy addresses, Lia just basically handed me a book her father (a Kazan University professor himself) wrote, and she edited, entitled: "Юность Льва Толстого. Казанские годы." Lev Tolstoy's Youth: The Kazan years.  It's all in there, everything I want to know. Is this fairyland? Are ALL my wishes going to come true?
Read on…
We walk to another Tolstoy house, where he lived in between these two. And did I mention Aksyonov's house? Meaning, Vasily Aksyonov's aunt's house, which is where the boy (later one of the most famous emigre writers) was raised after his parents were arrested (his father, and his mother, Eugenia Ginzburg,  who wrote the greatest Gulag memoir of all, Journey Into the Whirlwind (Крутой маршрют)–go read it NOW. Yes, we met the strong, kind, brilliant, selfless people who care for this museum.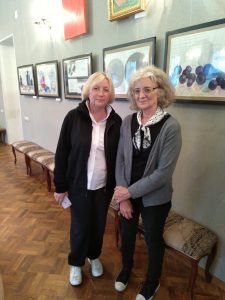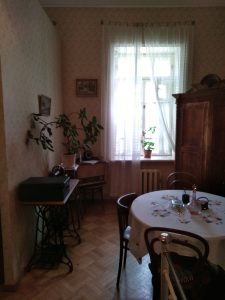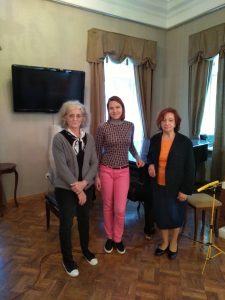 There are other houses too, and there are places where spirits hover, where houses used to be. The physical spaces are lovingly cared for by human beings, our beloved muzeishchiki. These places, which seem on the outside to be just physical buildings, are vessels for the human spirit. Tolstoy needed a roof over his head, and walls. And we're glad he did.
Oh, and I was on TV too.  Lia's program, "Who's Come to Visit?" on "Univer" TV (If you say it out loud, it's a cool sort of pun).
Fortunately Lia took good care of me and prevented any meltdowns (at least any that I'd  be aware of).
What I have loved most of all in this, and in all my conversations with colleagues here, is the intensity of their respect for their literature, and their realization that what they do matters, their dedication to the mission of education, as the most important way culture and history are passed on.  They get craft, and tradition, and pedagogy, and culture, and they get that this is work.
Now is time for you to reread Chekhov's story "In the Cart."  Don't worry, it's short. I will wait.
https://en.wikisource.org/wiki/A_Journey_By_Cart
***
As you can see, a lot can happen in four days, and more, too.
Who did we forget? Tons of people. Dostoevsky, for example, came through Kazan on his way back to European Russia after prison and exile. He spent ten days here reading books. And where is Chekhov in this one? Slept through it all.