OK: this inevitably is turning into a Dostoevsky thing. How could it not? St. Petersburg is Dostoevsky's city. Here he lived in a series rented apartments, including, once in the 1840s and again at the end of his life, between 1878 and 1881 here at Kuznetsky Pereulok 5, 2. You enter by going down a few stairs, then up. This is a paradigm you can apply for reading all of his works, by the way.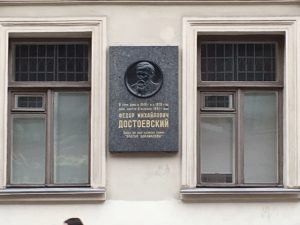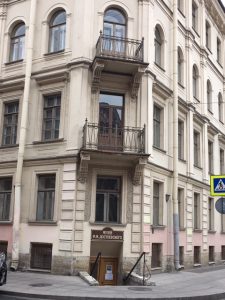 Here, after decades of studying Dostoevsky, and if you are lucky, you will spend some time with Boris Tikhomirov, Deputy Director of the Museum.  Listen and learn. Boris knows more about Dostoevsky's St. Petersburg than any other human being. He knows the city's 19th-century residence records, weather reports, public and private places, utilities, colors, sounds….He walks me through the apartment.  His knowledge pours out in an exhilarating torrent of facts, dates, names, and addresses, delivered in the fastest Russian I have ever heard.  I wish I had bigger ears. We thread through clumps of museum visitors, who drop their earphones in wonder. Your brain explodes. Dostoevsky's hat!  The doorbell! Anna Grigorevna's stenography!
Let us stop here. A single page under glass, filled with a mystifying cluster of letters and symbols. Turns out, there were stenography systems, but within them stenographers developed their own idiosyncratic methods. This takes me back to my own stenography days. When I was beginning my work as a contract interpreter for the State Department in the early 1990s, Joe Mozur, friend, colleague, mentor, and fellow interpreter, gave me a quaint stenography manual for secreteries, probably from the 1950s or 60s. For the work we did, which was mostly consecutive, we needed to listen, take notes, and then produce the interpretation from the notes. From the manual Joe gave me I learned tricks for abbreviating letters into squiggles. Skip the vowels! A wavy line will do for "tion"! Mix in Minyar-Beloruchev's manual for Russian consecutive interpreters, add in some smiley faces, arrows and exclamation points, convenient Japanese hiragana and kanji, and presto–your own system. MInyar-Beloruchev is insistent about spacing your notes across the page to reflect not only the words, but also the logic of the text, its syntax. So my notes looked kind of like an outline for something, lots of white space with wavy lines connecting clusters of symbols. Anna Grigorevna's page is neat and square: the symbols flow linearly, left to right, then left to right again. Nice straight margins. Stenography in your own language aims to capture and retain every word so that you can transcribe it later to obtain a precise record of what was said.  Before "dictophones" this was the only way to do it. For taking dictation in one language, stenography was based in phonetics. From the abbreviation of the sound, the word emerges naturally. But for interpreters between languages, the  more you move away from phonetics into symbols, the more effectively and quickly you will be able to move into the target language.
I'm down memory lane. But really, I could spend hours just gazing at one page of Anna Grigorevna's notes.  Think what emerged from them: the world's greatest novels… Boris explains how, after careful work comparing documents, a scholar was able to decipher her system. Think Rosetta Stone (the real one).  Panning back into the apartment, and into Dostoevsky's whole life, we take a moment, yet again, to ask–what would have become of Dostoevsky if he had not met Anna?
Here Anna Grigorevna created a nest for their family and brought their affairs into order. Here the children, Liuba and Fedya, played. Fedya liked horses and when he grew up had his own horse farm…
Liuba grew up and wrote a fanciful memoir of her father in bad French, which was translated into German, and from there in to many languages, seeding the world with sloppy information about Dostoevsky. Among Boris's extraordinary body of books and articles is a set of commentaries for a new edition of Liuba's memoir: https://www.labirint.ru/now/dostoevskiy/.
Hello and listen, publishing world! When are you going to translate into English and publish the amazing work that our Russian colleagues are doing?!  Boris's detailed commentaries on Crime and Punishment will blow your mind: https://www.fedordostoevsky.ru/research/creation/052/
And this book is just out in a new edition.
Really now….
Stay tuned. In a separate post I will provide a list of links to Dostoevsky-related scholarship.
Dostoevsky wrote The Brothers Karamazov during these years. Here, on January 28 (old style) or February 9 (new style), he died. What time exactly? Boris will list the various versions: was it 8:36? 8:40? 8:38? The clock in the room was set to 8:38, where it stood so for years. Then research zeroes in on 8:36. When they try to move the clock to reflect this reality, it springs back to 8:38.  And that is what you will see when you visit the museum.
Аnd visit the museum you must:
https://www.md.spb.ru/;
and, in English:
http://eng.md.spb.ru/
After our strenuous walk through Dostoevsky's apartment, under the watchful (and probably disapproving) gaze of The Man himself, Boris and I will, after some effort, figure out how to work the photo feature on my confusing new cell phone.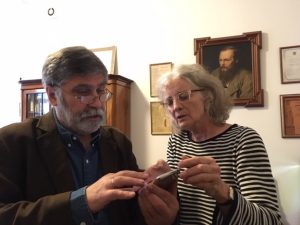 The thoughtful among you will ask how these pictures got taken; after all we are holding the phone.
In all the excitement, I have forgotten Chekhov. But, unsurprisingly, Boris gives me some valuable information for further explorations. It happens that Alexei Suvorin, Chekhov's friend and publisher, knew and visited Dostoevsky. Indeed, Suvorin's photo hangs on the museum wall.
Here is a, if not the, photo. This one is from the mid-1860s….
And since it is time to towel off, we will postpone my stroll to the Suvorin addresses that Boris provided me, and my miraculous new phone helped guide me to.