Duke University
Duke University was created in 1924 by James Buchanan Duke as a memorial to his father, Washington Duke. The Dukes, a Durham family that built a worldwide financial empire in the manufacture of tobacco products and developed electricity production in the Carolinas, long had been interested in Trinity College. Trinity traced its roots to 1838 in nearby Randolph County when local Methodist and Quaker communities opened Union Institute. The school, then named Trinity College, moved to Durham in 1892, where Benjamin Newton Duke served as a primary benefactor and link with the Duke family until his death in 1929. In December 1924, the provisions of indenture by Benjamin's brother, James B. Duke, created the family philanthropic foundation, The Duke Endowment, which provided for the expansion of Trinity College into Duke University, now ranked as a prestigious top ten, national university.
As a result of the Duke gift, Trinity underwent both physical and academic expansion. The original Durham campus became known as East Campus when it was rebuilt in stately Georgian architecture. West Campus, Gothic in style and dominated by the soaring 210-foot tower of Duke Chapel, opened in 1930. East Campus served as home of the Woman's College of Duke University until 1972, when the men's and women's undergraduate colleges merged. Since 1995 East Campus serves as the first-year student campus.
Undergraduates now enroll in either the Trinity College of Arts & Sciences or the Pratt School of Engineering. Graduate and professional schools are comprised of Continuing Studies, the Divinity School, the Graduate School, Fuqua School of Business, Duke Law School, Nicholas School of the Environment, Pratt School of Engineering, Sanford School of Public Policy, the School of Medicine, and the School of Nursing.
Durham, NC

Photo: Scott Faber
Durham was recognized as a community of the United States in 1823. In the late 1800's and early 1900's, Durham was noted for its tobacco and textile operations and the development and evolution of African-American enterprises. Durham is known as the "City of Medicine" and is an international center for scholarship, biotechnology, pharmaceuticals and high-tech research and development.
The City of Durham is a compact, 298 square-mile, single-city county with a population of over 228,000, and a county population of over 269,000. Centrally located, Durham is approximately 250 miles from Washington and 390 miles from Atlanta. The prestigious Research Triangle Park (RTP), the world's largest university-related research park populated with major multinational corporations, is just minutes away from Duke University. This region has the highest per capita population of Ph.Ds, scientists, and engineers in America.
Hotels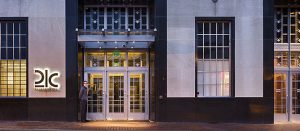 Aloft Durham Downtown
345 Blackwell Street, Durham, NoC, 27701, USA
Phone: +1 919-402-5656
www.marriott.com/hotels/travel/rduld-aloft-durham-downtown/
Cambria Hotel Durham
2306 Elba Street, Durham, NC, 27705, USA
Phone: +1 919-286-3111
www.choicehotels.com/north-carolina/durham/cambria-hotels/nc494
Durham Marriott City Center
201 Foster Street, Durham, NC, 27701, USA
Phone: +1 919-768-6000
www.marriott.com/hotels/travel/rducv-durham-marriott-city-center/
Hilton Garden Inn Durham/University Medical Center
2102 West Main Street, Durham, North Carolina, 27705, USA
Phone: +1 919-286-0774
hiltongardeninn3.hilton.com/
JB Duke Hotel
230 Science Drive, Durham, NC, 27708, USA
Phone: +1 919-660-6400
www.jbdukehotel.com
The King's Daughter Inn (B&B)
204 N Buchanan Blvd, Durham, NC 27701, USAS
Phone: +1 919-354-7000
thekingsdaughtersinn.com
Millenium Durham
2800 Campus Walk Avenue, Durham, NC, 27705 United States
Phone: +1 919-383-8575
www.millenniumhotels.com/en/durham/millennium-hotel-durham/
Residence Inn Durham
1108 West Main Street, Durham, NC, 27701, USA
Phone: +1 919-680-4440
21 C Hotel Durham
111 Corcoran Street, Durham, NC, 27701, USA
Phone: +1 919-956-6700
www.21cmuseumhotels.com/durham/
University Inn Durham/Duke Medical Center
502 Elf Street, Durham, NC, 27705, USA
Phone: +1 855-277-1405
universityinnduke.com/index.html
Dining
Blue Corn Café
716 9th St, Durham, NC, 27705, USA
Phone: +1 919-286-9600
Clouds Brewing Company (Gastro Pub)
905 W. Main St Ste 22A Durham, NC, 27701, USA
Phone: +1 919.251.8096
www.cloudsbrewing.com
Counting House
111 Corcoran Street, Durham, NC, 27701, USA
Phone: +1 919-956-6760
www.countinghousenc.com
Cucciolo Osteria
601 W Main St. Suite C, Durham, NC, 27701, USA
Phone: 984-243-8744
www.cucciolodurham.com
Elmo's Diner
776 9th St, Durham, NC 27705, USA
Phone: +1 919-416-3823
elmosdiner.com/
Guglhupf
2706 Durham-Chapel Hill Blvd., Durham, NC, 27707, USA
Phone: 919-401-2600
JuJu
737 9th St, The Shops at Erwin Mill #210, Durham, NC 27705. USA
Phone: +1 919-286-3555
www.jujudurham.com/
Local 22 Kitchen and Bar
2200 W Main St, Durham, NC, 27705, USA
Phone: +1 919-286-9755
Nasher Museum Café
2001 Campus Dr, Durham, NC, 27705, USA
Phone: +1 919-684-6032
Nosh
2812 Erwin Rd, Ste 101, Durham NC, 27705, USA
Phone: +1 919-383-4747
www.noshfood.com
Parker and Otis
112 S. Duke St, Durham, NC, 27701, USA\
Phone: +1 919-683-3200
www.parkerandotis.com/store/
Piedmont Restaurant
401 Foster Street, Durham, NC, USA
Phone: +1 919-683-1213
www.piedmontrestaurant.com
Smashburger
2608 Erwin Rd, Durham, NC, 27705, USA
Phone: +1 919-237-1070
locations.smashburger.com/
Vin Rouge
2010 Hillsborough Road, Durham, NC, USA
Phone: +1 919-416-0466