The CASE i3 Consulting Practicum (CASE i3CP) offers your organization the opportunity to engage with a team of carefully selected MBA students on an impact investing question you are currently addressing.
You benefit from the passion, fresh perspective, independence, and technical expertise our students bring to the CASE i3CP.  Our students benefit from the opportunity to apply their academic learning to an of-the-moment issue in the impact investing space.
The application to work with out students over the 2019-2020 academic year is now closed.  If you want to be notified when the application for next year opens (around June 2020) click here to share your contact information.
How it works:
| | | |
| --- | --- | --- |
| | | |
| We select 5-7 impact investing projects annually and match each client with a team of Duke University MBA students. Selected clients pay an engagement fee of $1000-5000. | Teams spend 400 person-hours on average researching, analyzing, developing models, and making actionable recommendations that they incorporate into client deliverables. | Teams work remotely and regularly with their client, and are directly supervised by Cathy Clark, Duke faculty member and Director of CASE i3. |
Our CASE i3 MBA Students
Our CASE i3 Fellows and Associates are highly skilled first and second year MBA students at the Fuqua School of Business, selected by CASE i3 through a competitive application process. These students have a passion for impact investing and come to Fuqua with years of experience in related fields.
---
Our Clients
We're proud to have served over 30 clients with a 100% client satisfaction rate to date.
Client projects have covered a range of topics, including:

| | |
| --- | --- |
| | Investment landscaping – We helped an impact fund decide which countries to focus on next as it expanded, based on economic conditions, entrepreneurial pipeline, and gaps in the investment landscape within certain industry segments. |
| | Impact assessment – We helped a global impact fund of funds define and aggregate impact metrics in the area of diversity and inclusion across its fund investments. |
| | Demand studies and product formation – We helped a global donor advised fund develop and test donor demand for new impact fund products. |
| | Deal and industry diligence – We helped an impact fund within a larger private equity firm identify bright spots and investable deals within two target industry segments. |
| | Exit planning –  We helped an enterprise operating across Africa and Asia develop a timeline and plan for exit options for its impact investors. |
Final deliverables often remain private to the client, but here are two examples of clients who shared their CASE i3 team's work publicly:
SJF Ventures engaged their CASE i3 team and the Duke Carbon Offset Initiative to create a dynamic model illustrating how and where SJF's portfolio companies reduce carbon emissions.
Investors' Circle's PCC fund worked with a CASE i3 team define key impact indicators PCC can use to track impact and then to develop a tool to systematically quantify the impact of the PCC portfolio over time.
What Past Clients Say About Our Teams:
They bring diverse skills:
"We benefited greatly from the CASE i3 team's diverse skill set and self-directed approach in analyzing opportunities for expansion."  – Mercy Corps Social Venture Fund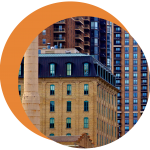 They are professional and rigorous:

"The CASE i3 Team was a dream to work with.  They were curious, diligent, and rigorous in their research and analysis – always ensuring that the work would be helpful and relevant to our organization in the long run." – Calvert Impact Capital
They provide actionable recommendations:

"We found the team skilled at jumping in and learning a new industry and providing actionable recommendations and insights."  – Big Path Capital
Client Q&A:
We interviewed Seth Brown of Quantified Ventures to get his take on working with a CASE i3 Consulting Program team, tips to getting the most out of the engagement, and the outcomes of the QV project.  Read the Q&A here.
---
A history of student consulting at Duke
The CASE i3CP capitalizes on Fuqua's rich history of student-led client consulting projects. The Fuqua School of Business has connected more than 400 companies and organizations to MBA advisory teams over the past 25 years through the Fuqua Client Consulting Practicum. Fuqua students have advised a wide variety of clients, ranging from locally-based business and nonprofits, to large global corporations and social enterprises operating in developing markets.  All teams are advised by Cathy Clark, a highly experienced Duke faculty member, to whom initial, mid-term, and final reports are submitted.  Students receive academic credit in recognition of the critical educational aspect of their efforts.
---
Project Timeline
Applications are accepted over the summer for engagements from fall through spring. Appropriate projects can be designed to fit within the example time frame detailed below:
| | |
| --- | --- |
| Late June: | Application opens for client organizations |
| August 31: | Deadline for applications from client organizations |
| September 5-13: | Lead fellows conduct due diligence on potential projects |
| September 16: | Client organizations selected by lead fellows |
| Sept 17 – Oct 4: | Lead fellows recruit their team of associates |
| Mid October: | Client virtually meets their student team |
| October 16-27: | Exams and fall break; students off |
| Oct 28 – Dec 10: | Lead fellow works with client on refining project scope |
| Dec 11 – Jan 15: | Exams and winter break; students off |
| Jan 16 – Feb 25: | Student team works on project and meets remotely with client organization |
| Feb 25 – Mar 15: | Exams and spring break; students off |
| Mar 16 – Apr 24: | Student team works on project and meets remotely with client organization |
| April 24: | Student team concludes project and sends deliverables to client |
| April 30: | Client submits evaluation survey |
You can view the Fuqua School of Business academic calendar here.
---
Tips for Applying:
Clicking on the blue box to the right will take you straight to the application during the open period.  If outside the application period, the link will take you to a form to indicate your interest in being notified of future applications.  Our application for the 2019-2020 academic year closed on August 31, 2019. Our next application will open around June 2020.
Some application tips:
Be very clear about your scope of work, action steps you expect the students to take, and ideal final deliverables
Detail the relevant expertise students will need to complete the project
Explain how the project is appropriate for students working remotely from Durham, NC
If you have any questions about CASE i3CP or the application process, email Carrie Gonnella.