Cathy Clark, Adjunct Professor and Director of Fuqua's Center for the Advancement of Social Entrepreneurship Impact Investing Initiative (CASE i3), has performed extensive research into the best practices of impact investing, the practice of investing for both financial gain and societal good.  After the 2013 G8 Leaders Summit, an international push was launched to determine how impact investing could help accelerate economic growth and address some of society's most challenging problems.  As a result, 27 people, including Clark, were asked to serve on the United States National Advisory Board on Impact Investing ("The NAB") to provide guidance to a new Global Taskforce on Social Impact Investing.  On June 25, 2014,  the NAB  released recommendations  at the White House and on Capitol Hill for how U.S. policymakers could encourage more of the approach, which also included announcements of more than $1.5 billion in new private commitments to impact investing as well as several significant government commitments.
CASE agreed to independently track the progress of the new impact investment commitments made at the White House, and make that information publicly available.
Read Fuqua's Q and A here, or see below for releases, blogs, videos and press coverage. If you have other links to suggest, please email us at carrie.gonnella@duke.edu.
UPDATE: September 14, 2016: CASE i3 releases First #NABtracker report on 2014 Commitments
For more information on the work of the US National Advisory Board, see:
For Updates from Global Taskforce on Social Impact Investing, established by the G8:
UPDATES: Policy Results in 2015
2014 Releases and Blogs
2014 Press Coverage:
2014 Videos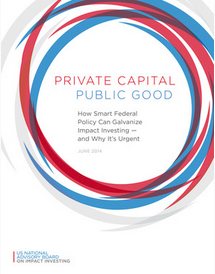 Quotes from NAB members about the report:
Jean Case, CEO of the Case Foundation
"When the country's needs are so great and so urgent, we can't afford to leave capital and talent sitting on the sidelines. By making prudent public policy changes, we can bring more financial resources to meet ongoing social and environmental needs, and leverage the extraordinary skills, inventiveness, determination and discipline that the private market has in such abundance."
Luther Ragin, Jr., CEO of the Global Impact Investing Network
"In recent years, the impact investing market has seen tremendous momentum, with increased investor interest and activity addressing a variety of social and environmental challenges. With additional collaboration between government, private sector investors, and philanthropic organizations, we can further accelerate the growth and effectiveness of impact investing."
Curtis Ravenel, Head of Sustainability, Bloomberg LP
"Impact investing is increasingly an important part of a broad and diversified investment strategy. We are hearing from customers that there is a growing need to understand how social outcomes are influenced by investment decisions. The NAB Task Force has developed a framework to help investors measure those outcomes and use them as part of the investment criteria. This will certainly help our customers make more informed investment decisions, increase capital flows to social enterprises and bring the power and scale of financial markets to bear on our most pressing social challenges. We are excited to contribute to this ground-breaking effort.
Darren Walker, President of the Ford Foundation
"This is a breakthrough moment for impact investing—and will help unleash the huge potential of markets to effect social change. We know that the public good will be enhanced greatly by smart, cross-sector investing that creates opportunities and transforms communities. These cumulative investments have the potential to bring innovative ideas and critical infrastructure to scale in a way that will improve real lives across the country."