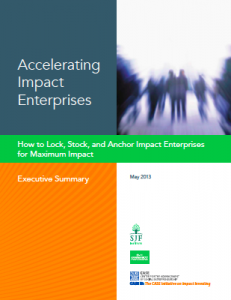 May 9, 2013: CASE i3, the SJF Institute and O-H Community Partners released a new report "Accelerating Impact Enterprises: How to Lock, Stock and Anchor Impact Enterprises for Maximum Impact "  at the Investors' Circle conference in San Francisco.
The goal of our Accelerating Domestic Impact Entrepreneurs project is to understand better the needs of domestic impact enterprises and to identify philanthropic investment opportunities that can be targeted to accelerate and increase the likelihood of success among impact enterprises that are based in the US.
——————————————————————————————————————————————–
The project was done in partnership with SJF Institute, a Durham-based nonprofit that works to help positive impact for-profit entrepreneurs and communities to thrive, and O-H Community Partners, a national strategy consulting firm whose mission is to strengthen and scale markets targeted at creating jobs, wealth, and economic opportunities in underserved communities, with funding from the Rockefeller Foundation. CASE i3 explored three main issues related to the development of the "demand" side of the impact investment marketplace, in this case, the needs and potential for domestic for-profit social enterprises who may be the recipients of impact investment capital.  The research addressed three main questions:
How has the overall market of impact enterprises evolved?
What impact enterprise segments have the most potential for impact?
What do impact entrepreneurs need to succeed?
Ivory Tower to Muddy Boots: What does the Latest Research Mean for Entrepreneurs and Investors? Mark Newberg of 5 Stone Green Capital moderated a panel where Ben Thornley of PCV Insight, Paula Goldman of Omidyar Network, Alicia Robb of the Kauffman Foundation and CASE i3′s Cathy Clark discussed latest research findings and their implications. Panel discussion video here. (Full panel starts at 22:30. Cathy's presentation of the key findings from our Accelerating Domestic Impact Enterprises project starts at 49:30. The powerpoint she used is here.) The panel was held at the Investors' Circle conference on May 9, 2013 in San Francisco.
Building on the initial national survey of impact enterprises done by Cathy Clark in 2003 through the RISE project at Columbia Business School, CASE i3 and SJF Institute have conducted a 10 year follow-up survey of for-profit entrepreneurs in the US. In addition, they have partnered with B Lab around understanding the emerging landscape of certified B Corps and with O-H Community Partners to explore the needs of other impact-focused market segments in the US. The project is part of a collaborative global research consortium into the needs of impact entrepreneurs around the globe that was initiated by the Rockefeller Foundation, and includes ANDE, FSG, Monitor, NESsT, and the William Davidson Institute.
More related to this project:
We welcome your comments on the report, below.