CASE Smart Impact CapitalTM addresses the needs and common pitfalls of impact entrepreneurs seeking to raise investment capital. Through action-oriented online resources, Smart Impact CapitalTM allows entrepreneurs to access the right information at the right time. Learn more and sign up for updates at www.casesmartimpact.com .
Are you an accelerator or entrepreneurial support program?
Smart Impact CapitalTM can help give your entrepreneurs a leg up as they raise impact capital. Developed from lessons from our work on the Social Entrepreneurship Accelerator at Duke, our partners like USAID, Spring, MIT, Unreasonable Institute, and SOCAP are using them before, during and after in-person sessions to give programs an effectiveness boost!
Are you an Impact Entrepreneur Raising Capital?
Smart Impact CapitalTM can help you learn quickly and easily from other expert entrepreneurs and investors about finding the best impact capital for you. A recent cohort of global entrepreneurs who used the modules gave them a Net Promoter Score of 74 (the same as Apple's which was 74 in 2013).
What is Smart Impact Capital?
The 9 modules of Smart Impact CapitalTM take you through the process of preparing for and securing investment capital. Each module includes short videos, downloadable resources, and flexible, reusable, and interactive tools.

These bite-sized lessons were created in collaboration with hundreds of investors and entrepreneurs. Work through a module in one sitting, skip around different resources, or pop onto the site when you have time. Whatever fits into your busy schedule!
What's the Impact?
After a year of beta testing with about 250 entrepreneurs in 13 countries, Smart Impact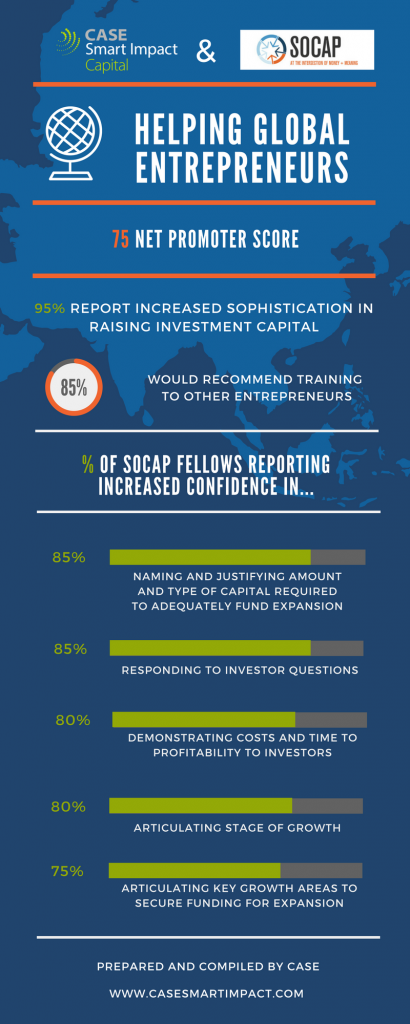 Capital formally launched in 2016 with several pilot partners, including SOCAP, which shared the online tools with the entrepreneurs receiving the SOCAP Social Entrepreneur Scholarship in 2016. The pilot partners are all organizations working directly with entrepreneurs, including accelerators, networks, and universities. According to Sarah Sterling, SOCAP's Scholarship Entrepreneur Coordinator, "We were excited to be able to provide our scholarship entrepreneurs the chance to be connected with the Smart Impact Capital module as part of our Impact Accelerator. We have seen a huge gap for entrepreneurs, especially those that are in the earlier stages, in terms of knowledge and access to resources surrounding fundraising. The Smart Impact Capital session at the Accelerator, coupled with access to the online platform after the end of the conference, allowed many of our scholarship recipients to become part of a network that still supports them with resources and knowledge-sharing surrounding raising capital."
Findings from the SOCAP pilot partnership include:
95% of entrepreneurs reported improvement in their overall ability to raise investment capital, with
85% of entrepreneurs reported an increased level of confidence in responding to investor questions about revenues, projections, and costs,
85% indicated that Smart Impact Capital helped increase confidence in naming and justifying the amount and type of capital needed to adequately fund their company's expansion,
80% of entrepreneurs reported an increased level of confidence demonstrating the costs and time to profitability,
80% reported an increased level of confidence articulating their venture's stage of growth, and
75% reported increased confidence in articulating the key business growth areas that require funding to support.
See a full blogpost on our results.
Learn more and sign up for updates at www.casesmartimpact.com