Here are 8 ways to be in touch with us:
1. ATTEND OUR EVENTS: See our upcoming events page for updates
2. VISIT OUR CAMPUS:  View driving directions, parking instructions, and a campus map for Duke's Fuqua School of Business. Our address for your GPS is 100 Fuqua Drive, in Durham, NC.
3. TALK TO OUR STUDENTS: If you are a prospective or admitted student, this should be your first step. Please contact:
Michael Arena, MBA Candidate '19, michael.arena@duke.edu
Tuokpe Ajuyah, MBA Candidate '19, tuokpe.ajuyah@duke.edu
They are our CASE i3 student co-chairs, and are great resources on all things CASE i3.
4. SEND US EMAIL OR A LETTER: Email us at carrie.gonnella@duke.edu. Our mailing address is: The CASE i3 Initiative on Impact Investing, Fuqua School of Business, 100 Fuqua Drive, PO Box 90120, Durham, NC 27708
5. FOLLOW US ON TWITTER: Follow @cathyhc, @carriegonnella, @CASEatDuke and @DukeSEAD for regular updates.
6. FOLLOW OUR PARTNERS ON TWITTER: Follow our CASE i3 Network list for a great diverse impact investing feed.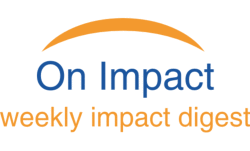 7. SUBSCRIBE TO OUR WEEKLY NEWSLETTER: Click to subscribe by email to On Impact, our weekly impact digest. Get the latest news in impact investing direct to your box every week!
8. SUBSCRIBE TO OUR CASE NEWSLETTERS: Click to subscribe to the CASE newsletters, which are customized across our key programs, on a no more than monthly basis.