How can businesses and investors help fill the multi-trillion gap needed for sustainable development? Simply put, by getting better at measuring and managing impacts on people and planet. Through our new online course, anyone can learn to improve their organization's practice of impact management, and how to align their ESG or impact activities and reporting with emerging global standards.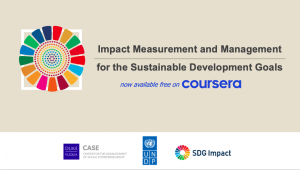 Impact Measurement and Management for the SDGs is sponsored by the United Nations Development Programme (UNDP), the global development network of the United Nations which created the 17 Sustainable Development Goals (SDGs) that over 190 countries have signed on to achieve by 2030. But the public sector can't do this alone. Climate change, poverty, racial and gender equity, food, health, education, clean water — the list of challenges faced by people and planet is too long. Business and investment have stepped in to help. But in a field of evolving acronyms, standards and systems, many are not exactly sure what is required to do this work well. Third party standards and certifications are also evolving quickly to verify and assure impact management practices. What do you need to know to align your work with impact on the SDGs in ways that meet evolving expectations?
Produced by the award winning team at CASE at Duke University, and developed in collaboration with the UNDP SDG Impact team and advisors from around the world, this course consolidates several decades of work around impact management into a cutting-edge guide based on short videos and lessons with concrete practical examples.
"This new course will help participants to gain access to vital knowledge in this rapidly emerging field of impact investment — helping them to better measure the socio-economic and environmental impact of the private sector on people and planet," said UNDP Administrator, Achim Steiner. "In doing so, the course is also fostering a much-needed cultural shift that will feed into global efforts that are needed to shift trillions of dollars towards the Global Goals."
Read more about the course here.