Want to learn more about impact investing? You've come to the right place!
Welcome to the CASE i3 Initiative on Impact Investing!
OUR MISSION: to establish a rich set of resources and activities for MBA students, entrepreneurs, investors, funders, academics, policymakers and others to explore and support the field of impact investing over its critical period of development. We are Duke University's intellectual hub for impact investing, the practice of investing for social and environmental impact as well as financial return.
OUR LOCATION:  We are located in the Durham, NC, part of the Raleigh-Durham-Chapel Hill Research Triangle, where a vibrant network of universities, businesses and entrepreneur support organizations focused on community impact has existed for decades. It is also home to Self-Help, one of the country's largest nonprofit community development lenders, real estate developers and credit unions, which has managed over $6.6 billion in financing; Investors' Circle, the nation's largest and most active early-stage impact investment network; SJF Ventures, a Top 10 Impact Fund and the first national impact investment SBIC, and the Fidelity Charitable Gift Fund, holding the country's largest pool of donor funds focused on impact with over $15 billion in assets in 2016.
"Durham holds the potential to become the geographic hub for impact investing due to the types of companies that are being incubated in Durham and the intellectual leadership that Duke is offering." — Jean Case

OUR TALENT: CASE i3 is part of CASE (Center for the Advancement of Social Entrepreneurship), the award-winning research and education center based
at Duke University's Fuqua School of Business. CASE promotes the entrepreneurial pursuit of social impact through the thoughtful adaptation of business expertise and works to help entrepreneurs leap the chasm from exciting idea to sustainable impact at scale. Our team and advisory boards include some of the world's leading experts in social innovation and impact investing. Our students and alumni come from and work all over the globe.
OUR IMPACT: We were the first comprehensive global program at a top global business school to blend academic rigor with practical knowledge in the emerging field of impact investing, and we've been recognized as one of the top impact investing educational programs in the world.  Since our launch in 2011, we've educated thousands of students, convened thousands of practitioners at our events, produced over 25 reports, books, and case studies (and many more blogs!), have taught global leaders about impact investing in customized seminars, worked with over 300 partner organizations around the globe, including the White House Office of Social Innovation, USAID, and many funds and foundations, and supported research in the field across more than 13 other universities, including Harvard Business School, Wharton and Emory. Our alumni are actively building the field with us, including shaping the first Environmental Impact Bond. Read our Three Lessons for Impact Investing Education Programs for the Stanford Social Innovation Review, our lessons from the first 3 years commissioned by the World Economic Forum, or our 1 page of impact stats.
I'm an entrepreneur or an accelerator program wanting to learn more about raising impact capital. Do you have anything for me?
What are 5 Ways I Can Learn More About Impact Investing?
1. Visit the CASE i3 100, our list of the top 100 articles, blogs, databases, investment platforms, job boards, and research on the field.
2. Subscribe to our weekly e-newsletter #OnImpact, now read in over 100 countries.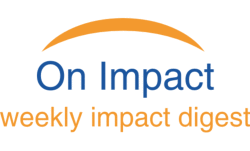 3. Download our 57 page ebook, Collaborative Capitalism, to read on your phone, tablet or laptop.  Jean Oelwang, CEO of Virgin Unite, said it shows how impact investing is "putting collaboration, wisdom and empathy back at the heart of capitalism."
4. Join our Linked In Group for researchers: CASE Impact Investing Research Group. 300+ members as of February 2017.
5. Download or order The Impact Investor. The book has been called "impact investing's Rosetta stone," which "offers an opportunity to understand
the field from every vantage point;" "the kind of book that you will want to read cover-to-cover, because only then will you fully appreciate its breadth and depth of insight," and "a truly groundbreaking work that delivers some of the very finest thinking on impact investing, and presents it in a warm and inspiring way." It includes a forward from Sir Ronald Cohen, the chair of the Social Impact Investment Taskforce established by the G8.
How can I learn more about CASE and CASE i3?
We look forward to hearing from you!