Bass Connections Alumni and Program Evaluation
We conducted our first alumni survey in 2020-2021: 80% of responding alumni agreed that Bass Connections was a high-impact learning experience. When asked to select the one most important outcome of participating in Bass Connections, gaining practical experience was the most commonly cited benefit, followed by developing skills used in their current position, and finding a career interest.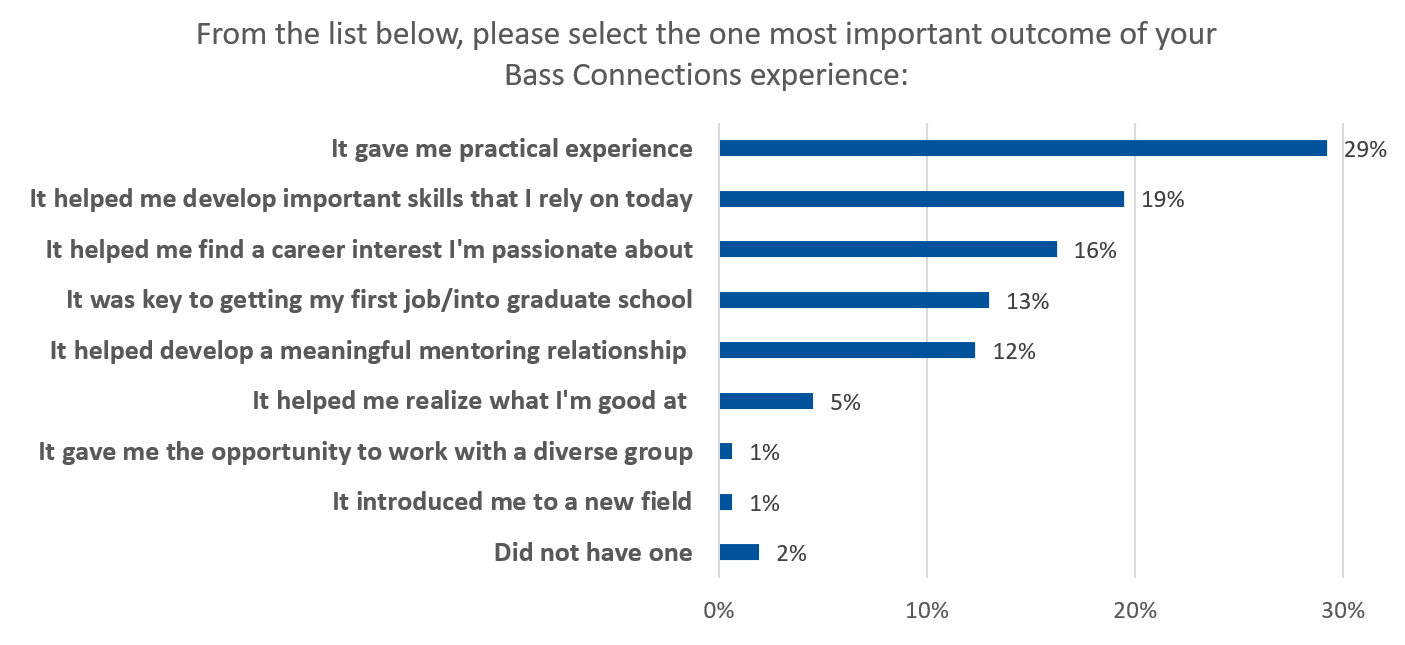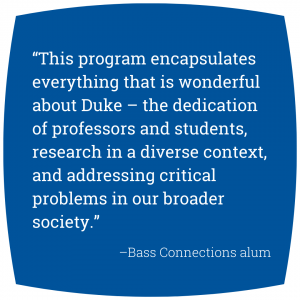 Skill Development
When asked to rank the top abilities that the program helped them develop, undergraduate alumni reported the top three skills as the ability to think critically, leadership on a team, and the capacity to conduct research.
Among graduate/professional students, the top three skills developed were the ability to work with external stakeholders/clients, facility in organizing and managing projects, and leadership on a team.
Rank of top skills alumni developed through the program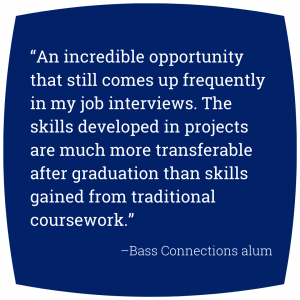 Preparation for Current Role
77% of alumni reported that their Bass Connections experience helped prepare them for their current role. Key areas of preparation include working collaboratively in teams, working across different fields of knowledge, and conducting research.
Where Are They Now?
54% of Bass Connections alumni are currently employed, while 44% are enrolled as a graduate or professional student.
Among graduate students, 33% are pursuing a Ph.D. and 26% are pursuing an M.D.
Relative to currently employed Duke alumni at large, Bass Connections alumni respondents are more likely to work outside of the private sector (nonprofit organizations, government, self-employed).

70% of alumni reported that their Bass Connections experience influenced what they chose to do after Duke.
Alumni and participants: Join us on LinkedIn to stay in touch.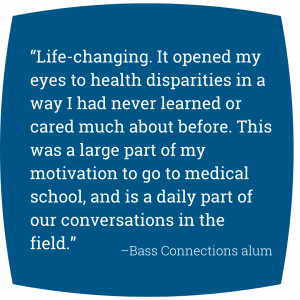 Annual Program Evaluation
The findings from our 2020-2021 annual evaluation reinforce past findings:
The vast majority of faculty and students are satisfied with their experience in the program.
Both graduate and undergraduate students report developing skills in teamwork, research, critical thinking, and organizing and managing complex projects.
Where teams run into challenges, it is often related to a lack of team structure and organization.
This year, many students and faculty commented on how COVID-19 impeded their ability to conduct lab and field research, and how the virtual meeting format negatively impacted team camaraderie.