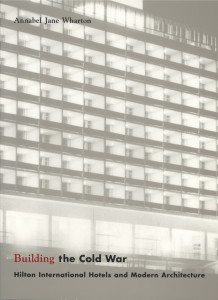 In postwar Europe and the Middle East, Hilton hotels were quite literally "little Americas." For American businessmen and tourists, a Hilton Hotel—with the comfortable familiarity of an English-speaking staff, a restaurant that served cheeseburgers and milkshakes, trans-Atlantic telephone lines, and, most important, air-conditioned modernity—offered a respite from the disturbingly alien. For impoverished local populations, these same features lent the Hilton a utopian aura. The Hilton was a space of luxury and desire, a space that realized, permanently and prominently, the new and powerful presence of the United States.
Building the Cold War examines the architectural means by which the Hilton was written into the urban topographies of the major cities of Europe and the Middle East as an effective representation of the United States. Between 1953 and 1966, Hilton International built sixteen luxury hotels abroad. Often the Hilton was the first significant modern structure in the host city, as well as its finest hotel. The Hiltons introduced a striking visual contrast to the traditional architectural forms of such cities as Istanbul, Cairo, Athens, and Jerusalem, where the impact of its new architecture was amplified by the hotel's unprecedented siting and scale. Even in cities familiar with the Modern, the new Hilton often dominated the urban landscape with its height, changing the look of the city. The London Hilton on Park Lane, for example, was the first structure in London that was higher than St. Paul's cathedral.
In his autobiography, Conrad N. Hilton claimed that these hotels were constructed for profit and for political impact: "an integral part of my dream was to show the countries most exposed to Communism the other side of the coin—the fruits of the free world." Exploring everything the carefully drafted contracts for the buildings to the remarkable visual and social impact on their host cities, Wharton offers a theoretically sophisticated critique of one of the Cold War's first international businesses and demonstrates that the Hilton's role in the struggle against Communism was, as Conrad Hilton declared, significant, though in ways that he could not have imagined.
Many of these postwar Hiltons still flourish. Those who stay in them will learn a great deal about their experience from this new assessment of hotel space.