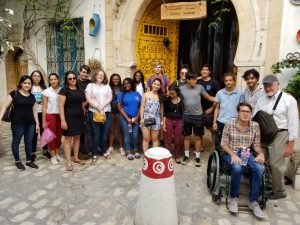 During our stay in Tunisia, Lina, a Tunisian student in another program visiting the same conferences as us, asked me, "How does Tunis compare to Rabat?" Unprepared, I simply responded, "I don't know yet, but I can tell it's different."
My family travels frequently, almost always to Europe, and if there's one thing I dislike about these vacations, it's that the capital cities always feel like something I could find in the states; London feels like DC, Amsterdam feels like New York City, and Paris feels like Philadelphia. But Tunis is different. Not only did it feel Arabian, but it felt Arabian in a completely different way than anywhere I had been in Morocco.
One of the biggest differences between Morocco and Tunisia is how people talk about politics. In Morocco, people avoid political conversation like the plague, but many acknowledge that the current government is corrupt. In Tunisia, politics are important to its citizens, as they are living in a young democracy. It was honestly refreshing to come to a place in which people can express how they feel about their government.