On July 2, 2018, the Very Large Telescope (VLT) captured the first-ever clear photo of a planet birth, hopefully helping to further advance the sciences of astronomy and physics.
Another birth was celebrated that same day, on a far smaller but much more personal level. My homestay family was performing aqiqah (the Islamic baby-welcoming ceremony) for the newest member of its family, the granddaughter of my homestay mother.
I've been in Morocco for one week, and that was by far the most exciting experience I've had in the country so far. It was definitely my first time witnessing an animal sacrifice – the Muslim tradition dictates that a sheep is slaughtered on the 7th day after a child's birth. The slaughter itself will always be etched in my brain, but the most impactful part of the whole ceremony was the intense, beautiful energy before the killing that filled the air while musicians sang and played, attendees clapped powerfully, and family members beamed with pride and happiness. It might have only been 30 people crammed into my temporary living room, but to me it was more of a rush than any other party I've ever been to.
While that was a literal birth, Morocco has also been a place of metaphorical birth for me; it's been the beginning of new friendships, new classes, and new levels of exhaustion. But most importantly, Morocco might actually be a place of re-birth for me. Yesterday, on the 4th of July, I had the chance to visit a preserved Jewish synagogue dating back to the 17th century. A few days before, someone told me about the power of the presence of absence in reference to the city's mellah (Moroccan Jewish city quarter comparable to a European ghetto). I had known about the neighborhood's existence, but I could never imagine how striking the Jewish remnant would be. Walking into the synagogue was humbling to say the least; containing the only complete set of Moroccan synagogue fittings in existence, I knew I was breathing in history. I asked the caretaker if this synagogue was still active. She said no: only 50 Jewish families remained in Fes, and they all lived in the new, French section of the city. I then told her in my incredibly limited Darija (Moroccan Arabic) that I was Jewish: "Ana nihud."
The caretaker opened the aron kodesh (holy ark), revealing the synagogue's breathtaking original Sefer Torah (Torah scroll) from the 17th century. She told me that I could touch it, but that the non-Jews in the group could not. I reached out and touched the mappah (the cloth wrapping the Torah scroll) for a few seconds before removing my hand and backing away. Not really sure what to do next, I tried asking for an individual print Torah just to see it – I can't read Hebrew – but forgetting the word Chumash, I attempted Darija again and asked for a "Torah sghir" (little Torah). I was eventually understood and given a copy. Incredibly worn out, I assumed it was very old but it was actually printed in 1973 and even published in Israel, the land Judaism was devoted to but only so recently realized. I then started carefully looking through the book, feeling worse by the minute because I couldn't read my own people's language. I closed the book and prayed over it nonetheless, promising to G-d that I would work harder to learn the language of my heritage and connect deeper to my religious roots.
After praying, I then climbed upstairs to the roof to see the nearby Jewish cemetery; expecting a small gravesite, I was confronted by a wave of white tombs that stretched further than I could see from the synagogue terrace. That's the moment I was truly hit by the presence of absence.
There are far more dead Jewish people in Fes than there would ever again be living ones.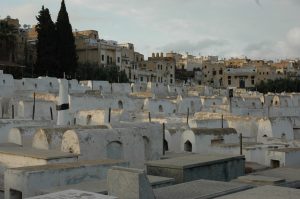 Morocco once had a thriving Jewish community, between 250-300,000 people prior to the creation of Israel, and now all that's left is maybe 3,000 Jews in all of Morocco. Knowing how vital the community once was, I'm deeply saddened by the present reality. But history's history. So while there's nothing I can do to create a Jewish Renaissance (Tehiya in Hebrew), I can at least try and find rebirth within myself.