By: Natasha Catrakilis
Who's made it so far?
The process of becoming a referee for the World Cup is by no means an easy one. How FIFA determines who officiates the World Cup is explained in an earlier section of this page, titled 'World Cup Selection Process.'
As of present day, the final list of official 2014 World Cup referees has not yet been decided. However, the most up-to-date list consists of 52 potential referees, and can be viewed below [1]. The list below shows only the head official referees, but it should be noted that each head referee has two assistant referees — a list containing these names can be viewed here.  The list is divided by the six FIFA confederation zones (AFC, CAF, CONCACAF, CONMEBOL, UEFA, and OFC), and the number of referees per confederation correlates to the number of team spots given to each confederation. While the team qualification process ends on Dec. 6, 2013, the final list of referees will only be announced sometime in May of 2014. Contrary to earlier plans to reveal the names in January, Massimo Busacca, head of FIFA Referees' Committee and FIFA Referee Department, stated that he wanted to choose the best referees possible which required a longer period of the selection and observation process, and potentially injured referees now have the chance to recover and remain under consideration [2].


The above chart images are originally from this site: The Road to Brazil 2014
Who might make a come-back?
One interesting thing to point out is that from the current list of 52 potential referees, 11 of them were officials in the previous World Cup held in 2010. This indeed could give them an edge in the selection process, but it by no means guarantees their spot in next year's World Cup. Below is a list of those referees and their respective countries of representation.
Khalil Al Ghamdi (Saudi Arabia)
Ravshan Irmatov (Uzbekistan)
Yuichi Nishimura (Japan)
Joel Aguilar (El Salvador)
Marco Rodríguez (Mexico)
Peter O'Leary (New Zealand)
Viktor Kassai (Hungary)
Stéphane Lannoy (France)
Wolfgang Stark (Germany)
Alberto Undiano Mallenco (Spain)
Howard Webb (England)
In the following section, we've selected a few potential referees that we believe are either strong candidates for the upcoming World Cup or have some interesting element to their profile.
Names and Faces to Know
Name: Howard Webb
Born: July 14, 1971 (age 42)
Height: 6′ 2″ (1.88 m)
Nationality: English
Other Occupation: Former police sergeant
Webb is known as one of the top referees throughout the soccer world, in fact he is a FIFA Elite referee. After plying his trade in the lower leagues during the mid-1990s, he worked his way up to the top flight as an assistant referee in 1998, before taking charge of his first Premier League match five years later. Some of his most notable domestic matches include the 2007 League Cup Final between Arsenal and Chelsea and the 2009 FA Cup Final, when Chelsea defeated Everton at Wembley Stadium.
He has been a FIFA-listed official since 2005 and has regularly refereed in the Champions League, European Championships and World Cup qualifiers during this time.
In 2010, Webb made history when he became the first man to officiate the final of both the Champions League and the World Cup in the same year. The first part of this historic achievement came when he oversaw Inter Milan's 2-0 victory over Bayern Munich at the Santiago Bernabeu in May. Just two months later, he was given the responsibility of officiating Spain's triumph against Netherlands in Johannesburg's Soccer City stadium. [3]
Criticism: Webb faced an orange tide of criticism after handing out a record 14 cards during a tumultuous World Cup 2010 final between Spain and the Netherlands. Dutch players reacted furiously after their extra-time defeat to Spain, blaming the tournament's leading referee for their loss.  Media outlets in the Netherlands also hounded Webb, accusing him of  missing a corner for Holland in the build-up to the goal and a foul which could have led to a red card for match winner Andres Iniesta. [4]
Response: "It was an extremely challenging match to handle, but it would have been so for any referee. It is one of the toughest games we will ever be involved in and we feel that we worked hard to keep the focus on the football as much as possible." [5]
Name: Wolfgang Stark
Born: November 20, 1969 (age 44)
Height: 6'3″ (1.91 m)
Nationality: German
Other Occupation: Bank assistant
Aside from having a simply awesome name, Wolfgang Stark is also considered one of the world's most outstanding soccer referees. Stark knew he wanted to become a referee from a young age, and by  1994 he reached the highest level of refereeing in Germany. Five years later he acquired his FIFA license, and today he is a UEFA Elite Category referee.
Stark has been an official in the Champions League since 2001. In season 2008-2009 Stark took charge of the Champions League semi-final between Barcelona and Chelsea, and again two years later between Barcelona and Real Madrid.
He was chosen to ref at the World Cup U-20 2007 in Canada, where he officiated the semifinal game between Chile and Argentina, a rather controversial match. Stark also refereed three matches in the 2010 World Cup and was selected to referee the Olympic Games in Beijing 2008. More recently he was selected for the European Championship in 2012. [6]
Criticism: Stark has received a lot of criticism over the years, but his officiating over the Chile-Argentina game in the World Cup U-20 semifinal in 2007 can be considered one of his most controversial. Argentina won the game 3-0, but according to many reporters, even after  flashing card after card, Stark never had control of the match. In the end, he sent off two players and issued nine bookings. His performance led to a belligerent crowd. Stark had to be escorted to the dressing room by police, and apparently several Chilean players were involved in a scuffle with the Toronto police after the match. [7]
Response: Stark had no official statement after the game, but compared to many other referees, "Stark seems to enjoy the limelight and appears to welcome controversy." FIFA kept faith in him, and soon afterwards players voted him the best referee in the Bundesliga in 2010. [8]
Name: Viktor Kassai
Born: September 10, 1975 (age 38)
Height: 6'2″ (1.89 m)
Nationality: Hungarian
Other Occupation: Printing sales
Kassai  received his FIFA badge in 2003 and immediately started refereeing UEFA Cup matches: today he is a UEFA Elite Category referee. He was selected to officiate the Euro 2005 U-19 and the World Cup U-20 2007 in Canada. He took charge of qualifiers for Euro 2008 and reached the group stage of the Champions League in 2007. But Kassai's career really took off when he was selected as fourth official for Euro 2008 and also for the Olympic Games in Beijing that same year, where he officiated the final match between Nigeria and Argentina.
Then he was selected for the 2010 World Cup, where he took charge of four matches. One of those matches was the memorable United States – Ghana match, which finished in extra time and a 2-1 win for Ghana, and the other being the semi-final between Germany and Spain, ending in a 1-0 victory for Spain.
A year later he was awarded the 2011 Champions League final between Barcelona and Manchester United (3-1), and the following year he officiated two matches in the group stages of UEFA Euro 2012. [9]
 Criticism:  In the group stage match between England and Ukrain of Euro 2012, Ukrainian striker Marko Devic's effort on goal was hooked away by English defender John Terry in the 62 minute, but TV re-plays showed that the ball had crossed the line. Despite Ukrainian players' appeals, Kassai did not allow the goal. This decision was strongly criticized by Ukrainian media and introduced a debate on the effectiveness of the inclusion of two additional blind officials and the need for goal-line technology. [10]
Response: Kassai was sent home after the game as part of UEFA's usual cut down of officials for the second round, but the UEFA Euro 2012  became the first international tournament where two additional assistant referees were introduced on the goal-lines. [11]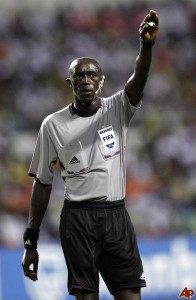 Name: Badara Diatta (oldest of all potential referees)
Born: August 2, 1969 (age 44)
Height: 6'1″ (1.85 m)
Nationality: Senegalese
Other occupation: unknown
Because of his age, one would think there would be a lot of information and controversy on Diatta, but he is surprisingly on the quiet side when it comes to this. Despite the lack of thorough information, Diatta has no shortage of experience. He has been a FIFA referee since 1999, and has officiated the 2013 Africa Cup of Nations and at the 2006, 2010, and 2014 FIFA World Cup qualifiers. He also refereed in the 2008 Summer Olympics, as well as in the 2006, 2008, 2010, and 2012 Africa Cup of Nations. At the 2012 rendition of the tournament, Diatta was selected to referee the final match, where he handed out three yellow cards, with the match ending in a win for Zambia over Côte d'Ivoire after a penalty shoot-out. [12]
Name: Néant Alioum  (youngest of all potential referees)
Born: July 17, 1983 (age 31)
Height: 6'2″ (1.89 m)
Nationality: Cameroonian
Other Occupation: unknown
Being the youngest of all the candidates, not much is publicly known about Alioum. He started his career as a FIFA referee in 2010, but most recently has officiated several World Cup 2014 qualifier matches for Africa, his final one being a play-off match between Ethiopia and Nigeria on Oct. 13, 2013 that ended in a 2-1 win for Nigeria. He is also among six referees selected by FIFA for next month's Club World Cup, which will be played in Morocco from Dec. 11-21. [13]
Click to go to:
Previous Page: Women and Refereeing
Next Page: World Cup Referee Blunders
Back to Main Page:  World Cup Referees
Sources:
[1] "Prospective List of Referees for 2014 FIFA World Cup." The Road to Brazil 2014. Blogger. Web.
[2] "World Cup Referees to be only announced in May 2014." The Third Team. Blogger. 12 November 2013. Web. 
[3] "Referee Profile: Howard Webb." Barclays Premier League.
[4] "The most hated man in Holland: English World Cup referee Howard Webb faces Dutch fury." Mail Online.Associated Newspapers Ltd. 12 July 2010. Web.
[5] " Webb defends final performance." World Cup 2010. ESPNsoccernet. 13 July 2010. Web.
[6]  Sittmayer, Wolfgang. "Wolfgang Stark." World Referee. 6 June 2012. Web.
[7] Doyle, John. "The Mercurial Man in the Middle of England/Slovenia." The Globe and Mail. 23 June 2010. Web.
[8] "Germany's controversial selection – Euro 2012 referee Wolfgang Stark." Goal.com. 5 June 2012. Web.
[9] "Viktor Kassai." Wikipedia. 2 October 2013. Web.
[10] "Sepp Blatter: Technology a 'necessity'." Fox Soccer. 20 June 2012. Web.
[11] Costa, Morris Dalla. "Ref sent home after goal controversy." Sports Soccer. 20 June 2012. Web.
[12] "Badara Diatta." Wikipedia. 22 April 2013. Web.
[13] "Neant Alioum." World Referee. 16 April 2012. Web.