Jul 16 2012
Since my first game in Montréal — versus the Chicago Fire on March 17th 2012 — I have been struck and moved by the powerful support we get from our fans. It was my second game as a professional, so you might have thought I would have gotten over the nerves of playing in front of a large crowd. Only a week earlier, I had my debut as a second half sub versus the Vancouver Whitecaps. I'll admit that at one point when play stopped for a throw in and substitution I took a few seconds to look up and marvel at the number of people in the crowd. Although we lost, after the game I realized how incredible it was to be playing in front of such a large group of spectators. When, a week later, I was substituted in against the Chicago Fire during the 2nd half, I ran out onto the field in front of 58,912 spectators, most of them our fans. As I pulled on my jersey I thought: "Try not to trip as you run onto the turf!" Though the game was a draw, it was truly magical to experience our fans and feel their support behind us the entire game.
It was incredible for close to 60,000 supporters to come out and show their support for the team and the organization. We felt their passion again during our recent game against Sporting Kansas City, when they clearly let their displeasure with the events on the field be known. It shows that they truly care about Impact de Montréal and the city.
One of the most moving shows of support came during the game against the Columbus Crew on July 8th. My roommate Zarek Valentin commented on  twitter that the fans were unbelievable. We had suffered a few tough losses at that point in the season, and went down a goal in the middle of the second half. But no one left for the exits early. I was watching from the stands and saw only two men leave — but they returned two minutes later with fresh beers knowing it was going to be an exciting finish. Without the fans' support we couldn't have clawed back from the one goal deficit and eventually won the game. It was a special feeling those last 20 minutes as you could see the team recover mentally from the deficit and begin to earn the win as the excitement in the stadium got stronger and stronger. It was our fans that produced the collective feeling of belief and unity that helped the players on the field succeed. The fans truly were the 12th man, "La Garde." They exuded a passion for the game and for our team that is typical of the city. All the players on the team are very thankful for the support for you have helped us through some tough times this year!
As I saw clearly from the reactions to my first post both here on the blog and on twitter, residents of Quebec and specifically Montréal really throw themselves into a cause or event they believe in. I have already commented that I was struck this year by the passion and effort the students of Montréal showed as they opposed laws they found unjust. It was a new experience for me moving from the States and seeing the scale of these protests. Though I don't know enough about the details of the issue and am not endorsing or opposing their stand, I feel one must respect the commitment they showed to their cause, something that seems ingrained in the culture of the city. In my reading of "A People's History of Quebec" I learned about the politics surrounding Bill 101 on August 26, 1977 — which parents of current university students must remember — which stipulated the use of French in government and other official capacities. At that time, residents in Montreal also stood up, supporting the culture and Bill they believed in. In the same way, this generation of students marched and stood for their beliefs.
Standing for what one believes in is clearly not a new idea to residents of Montréal, and it is something Impact de  Montréal supporters group "les Ultras" do for 90 minutes — pun intended. Since I first saw their massive 60 foot banner and heard their support during my first home game in the Olympic stadium, I have been intrigued by our supporter groups les Ultras as well as 127 Montréal. I'm probably biased — and have yet to see the Sons of Ben, the Timbers Army, or the supporters of the Seattle Sounders in person, but the Impact ultras are one of the best supporters group in the MLS I have seen thus far in my short career.
I had a chance to chat with one of the members of the ultras, Eric Chenoix, about their organization which recently celebrated their ten year anniversary. I learned that the group began as an idea in 2001 when 60 Toronto Lynx fans invaded Claude-Robillard stadium unopposed. Group founders Daniel Nahmias Leonard and Patrice Vaillancourt made the idea a reality in 2002 when the small group encouraged the Impact to a 2-0 win over the Lynx. They set out to build a group whose sole mission is to support our team Impact de Montréal. Nick Sabetti recently covered the ultras'  anniversary with an article. He quoted Eric as describing the group as "apolitical" and saying, "We avoid mixing politics and football. We don't even use the Québec flag, to avoid any association with separatism or anything like that, although we do use it on the road sometimes. We just want to support the Impact." In my own conversation with Eric, I learned that the ultras took inspiration from the larger ultras movement in Europe, modeling themselves on groups in France, Belgium, and Germany but seeking to infuse the group with the traits of  Montréal and its devotion to a cause. The term ultras is used for extreme football fans, and is meant to characterize their extreme devotion for their club and fellow members. I have been told that Ultras Montreal members see their support of the team as a job.
I have recently been reading two excellent books about "ultras" that help me understand a bit more about those I have encountered in the city. The first, about the fans of Millwall in England, was written by scholar Garry Robson named after one of their amusing chants: "No One Likes Us We Don't Care!. The other is a recent account by journal Robert Andrew Powell of the supporters of a team in Cuidad Juarez, where soccer provides hope and community in the midst of violence.
Fans of Millwall are known for their aggressive support of their club but this commitment takes on a deeper meaning for they have joined their  physical being and their love for Millwall F.C. into one. This kind of commitment to the club is typical of international ultras movement minus the aggressive posture. Garry Robson argues that "Millwallism" is not, in fact, mainly about language and symbols. It is, instead, defined by "experiential relationships" between individuals who find in the fan group a place express themselves collectively. (137) It is this state of a living and breathing relationship for one's club that defines what it means to be an ultra. Once a fan defines their life by the club, they then become an extreme fan.
The Indios de Ciudad Juarez are also loved by residents in Juarez, Mexico for whom it is one of the few positive aspects of their lives as drug cartel warfare rages on their doorstep. Powell's book, which focuses on a group of fans who call themselves — with a bit of irony — "El Kartel," gives a riveting depiction of not just soccer but also humanity in a modern day war-zone. It illustrates how the power of a soccer team's promotion can allow its fans a brief respite from the horrors of everyday life. The fans of the Indios may live in an inhospitable place but they still find the need to support their team.  
The Impact ultras, then, are part of a global cultural phenomenon that is a central part of what makes soccer such a powerful and meaningful sport for communities throughout the world.
Two hours before a game, the Ultras Montréal meet at Bar 99 on Hochelaga Street. From there, they walk as a group to the stadium where they take their positions in section 132. There they have some 20 different chants they use to invigorate the crowd in Stade Saputo in support of the players on the pitch. Since I have been injured recently, I often sit behind the ultras and I always enjoy the way the chant leader or capo directs to the group. There is one particular chant I love. I don't know what it is called or what the words are, but everyone sits down for about 30 seconds and bangs their feet on the stands before finally jumping up and waving all their scarves and flags. I get a kick out of it every time.
Outside game days, the group meets regularly. They enjoy each others' company, for they have a common bond in their support and passion for the Impact. They spend time making flags and tifos, watching away games or planning trips to those very games. Each member designs their own flags and tifos, which allows them to individually express their own form of support for the club and the greater city of Montreal. When I asked if the group drew on a specific demographic in the population, I was told that the only thing that united them all was a passion for the Impact. Otherwise it is quite a diverse group. To become a member of the ultras it is simple: fans just need to get involved in the group by coming to games and other group events, living their passion for club, and investing their time.
The ultras are not the only supporters' group for our club. The fans in section 127 of Stade Saputo are known as 127 Montreal. Though their group's inception was much more recent, their support is just as passionate. The group was reportedly founded — as most supporter's groups all over the world probably are! — over several pints of beer in early 2011. Since then, it has flourished. Instead of a march to the match they can always be found in the parking lot before the game tailgating. I have often walked by on my way into the stadium and they are always having a good time getting themselves prepared for the match. All you have to do to join in is go up and introduce yourself and talk about the team.
From my brief experience in Quebec, it seems to me that here professional teams — whether the Habs or the Impact — in some ways take on the status of representing the province as a whole. Given the strong provincial pride, and the two relatively recent attempts at establishing Quebecois sovereignty, I'm curious about what the local relationship is to the Canadian national team. I know Patrice Bernier is a native of Montreal and has represented his country 46 times. But I wonder: do fans here have more admiration for, CNT of IMFC? Or do they support both equally, but in different ways? How deeply do political sentiments in favor sovereignty influence sports fandom? Like the Impact ultras, many fans prefer to see their relationship to a team as "apolitical," and yet it seems that at times it's difficult to untangle sport from regional or national political contexts.

I have profiled two of the Impact's supporters groups here. But these groups do not make up the bulk of the fans of our club. Though what we might call "the common fan" does not align themselves with a certain group, their passion is just as strong. Perhaps we can start a conversation to find a way so that, once or twice during the game, all the fans can join together in one concerted effort to support the club and the city. This could take the form of a quick chant or simply raising your scarf above your ahead at the beginning of each half. It would be a great way to celebrate and enjoy the unity of all the fans in the stadium, who have a common affinity in supporting the team and loving Montreal.
As a player I am always working and searching for that one night when everything goes right. It rarely happens. But you keep searching for that mystical apex of perfection. The same goes for fans for you routinely come back to cheer on and support our team, thinking and hoping that tonight could be the special night when everything falls into place and works perfectly. Laurent Dubois comments in his book "Soccer Empire": "Football games open up incredible spaces of mass mobilization, public fervor, and hope. They give spectators the rare feeling of being 'exactly at the right place at the right time' and 'at the centre of the whole world' writes Nick Hornby '" He also quotes the novelist B.S. Johnson, who writes about the felling that accompanies the beginning of any soccer game: "'Always, at the start of each match, the excitement, often the only moment of excitement, that this might be the ONE match,' . . . the one 'where the extraordinary happens,' the game 'one remembers and talks about for years afterwards, the rest of one's life.'"(21)
Let's be honest — we may be searching for that night for a while. In the meantime, though, we can fill each night in the Stade Saputo with the collective belonging that celebrates Montreal and it's culture. We can make each night one where everyone believes tonight is the tonight, doesn't give up on our team even in the face of adversity and continues to stand and support us. Those are the nights when the hair rises on the back of your neck — for you know something special is happening and that this is a special place. Nights like that of July 8th 2012 against the Columbus Crew.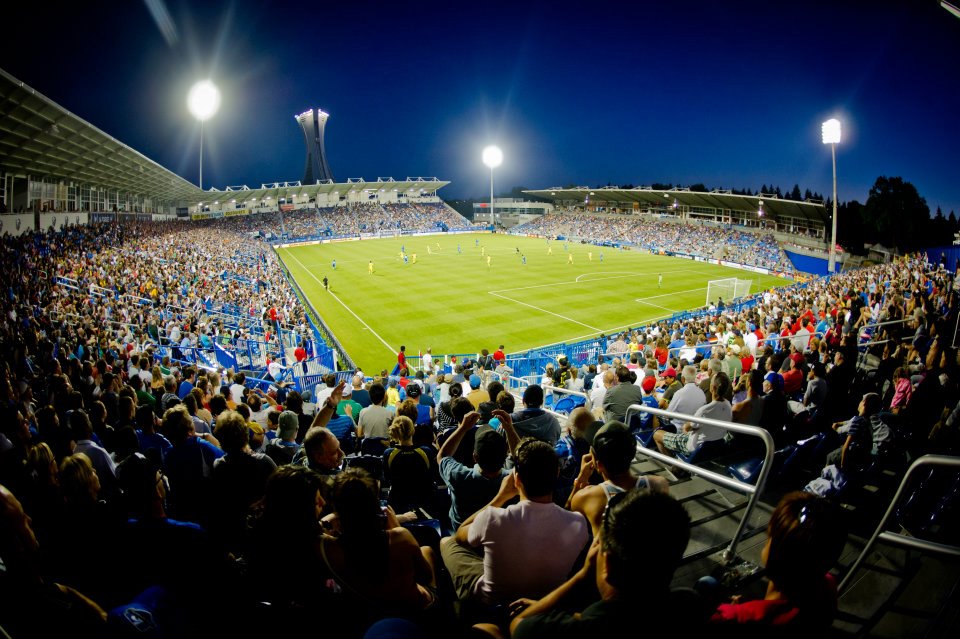 As always, I invite you to leave your thoughts, tell me where I am right or wrong, or simply suggest what I should look at next. Leave a comment here or tweet to @andrewwenger.
24 responses so far
24 Responses to "La Garde"
@ricosantos10

on 16 Jul 2012 at 4:48 pm

1

I've been to seven home games so far this season and I was in the Ultras section on two of those occasions (once at Olympic Stadium and once at Saputo Stadium). Each experience with the Ultras is tiring for the legs and vocal chords but it is a much different experience than passively watching the game from any other section. I was telling my friends recently, who also come to Saputo Stadium, that it would be incredible if the entire stadium was filled with fans like the Ultras. It would add a dimension that most of us haven't had a chance to experience so far. We have a long way to go before we reach the heights of Old Trafford or San Siro supporters but at least we have two groups that exist and we should actively looks for ways to build on that.

On a different note, good luck in recovering from your injury. We can't wait to see you in action again. Keep these articles coming!

Mathieu

on 16 Jul 2012 at 4:53 pm

2

Nice text! It's good to see you curious about the city. Montréal it'so a Nice city, mix of America and Europe. If y're motivate, Check the story about the english vs the french, it's à big part of the story of Montréal and the province of Québec. Why the english live in the west Island and the french in the east part. Why french wanted to separate from Canada and again today some fanatic french want to. Anyway all this story make Montréal so a Nice City, different of all city in America, we are passion citenzens. So see you on the

Michel Charbonneau

on 16 Jul 2012 at 5:18 pm

3

It was again, such a pleasure reading your comments. My family has been in Montréal since 1659 and I can really relate to many comments and questions outlined in the two essays you have published.

Hoping to see you soon on the pitch. The IMFC and fans needs peoples and players like you.

À bientôt,

Michel Charbonneau.

Great article Andrew! I am a member of the 127. We are very proud of how you are adopting Montreal as a second home. Like I told you when you walked past our tailgate, we are happy our team chose you first!

Keep up the good work, and get well soon!

Shawn Richardson

Another great piece. Your curiosity and interest in our city is refreshing coming from a pro athlete. Too many are those who just pass through, without engaging with the people and culture that they represent on the pitch. You've hit the nail on the head about our passion as a people, and we expect the same from our sports teams (maybe sometimes unjustly). The Saputo family seem to expect that from the team as well, and I think you fit in nicely, hopefully for a long time.

Alex

on 16 Jul 2012 at 5:56 pm

6

Hello Andrew, what a wonderful article once again…

Just to let you know, your favorite chant is called "La chimie"… We can't wait to see you on the field once again, our team need a player like you, who seems to be devoted to the city, to the team and to the sports…

We're proud to have you here, with us!

smythe

on 16 Jul 2012 at 5:58 pm

7

A footballer who reads books?! How 'bout that.

Nick

on 16 Jul 2012 at 6:02 pm

8

wow what an article!! I love to see the point of view of a player that comes to Montreal from elsewhere. I sometimes wonder when players comes to play in Montreal for any sport if they think our city is not "english friendly". Every sign on the streets here are in french and most of the media is in french. My question to you is does the french aspect to Montreal make players think twice before signing here?
I am an anglophone and I always have that thought when it comes to that.
Thanks!

Francis

on 16 Jul 2012 at 6:28 pm

9

Hey Andrew,

First and foremost, i have to say : another great article! Your description of the mobilisation and unity of the Québec population in protecting their rights and identity is spot on. Also great little piece there on the Ultras and 127. I'm relatively close to both groups and I can say youve described them pretty well.

To quickly answer some of the points youve raised I would say that the feeling in the stadium has to grow organically. The club and its support has grown really quickly over the last decade, but i fear that the management has too often tried to patch things up and fill the stands with non-implicated fans just to make the numbers. Even worst, is that they try to guide these "consumers" in the support that they should show the club. The PA announcer and the big screen are a prime examples of this: telling the people when and how to make noise, etc.

I think the club has good intentions in doing these things, but at the same time, looking to the long term and helping the supporter's identity come from the fans (UM02 in particular) would better suit the match day experience.

I like the examples that youve given in terms of instant organical growth of support. What they have in common, is that the crowd was confronted with a situation that was real, and they had no choice but to "adapt". This works so much better in creating a decent atmosphere than thundersticks and songs being blasted from speakers.

Example1: The KC game. The ref was killing us all game long, and the crowd got united in our discontent of his performance.

Example2: The TFC game ( in which you scored the winner!! :D). The TFC clowns bring 1,000+ fans to Montréal (allowed by our own club… *facepalm*). Thank god they werent the most vocal, but "casual" supporters still had to join in or even start chants of their own to make sure not to be out-sung in our house.

I think a global identity has to be forged through experiences. Only then do you get a feeling of attachment towards the club and its supporters because you share a common fealing. Right now, i would say the impact has a base of about 9,000 supporters who were there in the previous seasons constantly (many years) and thats who you'll here joining in with the Ultras a couple of times per match (Allez Montréal chants mostly). These are usually season ticket holders, and theyre situated in the corner near the supporter section.

I think if the club and Ultras can get this posse to join in more often in songs and demonstration of support (scarf brandishing and whatnot) the casual / non accustomed fans might be less shy about joining themselves.

Anyways, in the end what im saying is that it the "feeling" has to grow naturally. It doesnt mean that it has to be left to itself, uncared for. But forcing it is most counter productive imo.

A great example of passionate support growing organically is the Habs support. It even started our national awakening "the quiet revolution" with the Maurice Richard riots.

Keep the articles coming, theyre a pleasure to read and to scratch your head to,

Francis G

petitblanc

on 16 Jul 2012 at 6:35 pm

10

Your articles may be initiating one of the best relationships the Montreal public ever had with a professional athlete. I would love to have you over with a couple of beers to talk about Montreal, football, history and even your home state Pennsylvania.
Can't wait for your return to the pitch.

Mojo

on 16 Jul 2012 at 6:39 pm

11

Well done A. Wenger, better then a lot of articles I have read on IMFC supporters so far. Everybody in the Saputo stadium need to understand they can switch the momentum of a game. Intensity in the crowd can have repercussion on the field for sure.

I cannot talk for everybody in the Canada, but I can tell you that the poor results on a international level and the lack of visibility, clearly put IMFC in front of CNT in Montréal/Québec.

Pierre Mailhot

on 16 Jul 2012 at 7:33 pm

12

M. Wenger, I have read two of your articles thus far and I have to say I am really impressed with the research you make in the topics you have addressed.

There are lots of athletes who go through the NCAA and become professional athletes in baseball, basketball, football, golf and other sports. Some may have had an easy life in college and some others may have had a real education.

The quality of your articles shows that you had a real education while at Duke. Well done. And please do continue writing these articles even when you are able to play for the Impact.

And if M. Dubois was an influence on you at Duke, I may want to try out some of his soccer related books now. Thanks Andrew.

Matthew

on 16 Jul 2012 at 7:39 pm

13

I really like reading your text and it's creating a buzz around the IMFC fans but sadly i would have more effect if it was in french. Marsch saying some words in french had more notice than your blog.
For Canada Men National team, i have to say that the squad doesn't have much coverage because of the poor result. In Montreal, there is more fans for the visitors in the stand.

Hugues Dumontier

on 16 Jul 2012 at 7:59 pm

14

For me, as a ultra the Impact is my national team i don't care about CNT It's like FC Barcelona for the Catalan People.
You should check Loco Locass it's a Quebec rap band that chant this passion and described it better then any university these.

See you at Saputo Mr Wenger

Gabriel

on 16 Jul 2012 at 8:41 pm

15

Excellent article

Marc-André

on 16 Jul 2012 at 11:29 pm

16

this is what i call a great article.

Great read !

There are only three professional teams in Quebec: the Habs (NHL), les Alouettes (CFL) and l'Impact (MLS).

I can't speak for others, but to me, a city or a nation's best representation are its artists and its sports teams. Montreal and Quebec, who represent a fraction of North America in terms of french culture with an even smaller english community, have been a true goldmine for both. When you think of the numbers of great artist this small nation have produced, from playwrites to movie directors, writers, musicians, singers, songwriters, painters, etc., who are shining on the international scene, we pride ourselves that our professional team, les Canadiens de Montréal, is still reknowned today as being the very symbol of a sport that was invented in this city: hockey.

I guess that Impact supporters think the same about their team. It represents our pride, who we are and we expect only the best from it. Although we understand that a season has its setbacks, we will never settle for half-measures. Neither will the accept to be treated unfairly, especially not on our own pitch, but also on adverse territory.

I too resent all this artificial hooplah the Impact admins are trying to bring people to participate in the game. As Francis rightly says, the support must grow naturally. The people don't need to be intertained during the game, as the show is on the pitch, and their vocal support is a integrated part of if. We are the 12th player ! We don't need thundersticks to be reminded of that.

Les Ultras and section 127 are trying their best to induce this pride to the whole stadium. I think we are going in the right direction as I hear only good comments about the atmosphere that is created by the chants and flag-waving and Ultras' elaborated tifos.

All the best to you, Andrew. Have a speedy recovery as I can't wait to have you back in the lineup ! Keep on 'til the next post.

À bientôt !

Regarding the Impact vs national team debate, the way I see it is that the canadian identity is not that strong in Montreal. For a lot of french speakers they are Québécois first and canadian second. Obviously that's not the case for everyone but it does'nt help. If you add the fact that a lot of Montrealers have split loyalties in term of country identity (Canado-portuguese or canado-Italian) that means that a lot of people have learned to support another team. Maybe that would change if Canada was better but that would take a long time.

I also think that the support we have here for sports comes from a North American backgroud where, jut like in baseball or football thre is no club vs country debate. Even hockey is that way. If you lokk at the Montreal canadiens, I remember the celebrations where huge the last time the team won a Stanley Cup, but when Canada won the gold medal at the last Olympics there was no celabration, people were happy but not much more.

I have two suggestions for future article, you should talk about the history of success of the Montreal Canadiens and how it affects every other sports team in the city.

You should also talk with ex players about what it means to them to be a Montreal Impact player. I suggest you talk to on player from the province of Québec, maybe Mauro Biello or Patrick Leduc who works for RDS. Then talk to one player from Canada but was born outside of Québec, Greg Sutton or Simon Gatti (coach at the Academy) would be good choices. Then talk to someone who is not canadian, maybe Eddy Sebrango or Lloyd Barker who works for TSN. By the way if you want to know more about a couple of ex-players I have a couple of interviews in english on my blog. (http://www.optimum-soccer.com/english-blog.html)

Just a little follow up on my comment, if you want to talk about the pressure to win you should chat with former goalkeeper Matt Jordan. He knows all about that and he was definitely a winner.

You should also chat with him if you want to talk about former players, one interesting fact for me is that we never really had dominant american player in our squad except for Jordan. If you look at todays team in MLS that will obviously change but you can see that even before today local players, european players and south american players played a great role in this team.

[…] Very interesting discussion of Montreal Impact supporters. […]

Stéphane Richer

on 17 Jul 2012 at 9:59 am

21

Hi Andrew,

It's great to see your interest in our culture, province and city. Continue to write. You are very interesting.

I can suggest a great book on the Province founding by Champlain written by David Hackett Fischer: Champlain's Dream.

[…] les ultras […]

Football is a religion…
The ball never stop…

I was in the stands for some games, i enjoy the ultras and their songs. I was part of them 3 years ago when we played the North American Champions League. Great moment but as a retire player, i prefer watching the game from a wide view. I just love tactics and moving players. Analyzing space and movement… This is what i blame on the Ultras the fact that they don't understand the subtlety of the game. With time they're gonna learn.

Last night i was watching a 85-86 uefa quarter final between Juventus and Barcelona. More than 20 years ago, the fact is, the game is old and fickle, i was wondering if the Impact can manage to have a result against those ancient team. Even there i think that the technical ability's of Laudrup and Platini where far better than the MLS standard in 2012…

I'm a friends of Pat Bernier, i play several time with him, and i think that montreal is a city, who's behind they're home ground athlete, but as you can see, we like to adopt individuals who are ready to embrace the city, as the history of Quebec. Today Pat is the best player on the pitch, great wing cross, great reading of the adversary movement, and useful through pass. The rest of the team is still progressing, but there is a lot of waste in construction and finishing. Btw when i was in Europe i wasn't a fan of DiVaio (he played at Monaco)… But for MLS and Impact he's a honest target.

You seem to be a honest player, reminds me little bit like the young Eric Cantona. I really which for you the same career. Keep working hard, i hope you'll be on the 2014 world cup with your country.

I hope to kick the ball with you one day, joga bonito style, until then enjoy the city!

Fredz

on 25 Jul 2012 at 1:27 am

24

. . . the one 'where the extraordinary happens,' the game 'one remembers and talks about for years afterwards, the rest of one's life.'"

That's the 2008 CCL quarterfinal game, a 2-0 win against Santos Laguna. The Olympic stadium was packed with an unexpected 55000 supporters (including hundreds of Mexican fans).
That was amazing!
Ask Sebrango and Jordan, for sure they remember…

But you'll have your own memorable game.
Could be next year in the playoffs? You'll experience cheering at a higher level.
Leave a Reply