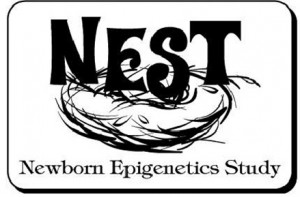 The Newborn Epigenetic STudy (NEST) is a federally-funded research project that studies how environmental exposures and nutrition, in the womb and during childhood, affect how genes work.  The genes we are studying are believed to play a role in obesity and other diseases, disorders, and conditions.  We would like to thank all the mothers and children that participate in the NEST study.  This is a relatively new and exciting area of research which will have an impact on the health of our children in the future!
The NEST study enrolled its last participant in April 2011! Including the 900 women from the pilot study, over 2,500 women have consented to participate in the study.  Thanks to the participation of pregnant women and their doctors from the following clinics:
Durham OB
Harris and Smith OB
Duke Maternal Fetal Medicine
Durham County Health Department OB at Lincoln Community Health Center
Check out our results section to see what we have discovered so far!