New Paper
Congrats to Amanda Utevsky and David Smith! Amanda's paper "Precuneus is a Functional Core of the Default-Mode Network" has been accepted for publication in The Journal of Neuroscience.
New Award
Congratulations to McKell Carter on his Social and Affective Neuroscience Innovation Award! SANS recognizes those whose exceptional work can help influence others and further the development of social and affective neuroscience. Read more about it here. Again, congratulations McKell!
Halloween Social Hour

Once again, the Huettel Lab was given the Halloween Social Hour, and we did not disappoint.
BIAC Retreat

Recently, folks attended the BIAC retreat at Wrightsville Beach, NC. This is a nice mix of science and recreation — check out the pictures.
Brains on Trial
Recently, a panel of experts at Duke, including Dr. Huettel, was featured on a special discussing PBS's "Brains on Trial," hosted by Mr. Alan Alda. This two-part special looks at the conjunction of neuroscience and our legal system. In the special, Mr. Alda and the panel of experts discuss a number of topics, including the reliability of eye witnesses and polygraphs in court cases; fMRI techniques used to try and predict people's behaviors and choices; and the permissibility and legal implications of using these neuroscience techniques in future court trials.
Also, take a look at the question and answer discussion that occurred after the panel discussion.
Farewell to Sara Bergman
It seems that the Huettel Lab has lost a number of great people lately, with the latest being Sara. We say goodbye to Sara as she moves on to become a graduate student at Stanford. While Sara was here at Duke, her research focused on the neural basis of reward and emotion in healthy young adults and those with psychiatric disorders. At Stanford, Sara will be working in Ian Gotlib's Mood and Anxiety Disorders Lab, where she hopes to utilize the skills in fMRI research that she already has and further her understanding of how depression and anxiety affect the human mind.
While Sara's optimism and hard work will be missed, we're happy to see her progress towards her goal of obtaining her doctoral degree. We know she'll miss the beautiful summer Carolina weather when all she has is that bland, monotonous 80-degree-highs-in-the-summer-with-no-humidity stuff, but again, we have confidence that Sara can adapt. She's tough. Cheers Sara!
Congrats Youngbin!

Youngbin's abstract has been selected for a 2013 Associate Member Select-Speaker Award from the Psychonomic Society. As one of only ten selected abstracts, Youngbin will be attending the Psychonomic Society Annual Meeting in Toronto in November to present her research. Congrats Youngbin!
Farewell to Steven Stanton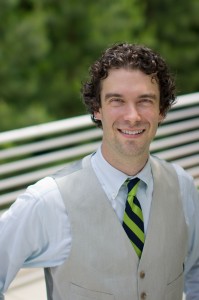 Sadly, we must say goodbye to Steven Stanton. Dr. Stanton has recently left Duke to join the faculty at the Oakland University School of Business Administration as Assistant Professor of Marketing and Adjunct Assistant Professor of Psychology. Dr. Stanton was a postdoctoral research scientist who worked with Dr. Kevin Labar,  Dr. Huettel, and others during his time at Duke. His research focuses on the psychological and physiological factors that influence consumer behavior, decision making, and social behavior. The research that Dr. Stanton conducted at Duke was featured in television, radio and print outlets including the New York Times, National Public Radio, CNN, Newsweek, and Scientific American.
We'll miss Steven and his impeccable sense of style, but we know that Oakland University School of Business is gaining not only a fantastic researcher, but also a great person. Cheers Steven!
DIBS and the NC Museum of Life and Science Present Risk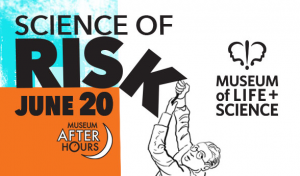 The Duke Institute for Brain Sciences and the North Carolina Museum of Life and Science presented The Science of Risk, an after hours event focusing on the science behind risky decision making. View pictures (courtesy of DIBS's Facebook) of our lab members hard at work at the event here!
Amy in the news
Amy's recent publication, Ventromedial prefrontal cortex encodes emotional value, is getting a lot of news! Check out the above article from Men's Health.