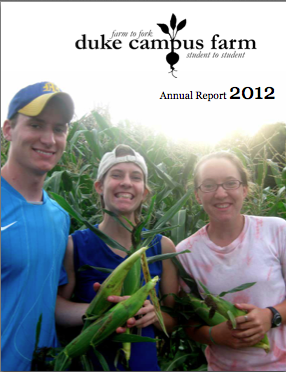 The Duke Campus Farm is a one-acre fruit and vegetable operation dedicated to serving the Duke community with fresh, healthy, sustainable produce and providing an educational facility around all things food related. Since DCF was founded in fall 2010 it has blossomed into a fully functional farm providing thousands of pounds of produce each year to campus dining halls, working with classes across the academic spectrum, and exposing hundreds of students and community members to the joys and hard work of growing real food. To see just how far we've come in the past few years, check out the 2012 Annual Report.
Summer 2013
Summer is the most exciting time of year at the farm so be sure to visit our community workdays and check out our upcoming events. Read our blog as our interns document the progress on site and muse about how our little farm fits into the big picture of modern agriculture and policy. We're also building a pavilion, bigger tool shed, produce washing facility and walk-in cooler this summer. Follow our progress and consider investing in the future of food and agriculture at Duke University.
Community
Beyond growing food and teaching students about sustainable agriculture, the farm strives to create a truly welcoming, creative and close-knit community that interns affectionately call the "farm family".  DCF has become a place of learning, growing, eating, cooking and creating together and for many, a home away from home.