Impact Investing and the New Era of Collaborative Capitalism: Impact Speaker Series at Berkeley's Haas School of Business. Carla Javitz, Executive Director of REDF, hosted a presentation and discussion around performance in impact investing, with Cathy Clark, Ben Thornley, and Jed Emerson, co-authors of The Impact Investor. (November 20, 2014). Watch the full video here.
CASE i3 Speaker Series. Michael Dorsey, co-founder of Bay Area Equity Fund and Bay Area Growth Fund, former partner of the Westly Group, and CASE i3 Advisory Council member, shared his deep experience on how venture capital can be used to achieve significant financial and environmental returns with students in November. Mike spoke about some of his cutting-edge sustainability-focused investees, including Tesla Motors, SolarCity, Powerlight, and Pandora.  Watch the full video here.
SOCAP2014: Multilingual Leadership = Ignition. Cathy Clark, Ben Thornley, and Jed Emerson, co-authors of The Impact Investor: Lessons in Leadership and Strategy for Collaborative Capitalism, spoke during the plenary session at the 2014 SOCAP conference.  Their talk focused on a key component of their new book: the importance of multilingual leaders – those who can speak to business, nonprofit, and policy – in the impact investing field.
The Impact Investor on Business Radio SiriusXM. Cathy Clark and Ben Thornley, co-authors of The Impact Investor: Lessons in Leadership and Strategy for Collaborative Capitalism, were interviewed August 28, 2014 on Business Radio's Dollars and Change program on SiriusXM.  This segment was a part of Business Radio's crash course in doing good and making a profit during "Fall Back to Business" week.  The segment is available to stream (with a subscription or a free trial of SiriusXM) until October 2, 2014. Use this link to view On Demand content, then navigate to Talk & Entertainment > Entertainment > Dollars and Change > View Available Episodes. Business Radio is channel 111 on SiriusXM.
CASE i3 Speaker Series. John Goldstein, Managing Director of Imprint Capital Advisors visited Fuqua in spring 2014. John talked about how the field of impact investing has progressed (and where it still has to go). John has vast experience as an advisor to foundation, individual and family offices and a leader in the field of impact investing. Watch the full video here.
CASE i3 Speaker Series. Laurie Spengler, CEO of Enclude (formerly Shorebank International), visited Fuqua in December 2013 to lead a discussion of how people and institutions are collaborating to create successful impact investments worldwide and shared some of her observations on global lessons for leveraging capacity with capital for impact. Laurie noted 3 'gaps' to addressing the expansion of impact investing: communications gap, analytical gap, and ecosystem gap.  Watch the full video here.
CASE i3 Impact Investing Bootcamp. CASE i3 Fellows held the 2013 Impact Investing Bootcamp, introducing impact investing to over 50 first year and other interested students. Topics included a case study discussion taken from CASE i3's research exploring alternative financing choices for a global health enterprise, a discussion of career paths in the field, and presentations by this year's CASE i3 Fellows on their i3CP consulting projects for 2013-2014. If you are a Fuqua student and want to watch the videotape of the 2 hour session, it is on Panopto, accessible with a Fuqua net id. Email grace.webster@fuqua.duke.edu for the link. September 25, 2013.
What's Next: Evidence-Based Practice, Impact Investing, and Pay for Success Collide.  CASE i3 Director Cathy Clark moderated a panel on the confluence of trends surrounding impact investing and the implications for the reduction of poverty at a large scale. Watch Antony Bugg-Levine of Nonprofit Finance Fund, Laura Callanan of UC Berkeley and Victoria Vrana of the Gates Foundation duke it out over whether big data, impact investing and pay for success can together create the future we want. Video (60 mins) from September 4, 2013 at SOCAP13.
This is Impact Investing. CASE i3, InSight at Pacific Community Ventures and ImpactAssets shared "Impact Investing 2.0″ – a  preview of new research report we'll be releasing in November on the best practices of 13 exceptional impact investing funds managing over $3 billion of assets with investments in over 80 countries. View our 15 minute video presentation from September 4, 2013 at SOCAP13.
Ivory Tower to Muddy Boots: What does the Latest Research Mean for Entrepreneurs and Investors? Mark Newberg of 5 Stone Green Capital moderated a panel where Ben Thornley of PCV Insight, Paula Goldman of Omidyar Network, Alicia Robb of the Kauffman Foundation and CASE i3's Cathy Clark discussed latest research findings and their implications. Panel discussion video here. (Full panel starts at 22:30. Cathy's presentation of the key findings from our Accelerating Domestic Impact Enterprises project starts at 49:30. The powerpoint she used is here.) The panel was held at the Investors' Circle conference on May 9, 2013 in San Francisco.
Advice from Silicon Valley for Impact Investors and Entrepreneurs. Cathy Clark interviewed Randy Komisar, General Partner, Kleiner Perkins Caufield & Byers, about his advice for impact entrepreneurs and impact investors at the Investors' Circle Conference on May 9, 2013. Video here (conversation starts at 17:30).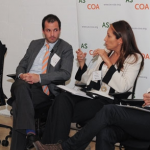 Building the Impact Investing Space in Latin America. CASE i3 participated in this AS/COA forum on social enterprise and impact investing at The Lab in Miami. Forum video and summary here.  Article summarizing the conversation here.  March 6, 2013 in Miami, FL.
Duke 2013 Sustainable Business and Social Impact Conference. Podcast for Is It Scalable? Duke and Global Health (1 hour and 15 mins), and podcast for Debt, Equity, Impact Investing? A Capital Spectrum Choice Conversation (1 hour and 15 mins). February 20, 2013 in Durham, NC.
Cathy Clark Radio Interview with Josh Zach from WPTF and the North Carolina News Network on Social Entrepreneurship, February 2013: podcast.
10 Years of Impact and Counting – CASE 10th Anniversary, click below to access blog and links to Ted-style videos from December 7, 2012.
Matt Nash of CASE on "The CASE Top 10 – a la David Letterman!"
Mission Meld: A Case Study on Alignment in Impact Investing. Blogpost and short videos from panel held at SOCAP conference, October, 2012
The Impact Investor Gathering at the Skoll World Forum, March 2012. Blogposts and videos from the event: Part 1 and Part 2. The event marked the beginning of a two-year project to build data-driven and practitioner-guided knowledge for the rapidly growing field of impact investing for the Impact Investor project, which we are undertaking along with our partners InSight at PCV and ImpactAssets.
CASE i3 Speaker Series: How to Earn a Return While Lifting Communities Out of Poverty: Lisa Hall of Calvert Foundation. Blogpost and video, April 19, 2012.
"From Slow Money to Impact Investing," Cathy Clark of CASE i3 and Bonny Moellenbrock of Investors' Circle were guests on WUNC "The State of Things" with Frank Stacio, NPR affiliate, April 17, 2012. podcast.
CASE i3 Speaker Series:  Creating Financial Markets: Lessons from Finance Pioneer Ron D. Cordes. Blogpost and video, February 9, 2012.
CASE i3 Speaker Series: Get in the Game: A Conversation with Anthony Bugg-Levine. Blogpost and video. December 22, 2011.
The 2009  CASE Leadership Award in Social Entrepreneurship: Jacqueline Novogratz of Acumen Fund. Video. July 2, 2009.